There may or may not be a wizard of Oz. Even the movie wasn't entirely clear on that. And there may or may not be a Glinda, a good witch. One thing is for sure, though. There is a wicked witch! Several, actually, in the form of invasive worm species. 
Usually, we think of worms as good for our gardens. And in most cases, that's true. Earthworm castings are essentially gardening gold (you can even buy them online). Red Wrigglers are renowned for their composting skills. But not all worms are so benevolent.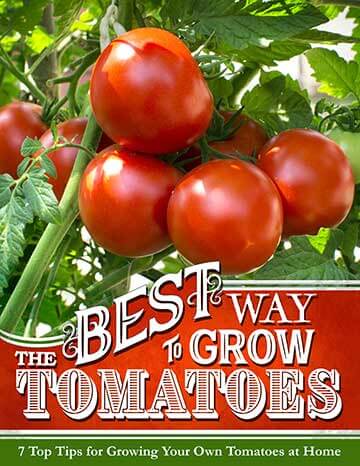 Discover 7 top tips for growing, harvesting, and enjoying tomatoes from your home garden—when you access the FREE guide The Best Way to Grow Tomatoes, right now!
The 3 invasive worm species you need to know about
According to the Entomology Research Laboratory at the University of Vermont, there are three invasive worm species that are appearing in North America. All three are usually known as jumper worms or snake worms, but technically, they are Amynthas agrestis, Amynthas tokioensis, and Metaphire hilgendorfi.
What they are not: The beneficial earthworms we have in our gardens are commonly known as nightcrawlers, or Lumbricus terrestis, if you want to get scientific. You've almost certainly seen them. They are generally 6 to 8 inches long and light pinkish to reddish. The clitellum (that raised part that is a little less than halfway down the body) is pretty obvious, particularly when they are fully mature and carrying eggs, and wraps around most of the body except the bottom.
As for the three invasive worm species, the real trick here is not in identifying which species they are, which is quite difficult to do by eye, but in identifying them as different from nightcrawlers. Because when it comes down to it, all three species are equally bad for your garden and for the overall ecosystem. 
The United States Forest Service points out that these jumping worms are voracious eaters and will eat much of the top layers of mulch and soil in a forest that plants and ground-dwelling creatures need. In your garden, they devour the nutrients and microorganisms your vegetables need to thrive. 
And unlike nightcrawlers, these invasive worm species don't leave such wonderful castings in their wake, with the soil looking more like loose coffee grounds. 
So how do you identify them, and what should you do with them? 
In color, they are smooth, shiny, and a brown or grey color (versus the pink/red of nightcrawlers). The clitellum might be another feature that stands out. It's closer to the head than an earthworm and much smoother, whiter, and lighter in color than the rest of the body (versus more flesh-colored in nightcrawlers), according to the University of Massachusetts. But the telltale sign is the thrashing, jumping, snake-like motion versus the smooth and slow "worm-like" movements of the nightcrawler, and their coffee-grind looking castings.
In your hand, an earthworm might just wriggle around, but these worms will thrash and can even snap their own tails off.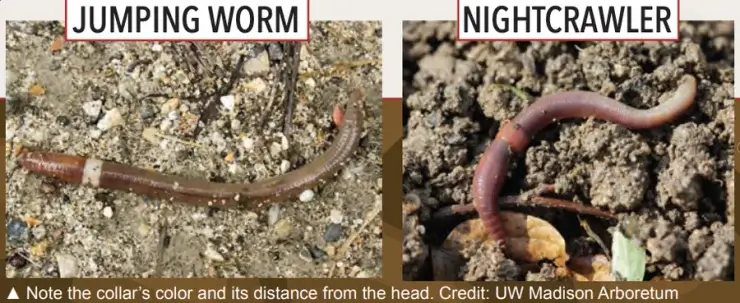 What should you do if you notice them in your garden? First, don't just move them somewhere else. Remember, they aren't just inconvenient; these are invasive worm species we're talking about. 
Probably the best thing to do is dump them in a bucket of soapy water or seal them in a plastic bag, much like you would with slugs or other similar garden pests. 
Lastly, get in touch with your local extension program. Like many invasive species, entomologists are keeping tabs on these worms and attempting to track their movement.
Have you come across any invasive worms in your gardening? What did you do? I'd love to read about your experience in the comments below.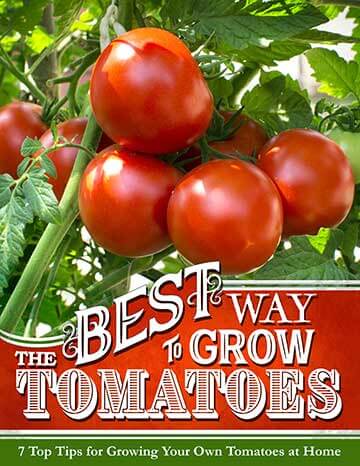 Discover 7 top tips for growing, harvesting, and enjoying tomatoes from your home garden—when you access the FREE guide The Best Way to Grow Tomatoes, right now!
Note: Food Gardening Network contains links to affiliate websites, including Amazon and Rakuten Affiliate Network, and we may receive a commission for any eligible purchases made by you through links on this page. Any reviews are based on honest reviews of the products.