If you didn't think you could have your cake and eat it too, then you clearly haven't had what I consider the ultimate New England lobster roll recipe. See, in these parts, some people look at lobster rolls in black and white. Either you get it with mayonnaise (Maine style) or you get it with butter (Connecticut style). As someone from Massachusetts who is squashed between the two states, I've always been a "how about both?" kind of gal.
See, I consider myself a bit of a lobster connoisseur. When I go to Maine I make it my job to try every lobster roll within ten miles. Last summer I committed to one a day (we were there for seven days), and this year we're going for ten days. The thing is, no lobster roll tastes the same, and I think you'll feel the same way about the New England lobster roll recipe I've put together for you here, using an herb I think goes surprisingly well with it – tarragon!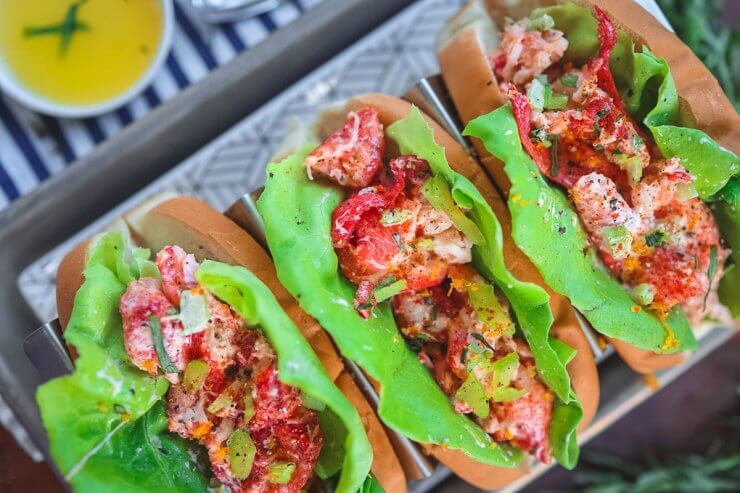 Discover 9 garden recipes spotlighting the delicious possibilities of home gardens—when you access the FREEBIE Recipes from Your Garden, right now!
Tarragon and Lobster?
I'm not crazy, and I'm not the first to do it, either. But I totally understand why you'd think using black licorice-smelling tarragon to be a weird compliment to a lobster roll, but you're wrong. Wrong, I say! I can't explain it, but even though this fragrant herb has a name that sounds like a villain from Lord of the Rings, it's a gentleman between a buttered bun, tossed with lobster and all the fixings.
If you're considering growing tarragon, I suggest French tarragon instead of its coarser, less flavorful cousin, Russian tarragon. Like thyme, tarragon is a hardy perennial and can winter through zone 5 temperatures. Nearly impossible to grow from seed, it's best to purchase plants or propagated from other tarragon cuttings.
How to Make a New England Lobster Roll
First, don't get fancy with your brioche and pretzel buns—that's not very New Englandy. What you need are New England-style buns so that you have plenty of bready real estate on each side to slather with butter and toss in a skillet like so.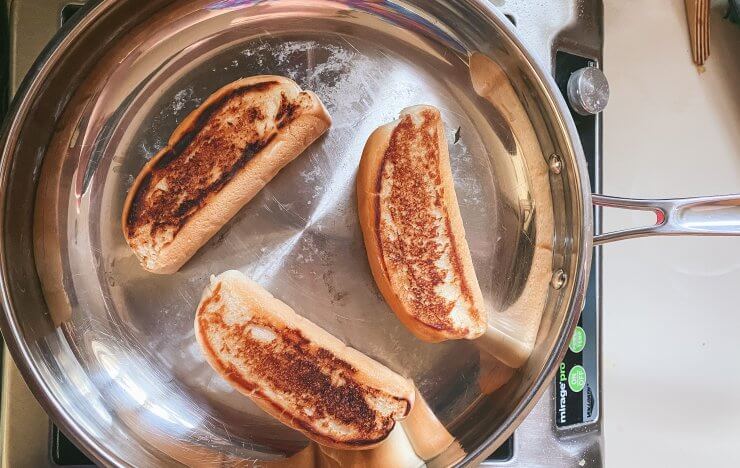 As a pro-tip, it's best to start with room temperature butter just like you would with grilled cheese so that you don't go tearing up the bun while you slather it on thick. Then just toss it in a pan at medium-high heat for a quick toast.
Once it's ready, you're going to need to put a leaf of lettuce in the bottom of each bun so that it doesn't get soggy when you add melted butter. Then, you'll mix up your lobster salad ingredients in a bowl ever so gently.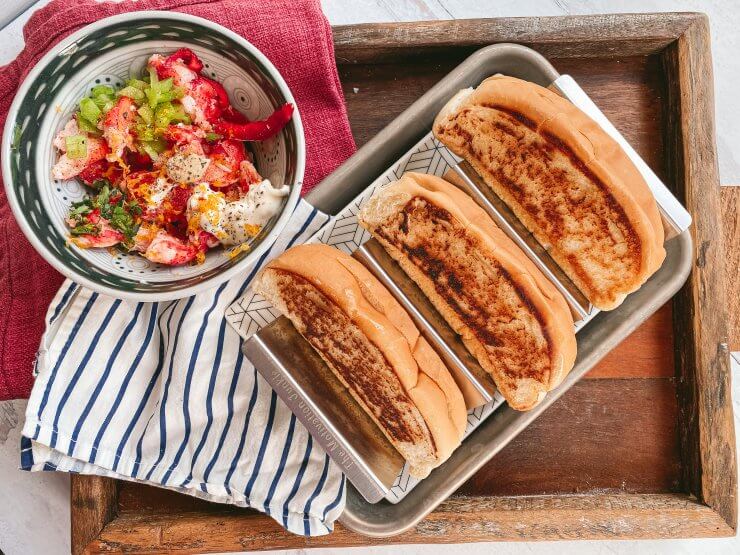 Finally, you'll load your lobster salad into the bun and maybe add a little more pepper and fixings if you like on tip. Finally, drizzle it with your melted butter and kablam, you have a fun New England lobster roll recipe that'll please even your pickiest taste buds!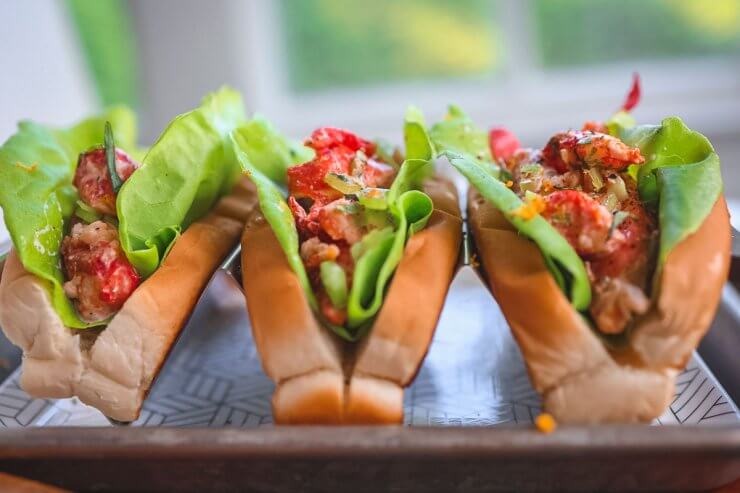 Sure, if you ask a New Englander, a lobster roll has either A.) mayo or B.) butter, and that's it. But I'm a bit of a rebel, so here I've combined all my lobster roll research over the course of many authentic rolls in many corners of the New England galaxy to come up with what I consider the ultimate New England lobster roll recipe perfection. Try it out and let me know if you agree!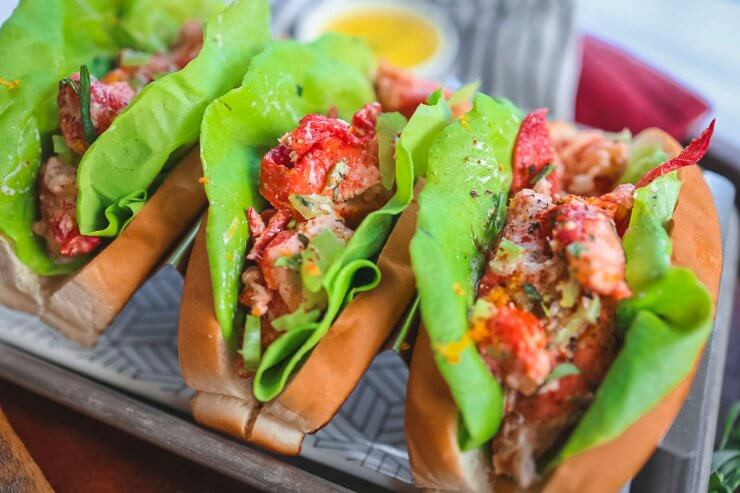 Print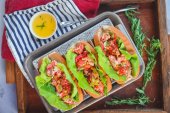 New England Lobster Roll Recipe with Lemon and Tarragon
In this fresh twist on a classic, our New England lobster roll recipe combines traditions from the northern and southern regions to form the perfect bite. Featuring fresh tarragon and lemon zest, it's truly a mouthful!
Author:
Prep Time:

15 minutes

Cook Time:

5 minutes

Total Time:

20 minutes

Yield:

Serves 4

Category:

Entrées
Ingredients
6 tbsp

salted butter, room temperature

4

New England style hotdog buns

4

lettuce leaves

1/2

lb fresh-picked lobster meat (or frozen and thawed)

1 tbsp

chopped celery

1

lemon (1/4 tsp lemon juice and zest)

1.5 tbsp

mayo

1/8 tsp

dijon mustard

1 tsp

fresh tarragon leaves, chopped
A pinch of paprika
A pinch of salt
A few cracks of pepper
Instructions
Preheat a skillet to medium-high, then using four tablespoons of room-temperature butter, gently butter the outside of your hotdog buns. Add to skillet toasting for 30 seconds on each side. Set aside and place a lettuce leaf inside of each bun to keep the bun from getting soggy when butter is added.
In a bowl, mix together chopped celery, 1/4 tsp lemon juice, grated zest from 1/2 of 1 lemon, mayo, dijon mustard, tarragon, paprika, salt, and pepper. Add lobster and toss.
Spoon lobster salad into each roll and garnish with an extra grate of fresh pepper. Melt the remaining two tablespoons of butter, then drizzle over the top of each roll or leave in a small bowl for dipping. Enjoy!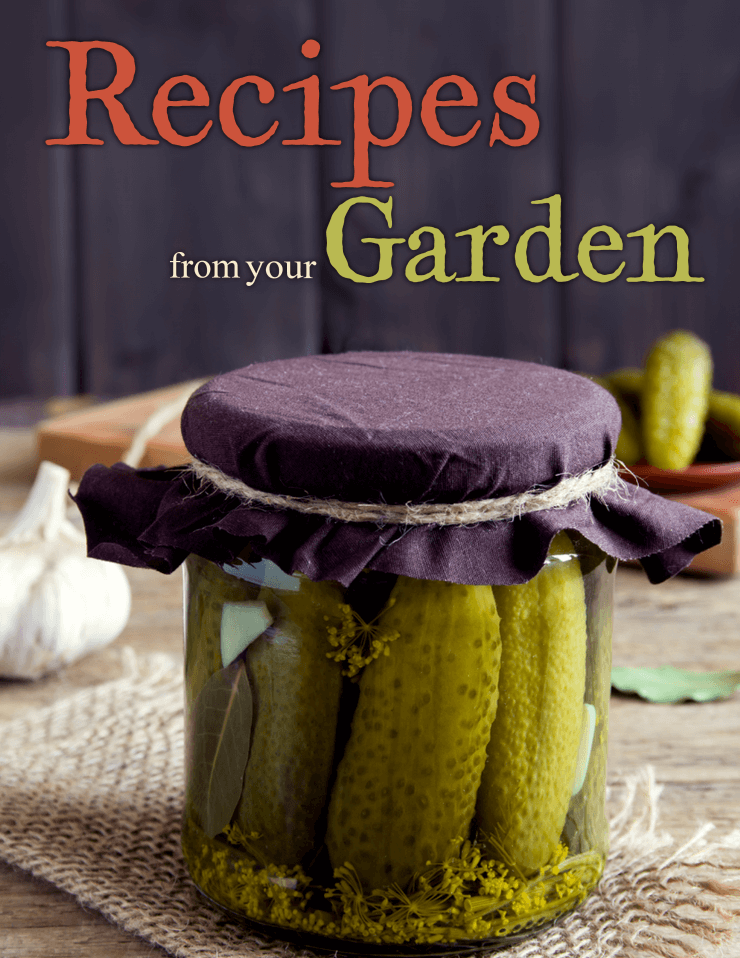 Discover 9 garden recipes spotlighting the delicious possibilities of home gardens—when you access the FREEBIE Recipes from Your Garden, right now!