Tomatoes are nature's little miracle, aren't they? From my favorite summertime tomato recipes to preserving tomatoes for use all winter long, homegrown tomatoes are enjoyed year-round at my house. From seed to table, the key to growing delicious and abundant tomatoes is supporting the plants and keeping the fruits off the ground. Tomato cages are an obvious solution and fairly easy to find at your local garden store. But cages aren't the only answer. There are different ways to build a vertical tomato trellis that will accomplish the same goals as a traditional tomato cage.
Know thyself
Before taking the next steps in crafting your vertical tomato trellis, it's important to have an honest conversation with yourself. What level of effort do you want to put into your trellis-building? Are you a "Pass the drill gun and call me Norm Abrams" type? Or are you more of a, "I didn't know popcorn came in anything but a microwavable bag" type? I fall somewhere in between and knowing this helps me decide how big of a project I want to undertake. Here are 5 ways to build a vertical tomato trellis and one way, to just go out and buy a tomato cage!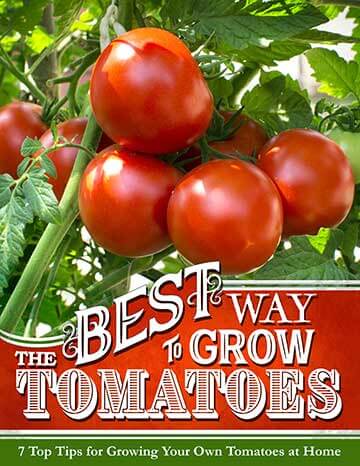 Discover 7 top tips for growing, harvesting, and enjoying tomatoes from your home garden—when you access the FREE guide The Best Way to Grow Tomatoes, right now!
1. Repurposed wooden lattice
If you're like me, you have a pile of scrap wood in your garage that you just can't bring yourself to get rid of. Time to dig through the woodpile! Even a small scrap of a wooden lattice can be turned into a perfect vertical tomato trellis simply by burying a portion underground or attaching it to something with a bit of weight. Check out the scrap bins at your local hardware store and score an inexpensive piece of lattice for your backyard.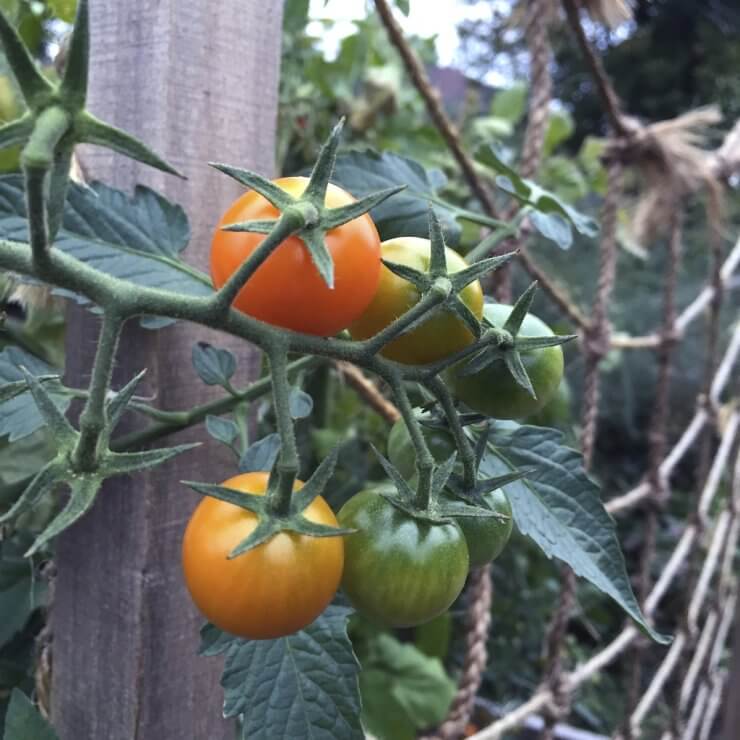 2. The net method
What do tomatoes and contestants on American Ninja Warrior have in common? They excel at climbing nets! Create a simple vertical tomato trellis by attaching some netting to two sturdy posts. Customize your setup even further by crafting the netting yourself using some rope. You may have to train the first couple of stems to reach for the netting but once they start growing, you'll have climbing tomatoes in no time.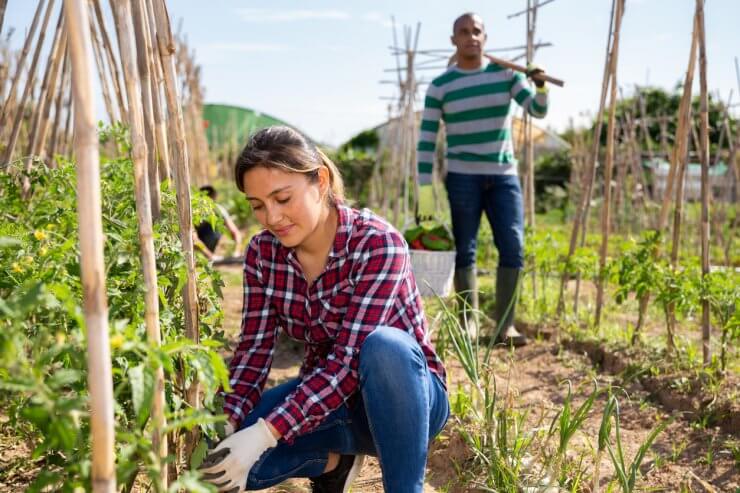 3. Bamboo pyramid
Build a vertical tomato trellis using inexpensive bamboo stakes. For best results, form a pyramid using at least three pieces of bamboo tied at the top. For added stability connect the pieces of bamboo at the mid-point using some twine.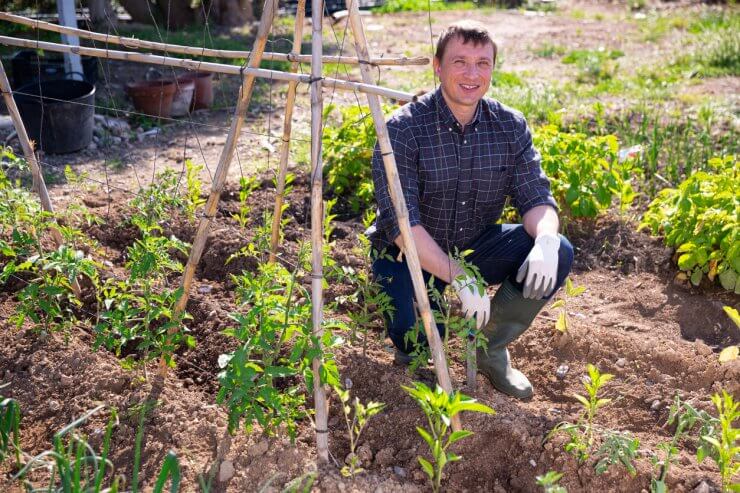 4. The net and bamboo combo
Combine the previous two methods for a slightly more complex, yet more customizable, setup. Set up two bamboo pyramid structures and then connect them using more bamboo. String netting between the two pyramids and give your tomato plants plenty of options to grow vertically.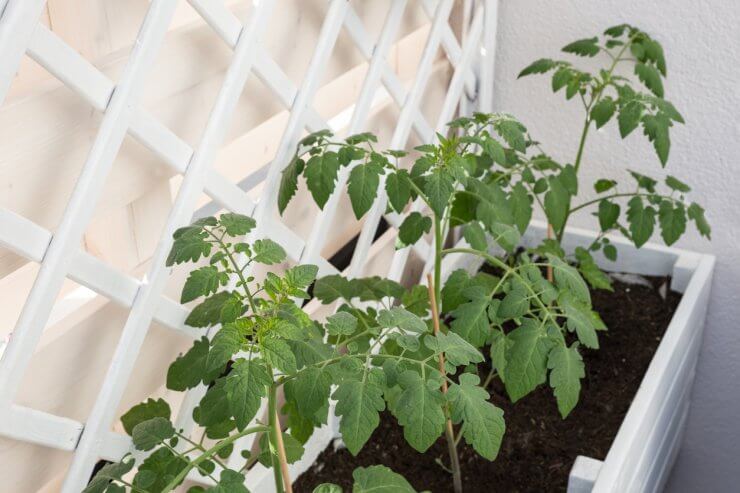 5. Container garden option
This vertical tomato trellis is ideal for vegetable container gardens and works great in small spaces. Simply attach some wooden lattice to the side of your raised bed or flower box. Swap out the wooden lattice for some chicken wire to have an even more lightweight and portable vertical tomato trellis.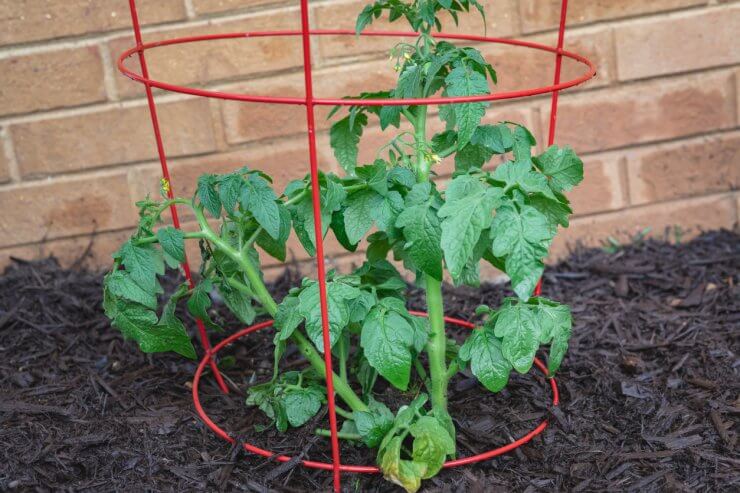 But which vertical tomato trellis is right for me?
The short answer is, it depends. If you're planting in a standard garden bed and only planting five or six tomato plants, store-bought tomato cages may be all you need. They're inexpensive enough and can be used year after year so are worth the small investment. If you are planting dozens of tomato plants, it may be more economical and space-efficient to use the bamboo or net methods. If you live in an urban area or just don't have the room for an in-ground garden, the container garden method is perfect for you. Simple enough to put together using regular garden supplies, a vertical tomato trellis in a container is an easy win for a small balcony or fire escape garden.
Have you ever built a vertical tomato trellis? What materials did you use? Share your experience in the comments!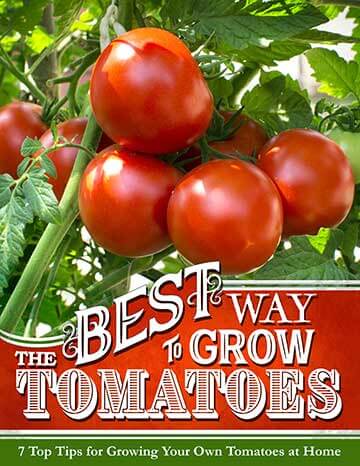 Discover 7 top tips for growing, harvesting, and enjoying tomatoes from your home garden—when you access the FREE guide The Best Way to Grow Tomatoes, right now!