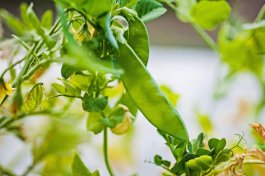 Why are my pea plants turning yellow? Is it something I need to worry about? Are my plants done for? The concern is understandable. After all, yellowing plant leaves could be from something as simple as not enough water, or it could be the dreaded root rot!
Even with the challenges, gardening can be an incredibly rewarding hobby, and one of the benefits is being able to enjoy fresh produce from your own homegrown plants. That excitement doesn't change, whether you're harvesting your first vegetables or you have years of gardening dirt under your nails. Another thing that doesn't change is that even the most experienced gardeners can run into issues with their plants, and pea plants turning yellow is one common one.
Why are my pea plants turning yellow? Four answers to the age-old question
1. Growth spurts. Now if it's just new growth going yellow, it could be a growth spurt. Unexpected periods of growth spurred on by stressful growing conditions typically cause the newest leaves of pea plants to yellow. Signs may be seen after a drought followed by rain, or an unseasonably cool spell replaced with warmth.
2. Nutrient deficiency. Next, it's possible that your pea plants are turning yellow due to a lack of nutrients. Two fundamental components are necessary for your pea crops to thrive: phosphorus and potassium. Unfortunately, additional phosphorus cannot be applied after the plants have begun growing; however, a potassium fertilizer can give them an extra boost.
3. Watering issues. Another cause of why your peas might be turning yellow could be inadequate watering. Peas need plenty of water to stay hydrated and flourish; if they're not getting enough water then their leaves will discolor and wilt over time. Ideally, you should aim to keep the soil moist with frequent watering so that your peas have access to moisture as they grow. However, make sure not to overwater them either, or you could end up with root rot (more on that below). Before you reach for the water hose, take a moment to simply check your soil moisture level with your finger. If it's dry 2 inches down, then go ahead and give your plants some hydration; however, if they're wet at that depth already, don't feel obligated to add any more!
4. Disease. Unfortunately, for many, disease is the reason why their pea plants are turning yellow. Fusarium wilt is a fungus that resides in the soil and induces yellowing of foliage and stunting, as well as wilting of pea plants. This disease is quite common in peas. Luckily, there are resistant varieties available with an F marker to prevent this issue from occurring in your garden. Moreover, strategies such as crop rotation and removal/destruction of affected plants may also be employed for further prevention.
Overwatering can also cause root rot. If you have ever experienced the devastating effects of root rot on your pea plants, then you are familiar with its yellowing at the base of the stem, wilting, and ultimately death. Spores from this soil-borne fungus can be spread through contact, wind, or even water. To protect your garden from such destruction in future seasons, it is strongly recommended to plant in well-draining soil; avoid overwatering; rotate crops for diversity; ensure adequate space between each plant when planting; purchase disease-free seeds (or those treated with a fungicide); and eradicate any contaminated vegetation immediately.
As you can see, there are several potential reasons why your pea plants might start turning yellow, including lack of nutrients in the soil, inadequate watering, and disease. Knowing what could potentially cause this issue is an important part of being an effective gardener and taking steps such as fertilizing, watering correctly, or treating diseases promptly can help ensure that your pea crop stays healthy throughout its life cycle!
Have you ever suffered yellow peas? What did you do?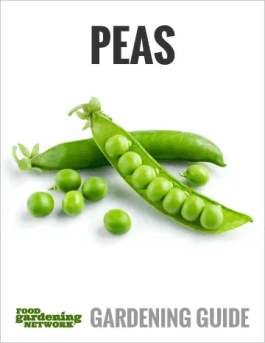 Peas are eager to please—they are among the easiest crops to grow. Most varieties just need water, a bit of fertilizer, and something to climb on. And peas are so nutritious—packed with protein, low-calorie, and full of fiber!
Learn what it takes to add peas to your garden! We'll explain how to choose the pea varieties that are right for you, how to get them started, and how to enjoy them after harvest. Grab The Easy Peasy Guide to Growing Pea Plants and start enjoying these garden treats!