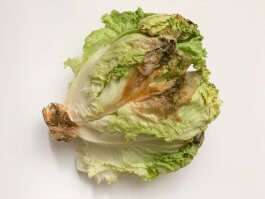 Growing lettuce at home can be a rewarding experience and give you access to delicious greens from spring, through the summer, and even into fall. However, brown edges around the leaves, known as lettuce tip burn, can be an issue if not prevented. Tip burn is a common problem in lettuces, as well as cabbage, Brussels sprouts, and cauliflower. The condition is characterized by browning on the leaf margins and tips, which can eventually turn brown and become dry and brittle.
At the most basic level, lettuce tip burn occurs when there is an imbalance of calcium in the plant tissue. This imbalance can be caused by several factors, including too much fertilizer or too much water that dilutes the soil nutrients and reduces the availability of calcium. It can also happen if there is extreme temperature fluctuation or if plants are exposed to high levels of light intensity during hot periods. In addition, it can occur as a result of poor root structure or when plants are transplanted from pots into garden beds.
While leaves with tip burn aren't harmful to eat, one of the big problems comes from secondary issues such as rot. Fortunately, there are ways to prevent brown edges from showing up on your lettuce crops.
How to prevent lettuce tip burn and enjoy a sweet harvest
First and foremost, make sure to use well-drained soil for planting lettuce so that excess moisture does not build up in the soil and reduce calcium availability. If you're growing lettuce via hydroponics, this may simply be a symptom of too high a dilution of nutrients to water.
Secondly, fertilize your vegetable patch regularly with balanced fertilizers to ensure adequate nutrition for your plants without overloading them with nitrogen or other elements that could lead to lettuce tip burn. 
Finally, pay attention to root growth before transplanting seedlings into garden beds; healthy roots will help increase the uptake of important nutrients like calcium from the soil environment and reduce the likelihood of brown edges appearing on mature lettuce leaves.
Taking steps towards preventing brown edges from forming on lettuce begins as soon as you start sowing seeds outdoors or transplanting potted seedlings into their final growing beds in the garden environment.
Make sure to water regularly but do not overdo it; this will ensure adequate hydration for roots while avoiding soil saturation that prevents nutrient uptake from occurring effectively in plants' cells.
Fertilize with balanced nutrients according to local recommendations for optimal plant growth.
Avoid applying too much nitrogen as this can cause an influx of less desirable elements, such as chlorine, into foliage resulting in brown edge formations on lettuces later down the line.
Provide protection against excessive sunlight exposure during hot summer days using shade cloths or planters; this will create an ideal growing environment for lettuces without allowing the sun to damage leaf cells, which leads to brown edges.
Have you ever experienced lettuce tip burn? What did you do?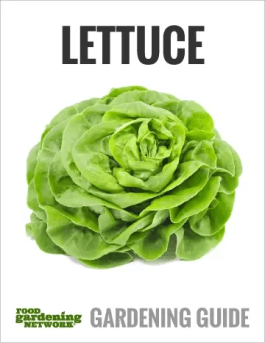 You can grow lettuce anywhere with mild days and cool nights; in fact, you can even grow it in space! This cool-weather crop is a surefire way to enjoy fresh greens for months on end.
Learn what it takes to add lettuce to your garden! We'll explain how to choose the lettuce varieties that are right for you, how to get them started, and how to enjoy them after harvest. Get the Leafy Lettuce Gardening Guide today, and start enjoying this garden delight right away!