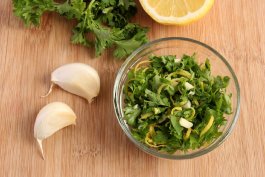 Hey there, herb enthusiasts! Do you know what to do with parsley once you start growing it? I grow parsley every year, and not just as a garnish!
Parsley, one of the most commonly used herbs, is a versatile plant that adds flavor and nutrition to any dish. In fact, it's a powerhouse of nutrition, packed with vitamins A, C, and K, iron, calcium, and antioxidants. It's also a natural diuretic, helping to eliminate excess water from the body and preventing the formation of kidney stones.
In addition to its nutritional benefits, parsley is also a beautiful and fragrant herb. It has a fresh, crisp, and slightly peppery flavor, adding a bright and herbaceous note to dishes. The taste of parsley is often described as clean, green, and slightly bitter. It has a mild flavor that can complement and enhance the flavors of other ingredients in a dish rather than overpower them. One of my favorite ways to use it is in this Green Goddess Dressing recipe!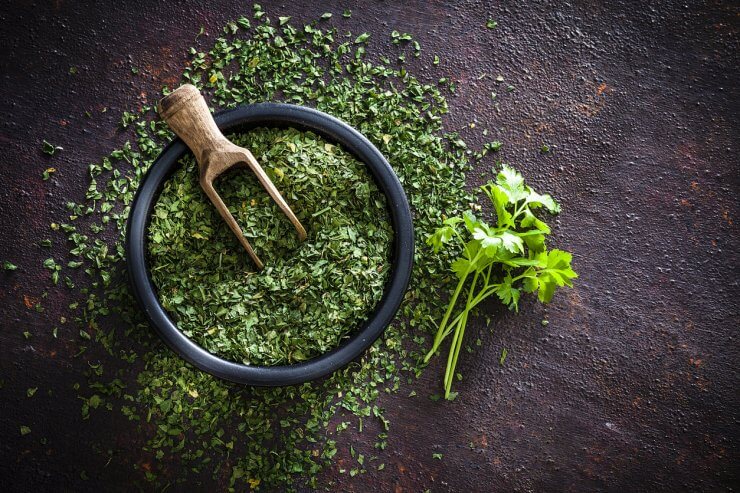 Parsley—more than a garnish!
Parsley does work well as a garnish, sure. You can use it in dishes to add flavor and nutrition. For instance, add it to your scrambled eggs for a fresh and flavorful breakfast, or mix chopped parsley with butter and use it to top grilled steak or fish.
But don't put parsley in a box! Beyond garnish, parsley works well in anything from soups and stews to salads and dressings. Its flavor is particularly well-suited to savory dishes but can also be used in sweet dishes like fruit salads or smoothies.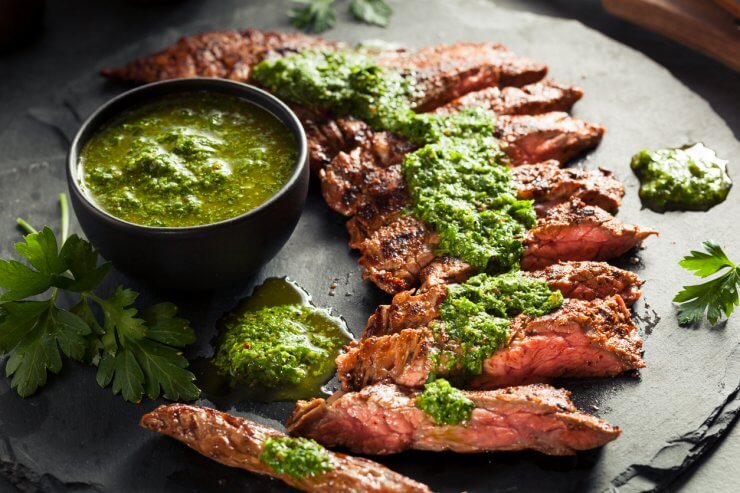 What to do with parsley
Are you a salad lover? Why not add parsley to your homemade salad dressings for a bright, herbaceous flavor? Trust me; it will take your salad game to a new level. If you're feeling adventurous, use parsley to make pesto instead of basil for a unique twist on a classic recipe.
Parsley pesto: Parsley pesto is a great way to switch up your traditional pesto recipe and add a new twist to pasta dishes, sandwiches, or as a dip for vegetables. To make parsley pesto, blend fresh parsley leaves, garlic, pine nuts, Parmesan cheese, and olive oil in a food processor. You can add a little lemon juice for some extra acidity if desired. Season with salt and pepper to taste; voilà, a flavorful and nutritious sauce is ready to use.
Chimichurri sauce: Chimichurri is a classic Argentinian sauce used as a marinade or sauce for grilled meats. It combines fresh parsley, garlic, olive oil, red wine vinegar, and red pepper flakes. The sauce has a tangy and slightly spicy flavor that pairs perfectly with grilled steak, chicken, or fish. To make chimichurri, blend all ingredients in a blender or food processor. Then, use it as a marinade, sauce for grilled meats, or even a dip for bread.
Parsley salad: Parsley can be used as the base for a delicious and refreshing salad. Combine fresh parsley leaves with diced tomatoes, cucumbers, red onion, feta cheese, and a simple lemon vinaigrette. This salad is a perfect side dish for grilled meats or a light lunch. You can add other ingredients like cooked quinoa, roasted chickpeas, or grilled chicken to make it a more substantial meal.
Parsley smoothie: Parsley can also be used in a healthy and refreshing smoothie. Combine fresh parsley leaves with spinach, banana, almond milk, and honey in a blender. Blend until smooth and enjoy a nutritious, delicious smoothie packed with vitamins and minerals. You can add other ingredients like chia seeds, protein powder, or coconut water to make it even more nutritious.
Parsley butter: Parsley butter is a simple and delicious way to flavor any dish. First, mix softened butter with finely chopped parsley, garlic, and lemon zest. Then, spread it on grilled meats, vegetables, or bread for a delicious snack.
See? Parsley is not just a garnish; it's a versatile herb that can be used creatively in the kitchen. Whether making a salad, sauce, smoothie, or butter, parsley adds a fresh and vibrant flavor to any dish. So, the next time you're in the kitchen, try one of these creative ways to use parsley and discover a new favorite dish!
For more parsley recipes, check out our How to Grow Parsley Gardening Guide, which features more recipes like, Parsley Gremolata, Parsley-Watercress Soup, and Parsley Potato Salad.
How do you use up all your parsley in the garden? Do you know what to do with parsley when you have a huge bumper crop? Leave a comment and let me know!