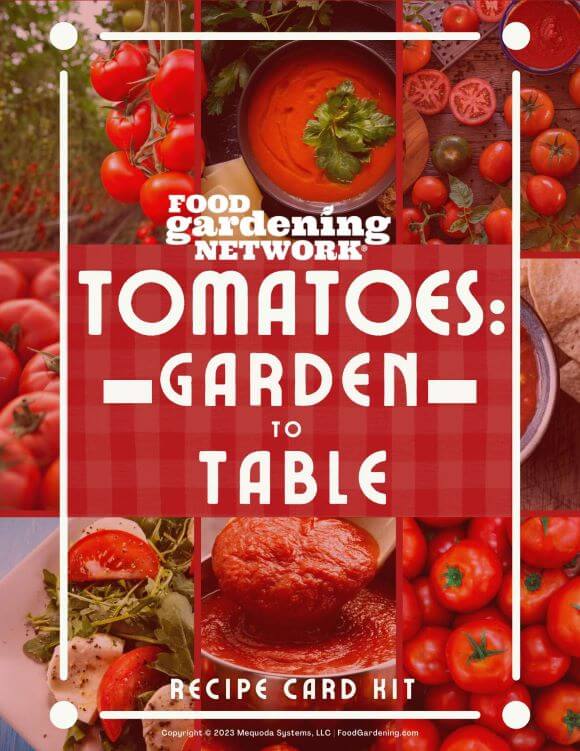 Even amongst the most beautiful butterfly garden, or a field of vibrantly hued hyacinths during summertime, there's one flower that will always steal my heart—the petite yellow blossom on my tomato plant that will eventually become an exquisitely ripened tomato!
It's no secret that I'm slightly obsessed with tomatoes, they're the ruby gems of my garden. If I had to pick a favorite, it would be Black Cherry tomatoes—but then there was also that random seed from last year. Who knows if it was Cherokee Purple or some other unknown variety—and maybe not knowing is part of the charm! As any gardener will tell you, sometimes you find yourself in love with an amazing crop for only one season before having to move on again. That's just part of gardening life!
In celebration of my favorite ingredient, I assembled this Tomatoes: Garden-to-Table Recipe Card Kit to honor its greatness. This kit includes all you need for creating extraordinary dishes with garden-ripe tomatoes. Whether a novice in the kitchen or an expert chef, this recipe package simplifies meal preparation while offering mouthwatering outcomes that will delight everyone's taste buds!
This Tomatoes: Garden-to-Table Recipe Card Kit includes all the ingredients and instructions needed to whip up tasty dishes featuring juicy, ripe tomatoes from your own backyard. Whether you're looking for classic classics, such as Fried Green Tomatoes and Chili, or modern twists, like my own Chicken Cacciatore recipe that I concocted after having an abundance of cherry tomatoes—there's something here to tantalize every palate.
This encompassing selection of tomato recipes has something for everyone, no matter your taste! In addition to these dishes providing exquisite flavors, they are also mostly quick and easy to prepare, making them the perfect solution for busy weeknights. I'm confident that you'll be delighted with the results of your garden-to-table tomato recipes! The recipes included in the Tomatoes: Garden-to-Table Recipe Card Kit will show you how to turn your fresh tomatoes into unforgettable meals. Enjoy!
Download the Tomatoes: Garden-to-Table Recipe Card Kit right now.
---
Gold Members, Download Here
Not a gold member yet? Join Now