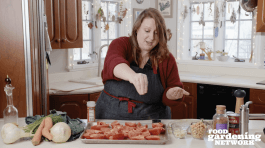 Anytime is a good time for homemade soup. The more veggies the better, and the easier to throw in a pot, even better. Throw it in, and let it go, I say. This recipe is slightly more involved, but I promise it's for good reason! See, ever since I started making my own tomato sauces and pastes, I have come to adore the flavor of grilled and oven-baked tomatoes. The grill and oven bring out their sweetness and when you broil them, you get a little added smokiness. This Fire-Roasted Tomato Kale Soup uses fresh baked and broiled tomatoes, but you can absolutely just grab yourself about 60 ounces of canned fire-roasted tomatoes if you want this comfort-soup to be a little more comforting and easy.
So far all I've talked about is the tomatoes, but kale plays just as important a role in this soup. I'm using Tuscan kale because I find it tastes better in soups and is less bitter than other types, but you can use any type of kale. This brothy, slightly-spicy tomato-based soup uses a whole bunch of kale, which I feel almost stands in for pasta, which I have neglected to add on purpose. For us gluten-free types, I'm using chickpeas instead, because they are more nutritious and also lend a complementary texture to the dish.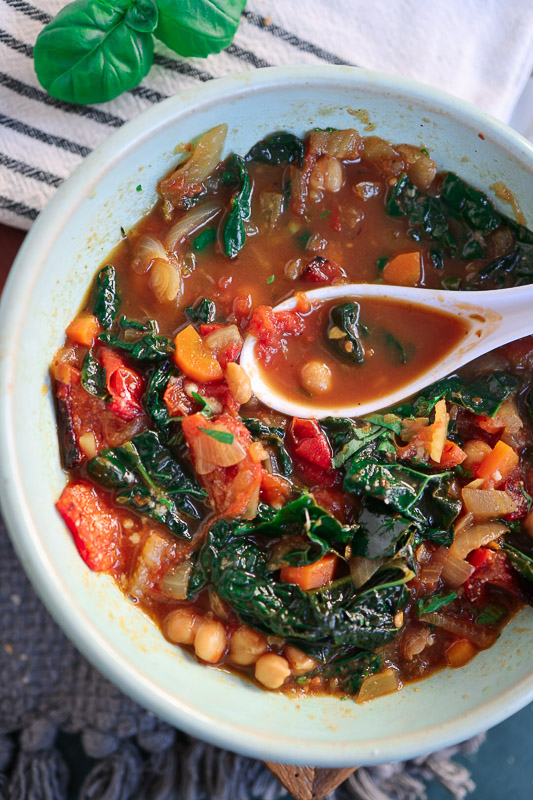 Print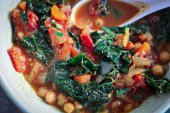 Fire-Roasted Tomato Kale Soup
Easy to prepare and fun on your tastebuds, this Fire-Roasted Tomato Kale Soup uses home-roasted tomatoes, leafy Tuscan kale, alongside fresh fennel and carrots to soften and smooth out this hearty garden soup.
Author:
Prep Time:

10 minutes

Cook Time:

1 hour

Total Time:

1 hour 10 minutes

Yield:

6

servings

1

x
Category:

Soups
Ingredients
Tomatoes

12

Roma or other sauce tomatoes (about

2

pounds)

2 tablespoons

olive oil

1/2 teaspoon

garlic powder

1/2 teaspoon

celery salt

1/4 teaspoon

black pepper

Soup

2 tablespoons

olive oil

1

large white Spanish onion, finely chopped

1

carrot, finely chopped

1 cup

fresh fennel bulb, finely chopped

4 cups

chicken broth

1 cup

chickpeas/garbanzo beans

1 teaspoon

dried oregano

1/8 teaspoon

red pepper flakes (add more for increased heat)

1 teaspoon

celery salt

6

cloves garlic, grated

2

bunches kale, stalks removed & chopped
Instructions
Preheat oven to 450 degrees F. Slice tomatoes in half lengthwise, and gently squeeze or scoop to remove seeds. Toss together on a baking sheet with 2 tablespoons olive oil, garlic powder, celery salt, and pepper. Lay cut side up and bake for 40 minutes or until browned on top. Flip over and broil for about a minute. If skin peels off easily, peel now, but if not, you can remove it when it floats to the top later. Roughly chop tomatoes.
While your tomatoes are cooking, heat 2 tablespoons of oil on medium-high in your favorite soup pot. Then add onions, fennel, and carrots. Cook until onions and fennel are translucent and carrots are tender (about 10 to 15 minutes). When tomatoes are done, add chopped tomatoes, broth, chickpeas, oregano, garlic, and red pepper flakes. Reduce heat to medium-low and let simmer for 20 minutes or longer. Cover if simmering longer than 20 minutes so it doesn't reduce. Skim off tomato skins as they rise.
Remove stalks and chop your kale. Once the soup is ready, taste. Adjust as you like with celery salt, then add your chopped kale and let simmer until soft (just a few minutes), then enjoy!
Notes
Since this soup is on the thick side, leftovers are delicious baked over chicken the next day.
Beyond soup, if you really want to honor the flavor of kale, I invite you to use it in a salad. Everybody loves to throw it in a smoothie or sauté it with some garlic and that's all fine and dandy, but kale is incredibly delicious and nutritious simply fresh and crisp. Most people think of kale as bitter, but there are so many varieties that it's hardly a blanket statement. Red kale, for example, is considered the sweetest, and it also goes by the name "Red Russian kale." It's great for salads. I've used all types of kale in salads but I find the curly types to have the thinnest leaves most appropriate for a salad. Thicker Tuscan kale is great for soups like this Fire-Roasted Tomato Kale Soup recipe.
If you love to grow kale or want to, check out our Kale Gardening Guide. And if you have any questions, leave me a comment below!