From the abundance of watering cans in my possession, you'd think I am a watering can collector. But that's not exactly true. I just like to try them. My hunch is that I somehow need a support group for my watering can obsession, or maybe that just comes with trying too hard to find one with good functionality. I always look for a great watering can that is easy to carry, has a long spout for convenient pouring, and has a wide opening at the top for filling.
I've tried out many different designs of watering cans over the years; some worked better than others. But after all this trial and error, I finally found one that I think is perfect for me. That said, I think everyone's version of perfect is different.
There is a lovely story called "Watering Cans and Rain Barrels" by Barbara Baker in our sister publication GreenPrints that I adore, and if you don't mind, I'll quote it here:
I have become a lover of watering cans. And of rain barrels. As the dawn begins to creep through the drawn curtains, I resist the urge to snuggle under the covers for a few more minutes of early-morning dreaming. The cat is meowing for breakfast and the birds have begun their morning songs. But it is the lure of the rain barrel and the watering cans that gets me out of bed.
In comfortable old garden clothes and sloppy sneakers, I carry my battered watering cans around the corner of the house to the rain barrel. It is a nondescript black plastic container with a spigot near the bottom. The open top is covered by screening. When the water level is high enough, the screening provides a place for birds to take baths and for them and chipmunks to get a drink.
As I place a watering can under the spigot and turn the handle, my morning reverie begins. The gentle sound of water beginning to fill the can centers me. I am aware of the smells around me. This morning it is the fragrance of summer honeysuckle and pine. I breathe in the coolness of morning and fill my lungs with the clear morning air. I close my eyes, breathe, and listen to the water splashing ever so slowly into the old can.
I thought I had a watering can obsession until I read this, and it sort of brought me peace that one day I might find rest and solace in my watering can instead of always pining for the next best one!
But my neurosis is your gain because today I'm sharing with you some of my favorite watering cans. And while I can't say they're the best for you, I can say they may be the best!
Maybe the best indoor watering can
For those who need a reliable and space-saving tool for spraying their hydroponic winter gardens as well as caring for their indoor citrus trees, I have the ideal combination of mister and watering can. It's at the top of my list due to its efficient design but is restricted in use since it only holds half a gallon of water and has a small spout.
I also like it for watering and misting my seedling trays in the winter. Though, when empty, it's helplessly wobbly and always falling off my shelf. Most likely a user error, but it's gotten angrily kicked a few times; I won't lie about that!
Maybe the best watering cans for little kids
Gardening with my daughter since she was a toddler has been one of the most rewarding experiences. However, when it comes to using watering cans for tiny hands, I'm often disappointed—they are simply too large and heavy! When filled up with water, lugging them around can be almost impossible, resulting in little ones having to drag them instead while spilling precious water from their spouts along the way. Even these adorable elephant watering cans are enormous to the average three- or four-year-old. For me, a watering can for toddlers and little kids should hold less than a quart and be: small, sturdy, cheap, lightweight, and have a large filling hole.
My top choice is the Hape watering can. It's economical, rugged enough to endure beach play, and designed with small hands in mind—an added bonus for sensory development! What I love most about this item is it's easy for toddlers to fill from a water bucket, as well as simple for parents to clean out when their little ones load it up with rocks. All that at less than $10 makes this product unbeatable!
P.S. I used to love the Melissa & Doug watering can for the same reasons, but the handle and spout break off too easily.
Maybe the best 2-gallon plastic watering can for big kids grown-ups
That's us! So listen, I actually have a few good picks here, and narrowing it down to one wasn't easy. I really like the Bloem 2.6-Gallon Easy Pour Watering Can because it has an extra handle that makes it easier to carry 3 gallons of water. But as much as I love it, I'm always reaching for this fella below, because it's just super simple and less bulky to use. The handle makes it easy to pour close to you, but the extension of the handle makes it just as easy to pour further away. I'm a big fan of this traditional watering can, and Bloem cans in general.
Maybe the best 2-gallon steel watering can
Hands down, no competitors out there can beat the Behrens Rust-Proof Steel Watering Can. They make them in a few sizes, but I like the 2 1/2 gallon size. It's just heavy enough to hold a ton of water in one try, but not enough to make me cry about carrying it. The rose (that piece that turns the river of a spout into gentle rain) is also fully emblazoned on there and won't pop off like they do on some larger plastic watering cans.
Maybe the best 1-gallon watering can
Not everyone likes filling and carrying a 2-gallon can, which I totally understand, so I've included a 1-gallon can on the list. This is the can I often use for fertilizer and compost tea, though I use my 2-gallon cans as well. I tend to use this for my potted veggies, rather than my bigger garden, because it's closer to the hose and I can refill it easier. Construction-wise, I like the tilted rose, so that you don't have to tip as hard to water your plants, plus it's removable if needed.
How to choose the best watering can for you
Volume and flow rate of water: If you're looking for the perfect outdoor watering can, aim for one that holds at least a gallon and preferably 2 gallons. Furthermore, pay attention to the handle; it should be stable and well-constructed. The size of your spout is equally integral because this will determine how quickly water flows out–larger ones are great for nourishing mature plants while more narrow ones work perfectly with smaller container plants.
Construction: If made with plastic, a solid piece of plastic with little or no seam would be best so that it doesn't have any weak points, though it doesn't mean one with a single seam will break, either. If made with any type of metal, look for rust-resistant or rust-proof types, since they spend most of their lives in contact with water and can become a hazard if they rust.
Handles: Buy a watering can that's easy to use. This means you should look for one that has a comfortable handle, which can mean different things to everyone. For example, some might like an ergonomic handle, but I prefer one that's smooth so that you can hold it in any spot and at any angle, and the grip is the same. Watering cans that have a seam on the inside of the handle (a good majority of them) can get uncomfortable when the cans are full.
Spouts: When putting a rose on your watering cans, you can buy it with the rose permanently attached or removable. I go for the ones that stay attached and use a separate can without one when needed.
Style: You might like a watering can that looks great in your home or garden, especially since most people don't store their watering cans in a shed between every watering session.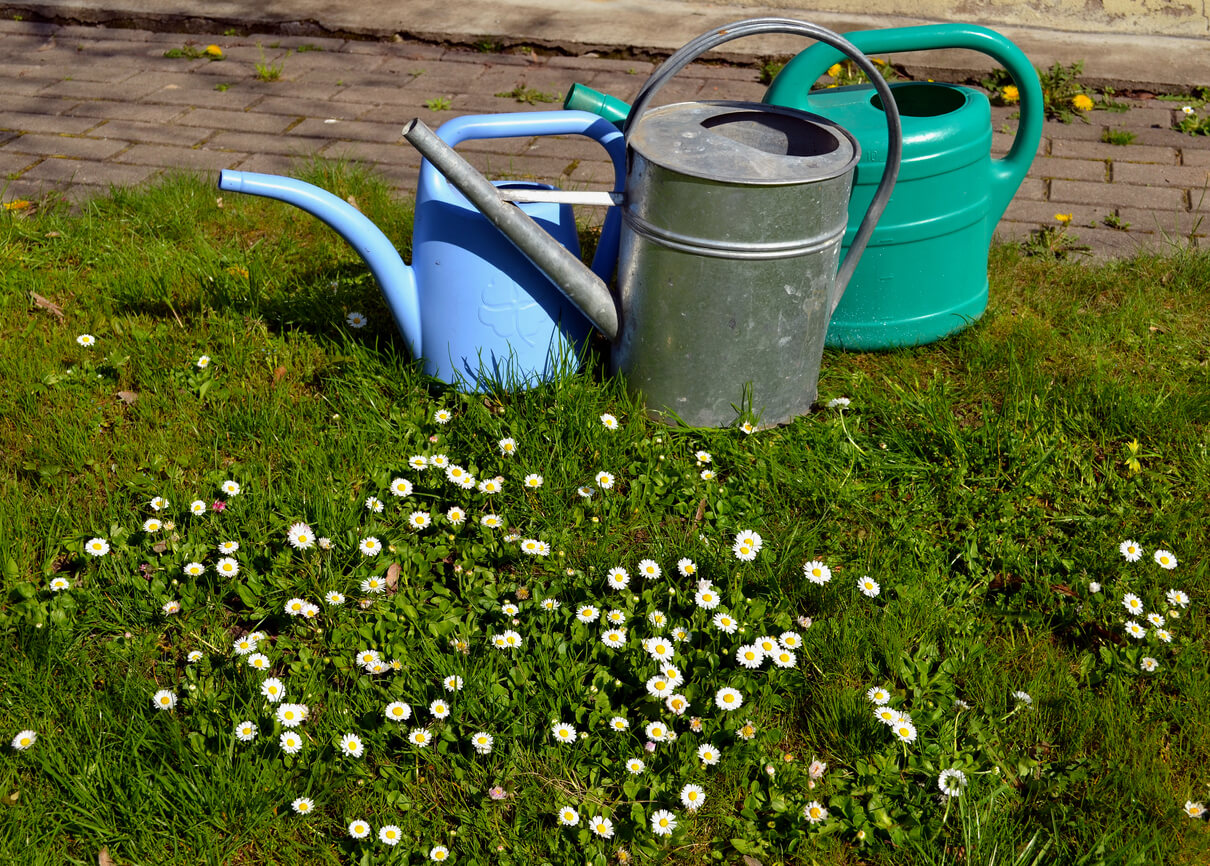 Different materials for watering cans
Copper: Copper watering cans have been a popular option for years because they look great on a shelf and are very long-lasting, though I rarely see them hold high volume for outdoor gardens, and they rust, so they need to be maintained.
Galvanized steel/Stainless steel/Aluminum: Steel is commonly used to make watering cans. They are long-lasting, rust-resistant, and sturdy, making them perfect for indoor or outdoor use. They can be a bit heavier than other materials, but they'll last forever.
Plastic: Plastic watering cans are a common and affordable choice for the average gardener. They are light, easy to clean and store, and can come in various colors and styles. However, while plastic watering cans are great for general gardening, they do not stand up well to extreme weather conditions and can break or crack. There's also the question of what's leaching into the water you're pouring out to consider, but I worry more about that with rain buckets than watering cans.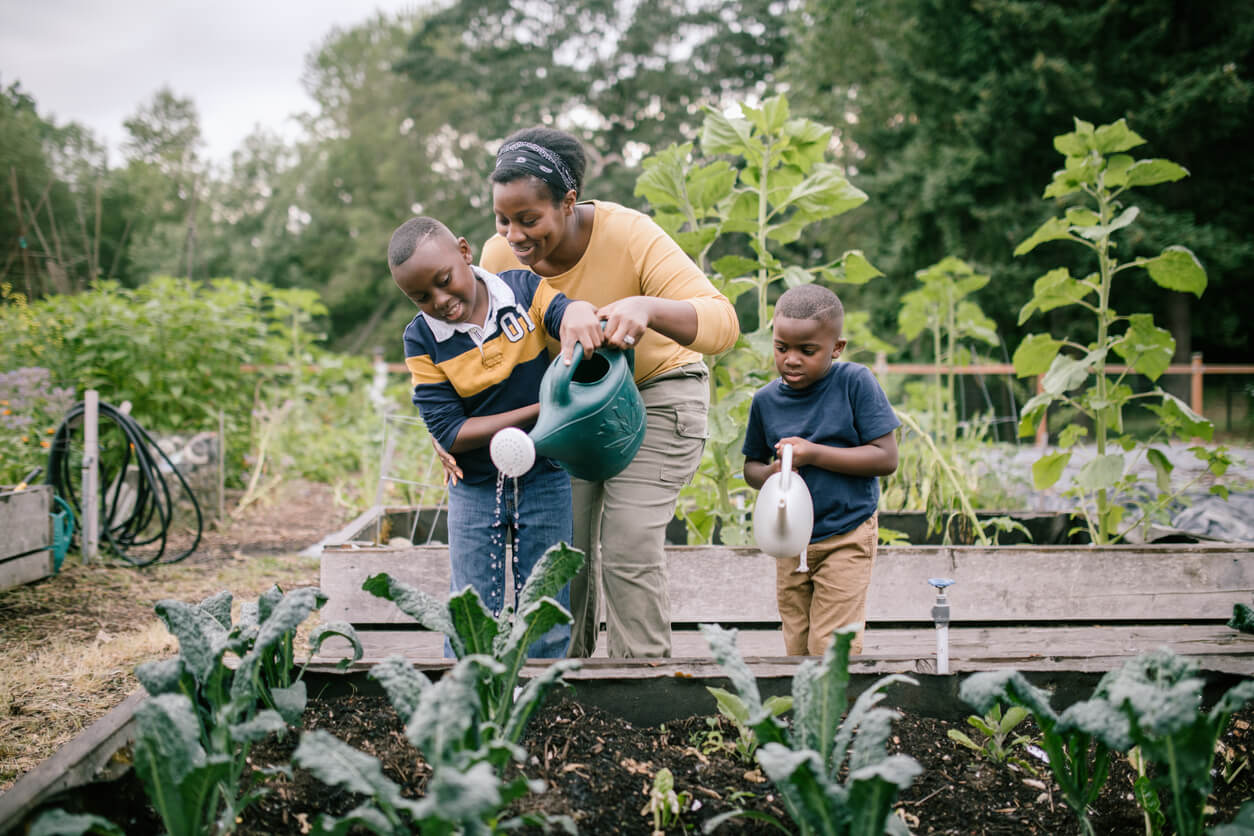 Size and weights of watering cans
When selecting the perfect watering can for your garden, it's important to assess its size in correlation with your needs. A more compact container garden would be ideal for a diminutive 1-gallon can while larger gardens might necessitate greater capacity cans that are up to 2 or 3 gallons in volume. The distance between you and your water source also plays an essential factor as those closer could opt for smaller cans needing less frequent refills.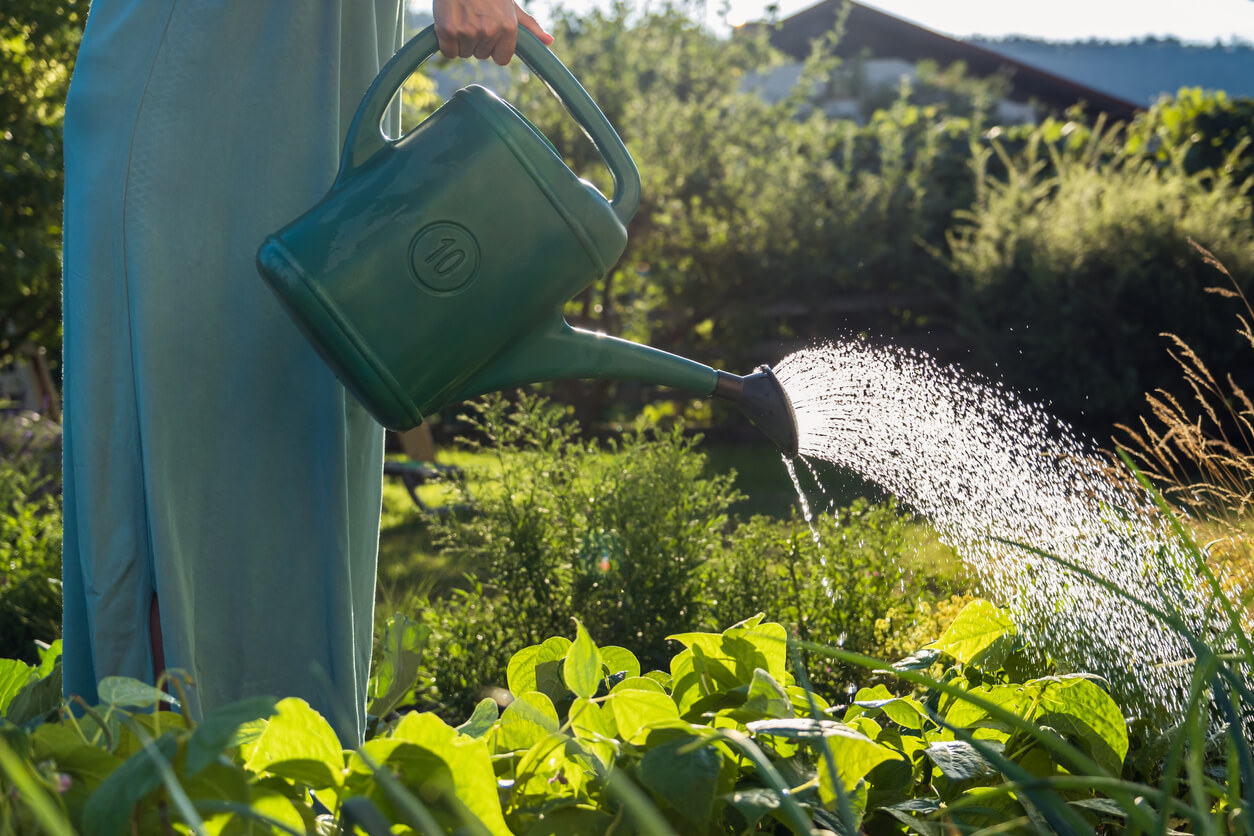 Spout, rose, or both?
When watering your garden, the design of the spout on your can is paramount. Depending upon what you are attempting to accomplish and how much water you want to use, a large or small spout may be best for each task. A larger one allows for soaking big areas quickly while a smaller one is ideal for tending delicate potted plants. To achieve that light shower effect favored by many amateur green thumbs, adding a rose (or mini-shower head) at the end of it will do just that! After young plants have established themselves during half of the growing season, you can remove this attachment as needed.
Streaming spout: A streaming spout will produce a vast stream of water that's great for watering large areas such as a garden bed, not individual plants. You can also attach a rose to the end, giving you a generous shower effect.
Fine spout: A fine spout is great if you have small plants that need watering, but don't want to over-water them. A fine spout will let out a small stream of water. I find it particularly useful in my vertical lettuce garden.
Rose: The rose is the shower head-looking attachment you insert into the spout or that comes affixed. Watering with a rose makes the flow more gentle, which is good for all plants, especially young seedlings.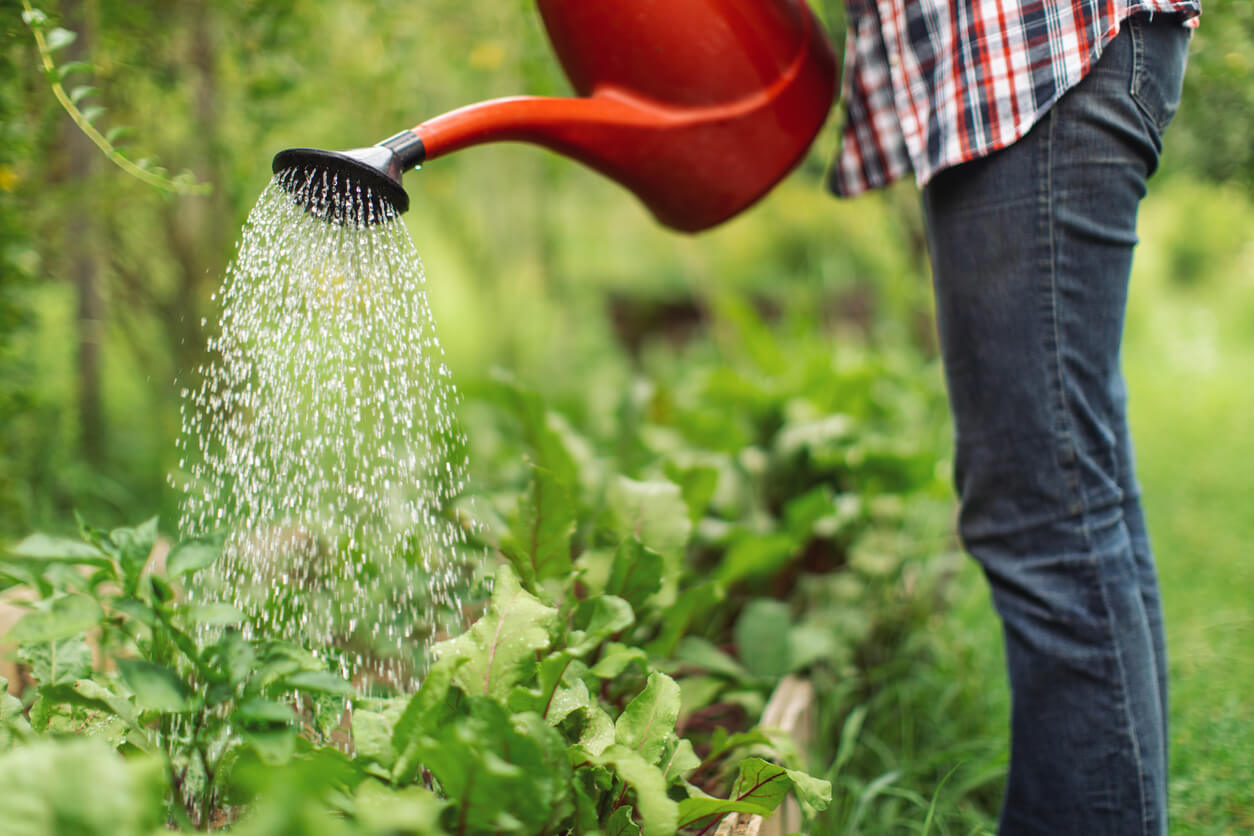 How to choose the best watering can
With the multitude of watering cans in the market today, it may be difficult to decide which one is perfect for you. To make an informed decision and select a quality product that will last many years, consider elements like your garden size, how much weight you can comfortably manage with just one hand (e.g., the equivalent of two jugs of milk), and what kind of maintenance you are up for. Armed with these insights on water needs plus ease-of-use capabilities, pick a watering can that perfectly aligns with your gardening requirements!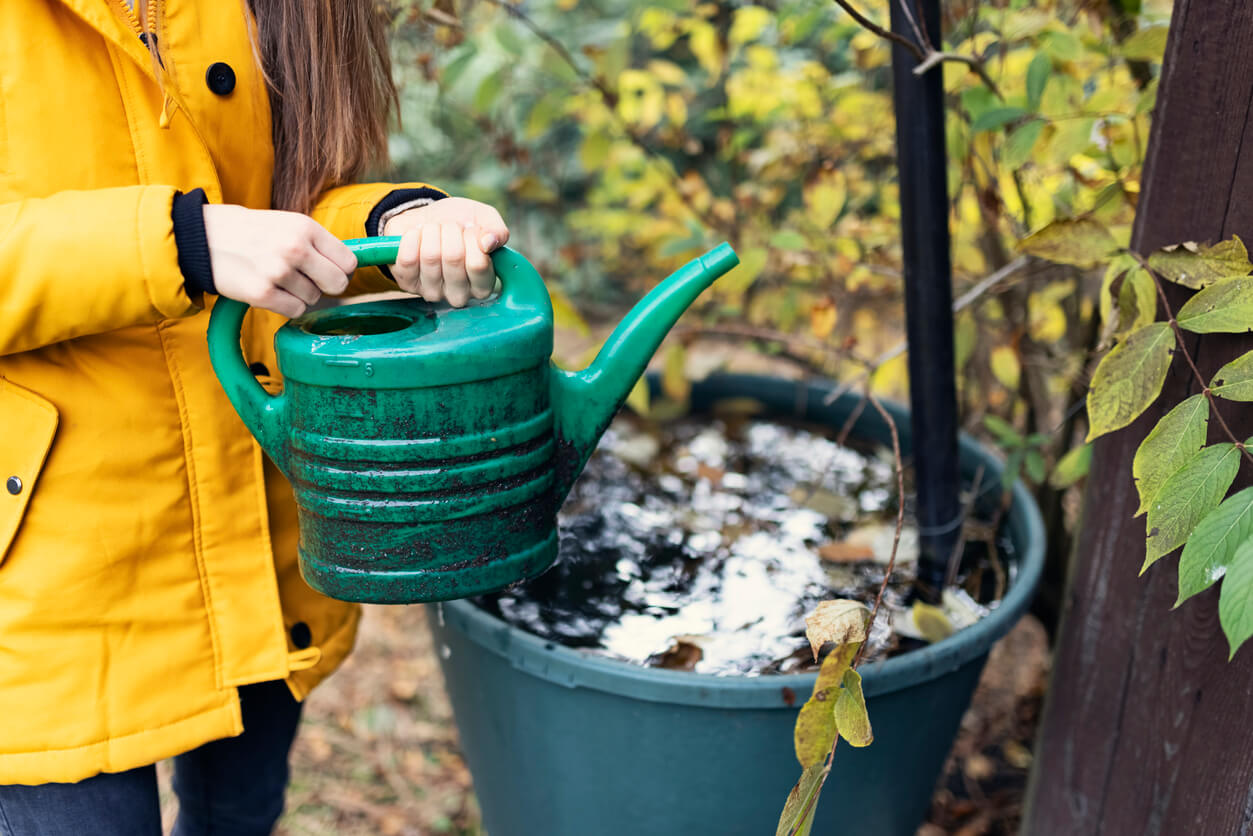 Taking care of the best watering can
Wait, buying the best watering doesn't mean you can just let it alone to its own devices.
Plastic watering cans need the least amount of work. They will likely get some algae and gunk, but they're usually dishwasher-friendly if needed. The downside of plastic is that you should keep it out of the sun and snow, so it doesn't degrade as quickly. Definitely don't leave it full of water over winter because it can crack and break as the water expands.
Metal watering cans are their own universe. Brass and copper cans will rust and oxidize if left full of water, so if you're going for a look, those will need to be polished often. Limescale will eat away at the copper, in particular. Steel doesn't need much help, but it's best, again, not to leave it full of water and never let it freeze in the winter because it'll expand the seams, and you'll end up with leaks.
Now that you are familiar with the highest-quality watering cans on the market, it's time to make an informed decision. Hopefully, these suggestions have provided enough insight and guidance! When selecting your ideal product, be sure to prioritize its composition—opt for a model made of superior materials while still being user-friendly so that it can stay in working order for years. But no matter which one you choose, don't forget to give it regular maintenance through cleaning so as not to allow rust or clogging build-up.
Which watering can do you use? Leave a comment and let me know.
Note: Food Gardening Network contains links to affiliate websites, including Amazon and Rakuten Affiliate Network, and we may receive a commission for any eligible purchases made by you through links on this page. Any reviews are based on honest reviews of the products.