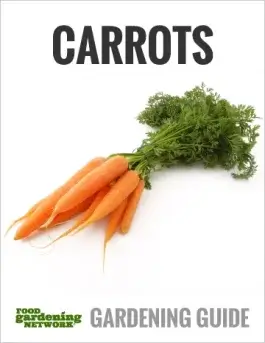 Carrots are delicious. This cool-weather root vegetable is easy and fun to grow; plus, with a relatively long shelf life, you can have carrots at hand whenever you want them. And it doesn't take much for your garden to produce so many that you need ways to use extra carrots.
Plus, now you have a rainbow of carrot colors to choose from; carrots aren't just orange anymore! Truth be told, they didn't start off orange. No matter the color you choose, once you have homegrown carrots, you'll never go back to store-bought!
But, what to do if you have surplus carrots? You certainly don't want to waste them.
Here are six great ways to use extra carrots: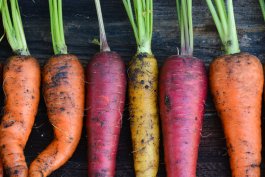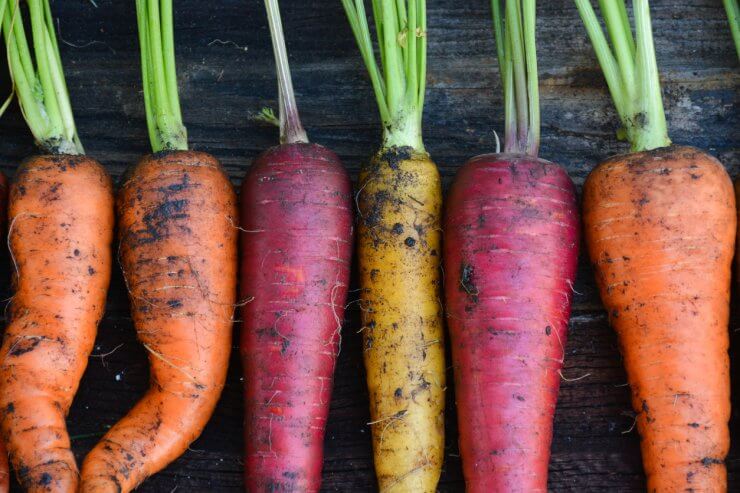 1. First, store them properly for extra-long life.
Like many other root vegetables, carrots can be stored on your countertop or in your pantry—but, the best way to maximize longevity is to store harvested carrots in your refrigerator in a hole-punctured plastic bag. Don't wash or clean your carrots before storing, because you'll compromise storage life when removing any waxy protective outer layers. Only wash and scrub your carrots when getting ready to use them. And keeping them dry will prolong storage longevity.
2. Keep a container of grated or shredded carrots on hand.
Personally, I keep an airtight container of shredded carrots in my refrigerator for use in topping off a salad. Shredded carrots add flavor, color, and crunch to any quick salad, and it's easy to shred them with a food processor's shredding attachment. Don't do a big batch of carrots this way—shredding just one large carrot is enough to last a few weeks, and it's so convenient to have them ready to use whenever you need and want them.
3. Carrot soup is tasty any time of year.
When you have extra carrots, try making Ginger Carrot Soup. Serve up this soup hot or cold, any time of the year. It can be a great first course to a meal … or the centerpiece of a light lunch or dinner. This dish is super smooth, with just a touch of sweetness from the Greek yogurt. If you want to make a heartier soup, add some oven-roasted veggies. You can make this soup as fancy or as casual as you like—just make sure you have enough on hand when your guests ask for seconds!
4. Pickled carrots are great for snacks and salads.
Another great way to use extra carrots from your harvest is to pickle them. Pickling carrots is easy and gives you crunchy and tangy snacks that will keep for a long time in your refrigerator. You can even use them in salads by chopping the already-marinated pieces and adding them to your greens. Just five ingredients: carrots, peeled and cut into sticks that will fit in a Mason jar; apple cider vinegar; sugar; salt; and coriander seeds. Heat the apple cider vinegar on your stovetop, adding sugar and salt until they dissolve. Bring to a boil and reduce to simmer for a few minutes. When slightly cooled, pour the mixture into a Mason jar with carrot sticks and add a tablespoon of coriander seeds. Marinate for at least an hour, and you'll have tasty and healthy snacks whenever you want them!
5. Carrot sticks are great for munching.
Peeled and cut carrots make for great munching. Just use extra carrots to prepare a batch of carrot sticks that you or anyone in your family can eat when you just want a quick and healthy snack. They can be eaten plain … or with a flavorful dip. Even kids will like this snack!
6. Make your smoothie more healthful with carrots.
Using extra carrots in a smoothie is another healthful way to enjoy your excess carrot harvest. Just put all these ingredients in a blender:
2

 medium carrots, diced (leave the skin on for more fiber)

1 cup

 frozen pineapple chunks (or use fresh pineapple and freeze ahead)

1 tablespoon

 fresh ginger root, peeled and diced

1 teaspoon

 turmeric powder

2 tablespoons

 lemon juice

1 cup

 water
Optional: 1 banana
Blend until smooth and enjoy this refreshing and tasty drink!
Do you want to start growing and enjoying carrots? It's so easy, and you will find many ways to use your extra carrots! Check out our Crunchy Carrot Guide to learn everything you need to know about growing, tending, harvesting, and enjoying carrots! And this carrots gardening guide has lots of easy-to-make and tasty recipes for you—check it out now!
What else would you like to know about ways to use extra carrots? Have a tip you want to share? Please leave your questions and comments below.