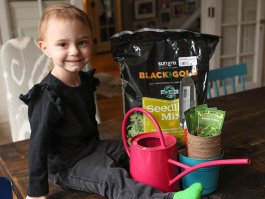 When the holiday season rolls around, I always have a wish-list of new gardening tools or gadgets. This year I'm vying for this Barebones Hori Hori knife and perhaps another countertop herb garden. Being a gardener, I can think of lots of ideas that would be great gifts for garden lovers because I have gotten so many myself.
But like underwear or diet pills, there are some things we just don't buy for other people. In the gardening world, those are things like gardening boots (will they fit? Will their calves fit?), knee pads (you don't need more than one set), or a garden seat (again, if they want one, they already have one). But there are plenty of great gifts for garden l21w21231`overs you can buy (or gift to yourself!) Let me indulge myself by sharing with you some of my favorite things, that I believe any gardener would enjoy, and watch the video above to see them all in action.
Microgreens Kit / Green Onion Kit
Cheaper and easier than a hydroponic garden, a microgreens kit is a great gift for the health-conscious. Nutrient-packed microgreens can be used on salads, in smoothies, and as garnish. To see how I used the Hamama microgreens kit, watch Growing Microgreens: Kits vs. DIY.
Bucket Boss Tool Organizer
I like the Bucket Boss because it turns any ol' 5-gallon bucket into a tidy plant tool organizer.  My husband uses his for tools but I use it for all my pruning and weeding supplies. I also keep my zip ties and plant ties in this bucket. Small shovels, watering bottles, plant labels, gloves, hand rakes, and more can all fit around the inside and outside perimeter of the bucket and you can also use the inner well to hold any larger items like a watering can, Neem oil, or a small bag of potting mix.
Pruning Shears
I don't know a gardener who wouldn't gladly accept more pruning shears. I can't tell you how often I leave mine out, only to find them a few days later, rusting in the soil next to a dropped cucumber. Stainless steel is key here!
Gardening Gloves
You might be thinking "but won't they already own gardening gloves?" And just remember the purpose of these gloves: to dig in the dirt over and over again. After a while, they get a little gamey. Personally, I prefer a pair of loose-fitting leather or suede garden gloves, because, in the heat of the summer, the rubber ones are harder to get on and off. Kids gloves are great too!
Veggie Ties and Lever Loops
Anyone with a trellis will gratefully take on veggie ties and Lever Loops, which will help keep their tomato plants off the ground, and their vines crawling upward instead of outward.
Seeds
You can't go wrong with seeds. Every year the All-American Selections website features new flowers and vegetables that have been "Tested Nationally & Proven Locally.™" "Each AAS entry is tested for superior garden performance by horticulture professionals across North America," according to the website, so a fun gift would be to try and get your hands on some seeds for some of these brand new varietals. Another seed gift idea is to make your own envelopes and share seeds from your own garden. To learn how to gather your own seeds, watch my video on How to Get Seeds from Your Vegetables to Save for Next Year.
Melon / Squash Cradles
Anybody who grows melons, squash, and pumpkins will happily take on more cradles. They're usually sold in packs of six, but that's never enough, so even if you know someone who has some, they could probably use more.
Rapid Soil Test Kit
Every gardener tests their soil in the spring (and sometimes the fall) so we can all benefit from the gift of perfect pH. They sell all types of tests but I suggest the Luster Leaf® Rapitest Soil Test Kit which tests for pH, Nitrogen, Phosphorus and Potash.
Subpod Mini
Giving someone a composter seems like an expensive, weird gift because they're typically bulky, but the Subpod Mini, is none of those things. At an affordable $129, it ships in a wrap-able box, and the recipient only needs to bury it in their garden or a raised garden bed. It's a bit bigger than a milk carton but not by a lot. I bought one for myself this year based on recommendations from my garden friends and it put my giant overpriced composter to shame. Learn more about Subpod Mini featured in the video above.
Seedling Heat Mat
We live in an old 1920's house, and there ain't no germinating in this house without our seedling heating mat. This gift would be great for a budding gardener because more experienced gardeners might already have one. But if you know a gardener who doesn't have one yet, it's a great gift! Bonus points if you package it with a grow light, particularly if you're in USDA growing zones 6 or below. To see how I used mine to start a batch of seedings, watch How to Start Seeds Indoors: Grow Kits vs. DIY Methods.
A Hori Hori Knife
Like the swiss army knife of gardening, a Hori Hori Japanese gardening knife is my favorite tool for cutting lettuce, but it's so much more. There are inch markings on the blade, a serrated edge, and a straight edge, used for pruning, weeding, digging, and everything in between. Look for one that is stainless steel and comes with a sheath that can clip onto a belt, because these babies are sharp! A great one I'd suggest is the Barebones Hori Hori Ultimate featured in the video above.
Countertop/Vertical Herb Garden
Any food gardener who loves to cook will appreciate an indoor hydroponic garden for the winter months. I like to use a countertop one for herbs, and a vertical one for lettuces, and bigger veggie experiments like tomatoes and beans. I suggest a Click and Grow system, which I featured in the video above and can be expanded from a countertop version to a stacked vertical garden version.
Child's Grow Kit
This one's for the kiddos! At almost four years old, my daughter is more than willing to help me with any gardening task, from weeding to carrying plants from the car, to picking and washing veggies. She's all-in for all of it. When she turned three, I made her a little gardening kit that I felt was most appropriate.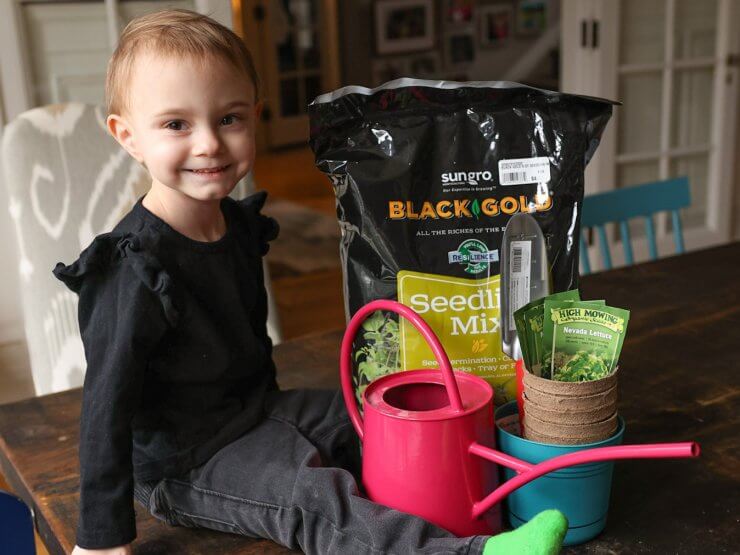 It included:
Seeds
Seed-starting containers
Pots
Watering can
Transplanting trowel (or any small shovel)
Enough seed-starting and potting soil to fill said containers and more (perk: seedling mix is often sterile which is great for kids)
Optional: Paint for decorating their pots (see our tutorial on painting pots with kids in our August 2020 issue of Food Gardening)
Optional: grow lights
Your turn: what gardening gifts are you gifting or would you like to receive?