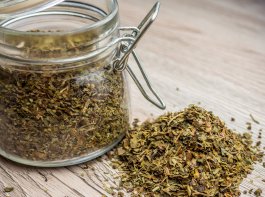 Basil, a beloved culinary herb with a sweet, peppery flavor and a light licorice taste, is a staple in many kitchens worldwide. However, fresh basil only lasts for a short time before it bolts in the summer sun, and drying it is an excellent way to preserve its unique taste and aroma. Let's explore the benefits of turning fresh basil into dried spice; how to dry, measure, and store it; and some tasty recipe inspiration to use in your cooking.
The benefits of dried basil
Dried basil has several advantages over its fresh counterpart:
Longer shelf life: Dried basil can last for months, making it more accessible and convenient to use.
Concentrated flavor: The drying process intensifies the flavor, giving your dishes a more robust basil taste that you can use less of in recipes.
Economical: Drying your basil saves you money compared to buying prepackaged dried basil.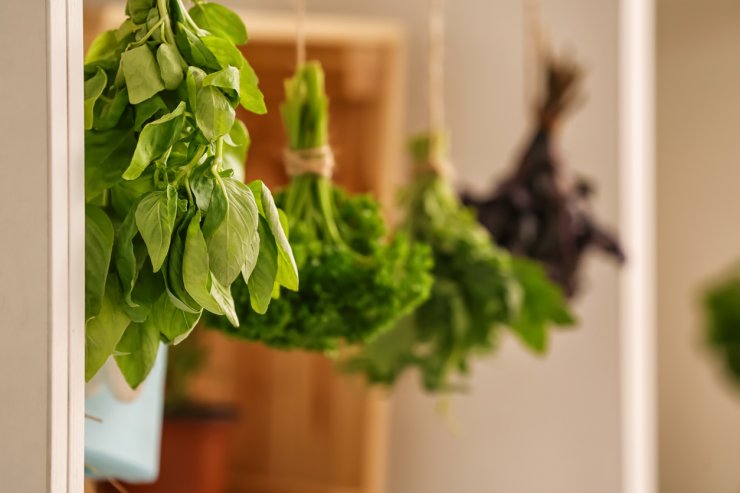 How to dry basil
There are several methods to dry basil, each with pros and cons. Let's explore four popular options:
1. Air drying. Air drying is a traditional method that doesn't require any special equipment. To air dry basil:
Rinse and pat dry fresh basil leaves.
Tie small bundles of basil stems and hang them upside down in a cool, dark, well-ventilated area.
Leave the basil hanging for two to four weeks or until the leaves are completely dry and brittle.
2. Oven drying. Oven drying is a faster method than air drying, but it requires more attention:
Preheat your oven to the lowest possible temperature (usually around 170 degrees F).
Spread dry basil leaves on a baking sheet lined with parchment paper.
Place the baking sheet in the oven for one to two hours, checking and turning the leaves every 30 minutes to ensure even drying.
Remove the basil when the leaves are crisp and crumbly.
3. Microwave drying. Microwave drying is the quickest method, but it can lead to uneven results:
Lay basil leaves in a single layer between two sheets of paper towel.
Microwave on low power for 45 seconds, then in 30-second intervals.
Continue microwaving in short intervals until the leaves are dry and brittle.
4. Dehydrator drying. A food dehydrator is a reliable and efficient way to dry basil:
Rinse and pat dry fresh basil leaves.
Arrange the leaves on the dehydrator trays, ensuring they don't overlap.
Set the dehydrator to a low temperature (95 degrees F) and dry for 12 to 24 hours or until the leaves are crisp and crumbly.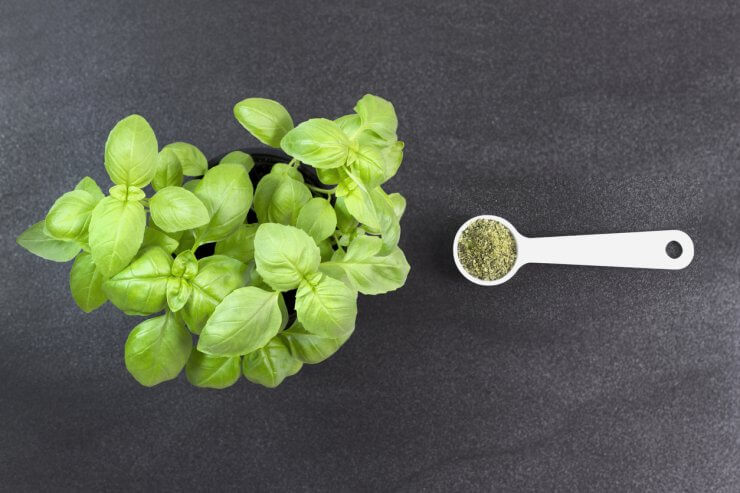 How to measure dried basil
Conversion ratios
When substituting dried basil for fresh in a recipe, use the following conversion ratio: 1 tablespoon of fresh basil equals 1 teaspoon of dried basil. Remember, dried basil has a more concentrated flavor, so you need less.
Before using them, gently crush the dried basil leaves between your fingers before adding them to your recipe. This helps release the aromatic oils and ensures a consistent flavor in your dish.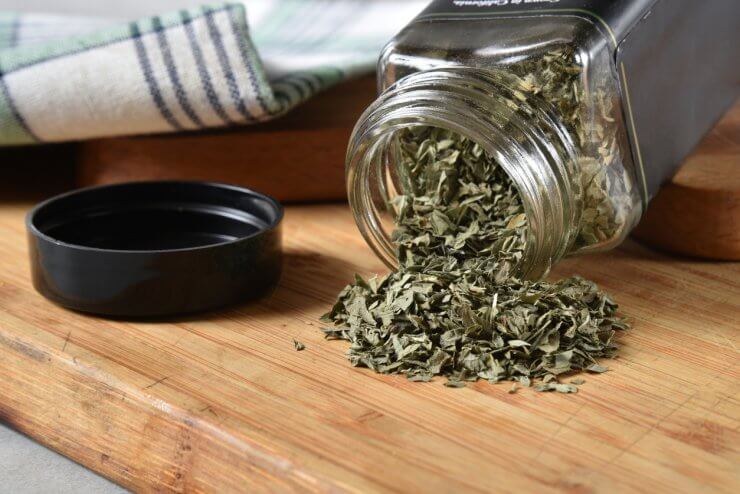 How to store dried basil
Choosing the right container
Store dried basil in an airtight container, such as a glass jar or a plastic container with a tight-fitting lid. This prevents moisture, air, and light from reaching the basil, causing it to lose flavor.
Optimal storage conditions
Keep dried basil in a cool, dark, and dry place. Avoid exposure to direct sunlight, as it can degrade the flavor and aroma. A pantry or a cupboard is an ideal storage location.
Shelf life
Properly stored dried basil can last up to one year, though it's best to use it within six months for optimal flavor.
Rehydrating dried basil
To rehydrate dried basil for a recipe, soak it in warm water for 15 to 20 minutes, then drain and use it as you would fresh basil.
Using dried basil in your cooking
Dried basil is a versatile ingredient that can enhance a variety of dishes. Try using it in:
Pasta sauces, such as marinara or pesto
Salad dressings and vinaigrettes
Roasted or grilled vegetables
Soups, stews, and casseroles
Meat and fish dishes
Drying basil is a practical and economical way to preserve its flavor and enjoy it in your cooking year-round. Explore different drying methods, store it properly, and don't hesitate to experiment with dried basil in your favorite recipes.
If you'd like to learn more about growing basil, check out our gardening guide to growing basil. Basil is one of the most essential herbs and can be found in just about every kitchen and with our Basil Grower's Guide, you'll have everything you need to know about growing and enjoying this versatile herb.
Do you choose the path of turning fresh basil to dried every summer? What are your tips and tricks? I'd love to hear them!