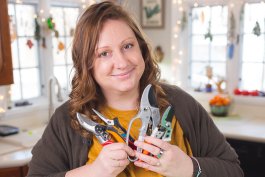 What I love about gardening is that there's always something new to learn—some new experience a friend shared with you to improve the taste of your tomatoes or a trick to get rid of spider mites. There's no end to what we can learn from one another in the garden, and that doesn't stop when it comes to choosing the types of pruning shears that will work best for you and your garden.
As a new gardener, I remember staring blankly at the rows of hanging garden shears and figuring they must all be pretty much the same. So whenever I'd leave a crappy pair out to rust I'd just grab a couple more and for a long time I really didn't respect my tools the way I should. But as you may already know—and I have learned over time—there are lots of ways to produce a crappy harvest and only a few tried and true ways to have a great one. And one of the most fruitful ways is to know your shears and keep them clean.
The cleaning part is simple: clean your shears when moving between plants. I have alcohol wipes that I carry with me around the garden on a pruning day. It's a little silly and maybe I'm over-doing it (yes I am), but imagine me out in the garden between my raised beds with a fanny pack full of alcohol wipes, for a good chuckle.
Three+ types of pruning shears
Now look, there are a lot of pruning shears out there for bushes and shrubbery, but that's not really what we're getting into here. Let's do a deep dive on the types of pruning shears you might actually use in your garden for pruning and cleanup, and when you should use each.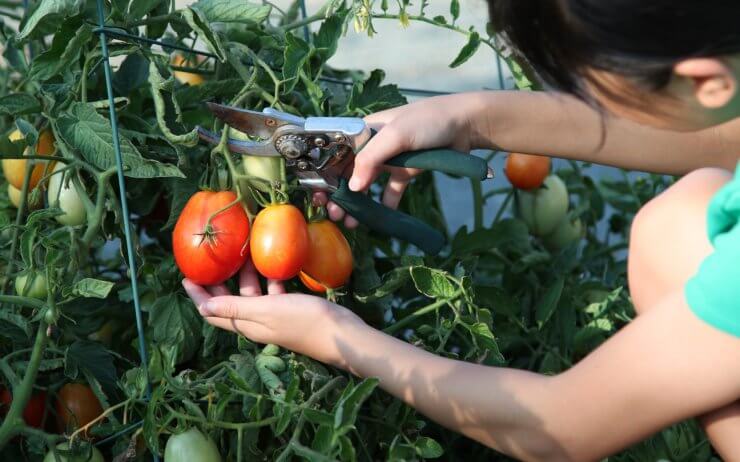 Bypass Pruners are your go-to pruners for most things in the garden. They're called Bypass pruners because the blades literally bypass one another which gives you a clean cut without any crushing of the plant on its way through. You can cut stems or stalks of any vegetable comfortably up to a half-inch with no trouble at all using bypass pruners.
Personally, I like stainless steel pruners because they're more resistant to rust. High carbon steel pruners are more heavy-duty and have a certain stickiness resistance because they're coated, but rust is such a huge annoyance to me that I'd rather wash sap off a pair of stainless steel pruners than deal with rust in the middle of my first summer with a new pair. We'll talk about brands later in this article, and in the video.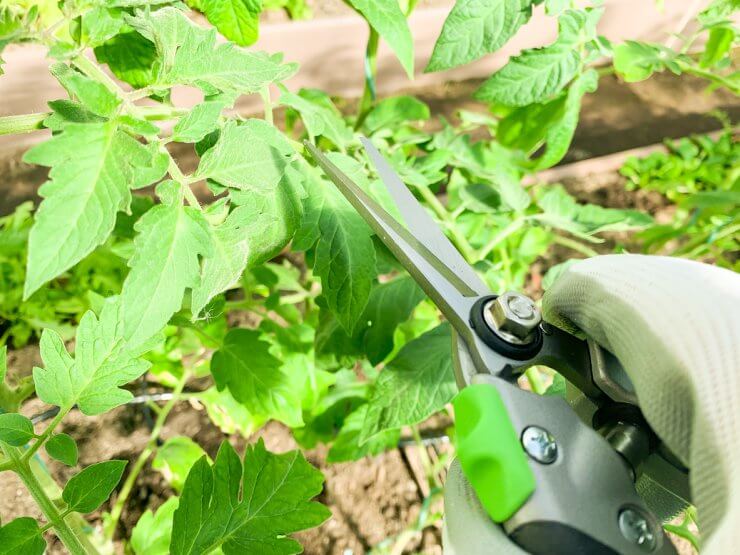 Pruning Snips, which might also be called Microtips, are much thinner, very sharp scissor-like pruners that are good for pruning suckers off tomatoes, and pruning or even harvesting parts of more delicate plants like basil.
I find them particularly helpful in my hydroponic garden because you're growing so much in such a small space that sometimes you need to get in there with some precision. They make snips in straight blades and curves for getting into different nooks and crannies, but my straight snips have always gotten where I need them to go.
I definitely use pruning snips daily in my garden, and honestly around the house as well so I recommend having a pair of these fellas. These are also the pair I leave outside constantly because they're sharp so I put them down a lot, that's why I go cheap with pruning snips and usually have a $15 pair of Fiskars on me.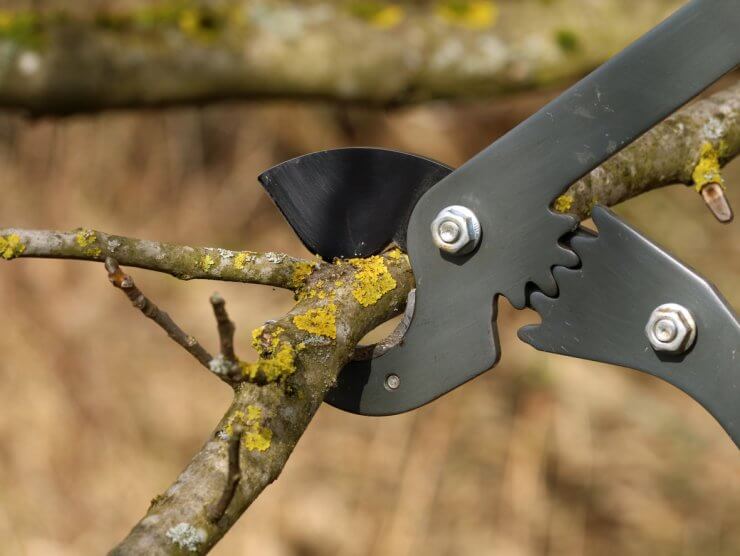 Anvil Pruners are basically the antithesis of the first two types of pruners. Anvil pruning shears only have one sharp blade that presses into a notched base (anvil). The action on these types of shears is more of a crushing motion. Anvil shears work best with smaller branches and stems under a half-inch in diameter, but they don't do it with much precision. Instead, they come in with bonus force and will cut but also crush whatever you're looking to bite through. You can get cleaner cuts with a new or sharpened blade, though. These are the pruners I use mostly when cleaning up the garden, and I like that this is a separate pair I don't need to walk around with the fanny pack of alcohol wipes for, because everything I'm using it for is probably already dead or heading to the compost.
Now, when I mentioned that I preferred stainless steel for material, the Anvil Pruners are an exception because I care more that they're tough than whether or not they're going to rust. For the Anvil Pruner, you also have the choice of spring-loaded or one that sort of ratchets down, and both will do the job. But if you need something extra tough, for say, those big pineapple sage bushes or something thicker, a ratcheted Anvil Pruner will work better because it's easier on your hands and will hold the blade in place if you open it back up to clamp down again.
When you're picking your pruning shears, just be sure to try out a few different pairs because some may be tighter than others. While the tighter pairs might last longer, if you're doing any type of hour-plus long work in the garden, it might be easier on your hands to use shears with a less-tight pull, softer grips, and ones that just fit your hand the best.
In terms of what you want to spend, I say go for cheap pairs for as long as you are still leaving your tools out in the garden. When you start to get more serious and get tired of replacing them, level up with a pricier pair.
Felco is a brand that seasoned gardeners love and you will get decades of use out of a Felco Model 2 (around $60). I do find them to be pretty big in my hand, and the Felco 7 is a better fit for smaller hands. Another favorite brand is Japanese-made Okatsune. For a smaller everyday pair of bypass pruners, the small Okatsune 101 is perfect to me. You can also get bigger ones like the 102, 103, and 104 for larger hands and garden demands. A lot of people consider them the Rolls Royce of shears, though their price points are about the same as Felco if not slightly less. To compare the two, the Felco 2 has a bit of an annoying locking mechanism that over time can sometimes swing and lock your shears while you're using them, and the Okatsune has really simple functionality. I've heard other gardeners tell me they've been using their Okatsune for years without ever needing sharpening because Japanese steel is so strong (also why many enjoy them for kitchen knives).
If you're interested in more deep-dives into gardening tools, check out our other videos:
Now I'd love to hear which types of pruning shears and nips you use at home, why you like them (or why you don't) and your own rituals for caring for your pruners in the comments below.