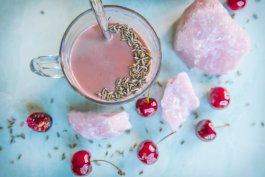 When the full moon rises in April, it's considered the "pink moon," not because of its color, but because the Algonquin tribe named it after the pink wildflower phlox blooming around the same time.
In the spirit of the upcoming pink moon, I invite you to try a very special cherry lavender moon milk. If you're not familiar with moon milk, it's a popular ayurvedic concoction consisting of warm milk and any number of fragrant and healing additions.
At its base, a moon milk may consist of warm milk, honey, and powdered ashwagandha, which is an adaptogen that helps your body cope better with stress. It may also contain any other number of additions, like nutmeg, turmeric, ginger and cinnamon. In Ayurveda, food is used to heal the body, and moon milk is a remedy for insomnia and stress.
This pink moon milk focuses on anti-inflammatory ingredients. Since cow's milk can be inflammatory for many people, I'm suggesting alternatives such as coconut milk, oat milk, almond milk, or any milk your body doesn't react negatively to.
To build on that, we're using lavender instead of ashwagandha because ashwagandha is in the nightshade family, which can also be inflammatory for many people (tomatoes and eggplants are also in the nightshade family). While not an adaptogen, lavender is proven to induce relaxation and reduce stress, and you can enjoy the benefits of this while it simmers, too.
We're using honey to sweeten, because according to Ayurveda, it's wonderful for a number of things, but most importantly it's easily digested, which means it won't cause stress on your digestion before bed. It's also anti-inflammatory, which falls in line with the theme of this recipe.
Finally, fresh ripe sweet cherries are used because they contain melatonin, which helps us sleep. They're also powerful antioxidants, and in fact have more antioxidants than any other fruit.
We let all the ingredients simmer over low heat on the stove for 15-20 minutes before pouring into a warm mug before retiring to bed.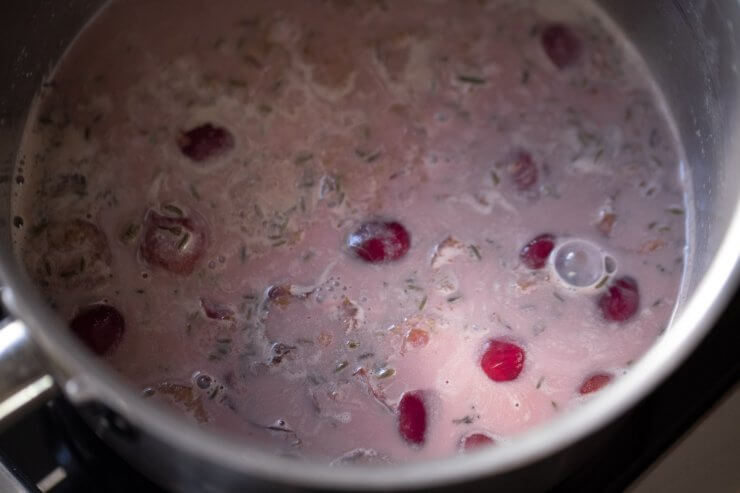 Print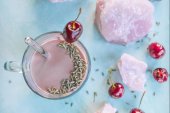 Cherry Lavender Moon Milk
This cherry lavender moon milk combines anti-inflammatory ingredients like cherries and honey with beneficial properties that help with sleeplessness.
Author:
Prep Time:

5 minutes

Cook Time:

20 minutes

Total Time:

25 minutes

Yield:

Serves 2

Category:

Beverages
Ingredients
3/4 cup

sweet cherries, halved and de-seeded/stemmed

2 cups

milk alternative (coconut, oat, nut)

1/2

–

1

tbsp dried lavender

1 tablespoon

honey
Instructions
In a skillet over medium-high heat, bring all ingredients to boil, then reduce to a low simmer. Start with 1/2 tbsp lavender and then increase to taste at the end. If you don't like lavender, you can skip entirely, it will still be lovely.

Let simmer for 15-20 minutes, and use a spatula to mash cherries when they get soft. Enjoy the fragrant lavender aroma while it cooks.

Strain through a fine mesh sieve, then pour into a mug. Sip to enjoy the moon milk, and cup the top to inhale the aroma, for the full effect.
Do you make moon milk at home? What's your recipe? Please share in the comments below!