We all know that an apple a day keeps the doctor away. But it doesn't have to be just a plain old apple. When it comes time for making dessert during apple season, I like to look for ways to show my bountiful harvest while presenting something delicious—but not too heavy.
Enter the baked stuffed apple. Simpler in some ways than apple pie, there's no fighting over who gets the bigger slice—if you use the same size apples, that is. This humble dessert can stay low key with nothing on it—perfect for a warm, simple, satisfying end to dinner. It can also branch out with some additional kid appeal when you add something like whipped cream. If you want to get into cooking show mode, you can pour out a swirly layer of chocolate on each plate, put the baked apple on top, and serve it with a cheese plate on the side. How much you dress this up or down is up to you.
The cranberries are listed as optional, but I always try to include them. The "official" reason is that apples and cranberries are packed with antioxidants. The real reason is simply that I love the taste of cranberries and apples together. When I can, I use fresh cranberries.
When you're picking apples to make this particular dessert, be sure to pick culinary apple varieties, like Granny Smith, Northern Spy, or Gravenstein. These apple varieties are tarter than dessert apples and they stand up better to baking than would Cortland, Macoun, or McIntosh apples.
Keep this recipe on your short list of desserts you can easily make—it's a terrific way to enjoy your apples without spending a lot of time in the kitchen.
Print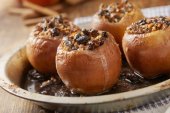 Baked Stuffed Apples
Here's a sweet way to get your apple a day. Each apple is its own serving. You can dress it up with whipped cream or ice cream, or add some contrast with cheddar cheese on the side. It looks lovely, and tastes delicious!
Author:
Prep Time:

15 minutes

Cook Time:

45 minutes

Total Time:

1 hour

Yield:

Serves 4

Category:

Bakery
Ingredients
4

medium to large culinary apples (Granny Smith, Jonathan, Norland, etc.)

1 quart

water

2 tablespoons

lemon juice

1/4 cup

raisins or currants

1/4 cup

chopped cranberries (fresh or dried)

2 tablespoons

dark brown sugar

2 tablespoons

melted butter or margarine

1/2 teaspoon

cinnamon

1/4 teaspoon

nutmeg

1/3 cup

apple cider or apple juice
Instructions
Preheat oven to 350 degrees F.
Mix water and lemon juice in a large bowl. You'll use this to keep the apples from browning as you prepare them for stuffing.
Slice the very top off one apple.
Remove the core, but don't cut all the way through the bottom of the apple; you want the apple to hold the filling.
Place the prepared apple into the lemon water mixture.
Prepare the rest of the apples.
Combine all the raisins, cranberries and spices together with the sugar and butter.
Drain apples and put them on a greased baking dish.
Fill each apple with the filling.
Pour apple cider/juice over the apples.
Bake in 350 degrees F oven for 45 minutes.
Serve warm. Top with yogurt, whipped cream, or ice cream if desired.
Have you tried this recipe? It makes a great hearty, homestyle dessert—on its own or with whipped cream or ice cream. Please tell us how it turned out for you.