When I first started planting apple trees, I had to be patient for a few years until the trees started to produce fruit. The espalier apple tree we trained along our back fence was a real exercise in patience. It took a lot of work to train it into its graceful fan shape, but it looks lovely now.
I've also been growing dwarf apple trees for a while now. They're a compact tree that produces full-size apples—and they're delicious. I have a friend who only grows dwarf apple trees because he doesn't want to have to reach for his apples when they're ripe; I can understand his logic. This year the dwarf apple trees have been especially prolific, and I've been out picking apples every day.
I'm making my own cider again—maybe a bigger batch than last year, or maybe a series of small batches. When company comes around, I'm going to have a slow cooker full of hot mulled cider to serve around the firepit in the backyard.
I really like the flexibility in making my own apple cider—not to mention how easy it is. It's fun to use a few apples of several varieties and see what combinations make the best flavor profile—kind of like tasting a flight of beers, only with apples. Gather friends and family together and come to a consensus on the best combination of flavors for making your apple cider, and get to work with the food processor!
You have a lot of options when you make your apple cider. Try different combinations of apple varieties, or make single-variety batches. Apple cider is a wonderful way to savor the flavor of the apple harvest.
Print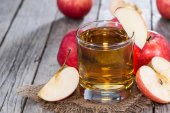 Apple Cider
Apple cider is easier to make than you might think! Gather together your favorite apples—the more, the merrier!—and break out your food processor. You'll have fresh apple cider in next to no time!
Author:
Prep Time:

10 minutes

Total Time:

10 minutes

Yield:

2 cups

1

x
Category:

Beverages
Instructions
Wash apples thoroughly.
Cut into 1-inch pieces, leaving the skin on.
Add as many apple pieces as will fit comfortably in your food processor and run for about a minute or so until the apples are thoroughly processed.
With a piece of cheesecloth in one hand, spoon the apple mixture into the cheesecloth and squeeze it to release the juice into a bowl or carafe. Put the squeezed apple into a bowl; you can use it in another recipe, like apple crisp.
Repeat the juicing process until you're out of processed apples.
If you're going to drink your cider within 5 days, you can just store it in a sealed container in the fridge.
If you want your cider to keep longer, you need to pasteurize it. Heat cider in a pot until it reaches 160 degrees F. Drink within 2 weeks.
Serve your cider straight up, or mix it with seltzer or sparkling wine.
You can also mull your cider with cinnamon sticks, nutmeg, and whole cloves tied in a cheesecloth bag (or just strained out after).
Have you made this recipe? Do you like to serve your cider cold or hot? With seltzer, sparkling wine, or something else? Please tell us how you use it.