Oranges are low in calories and packed with beneficial vitamins and minerals, fiber, and antioxidants. How wonderful that something so delicious is also so nutritious!
Here is the nutrition information for one whole navel orange: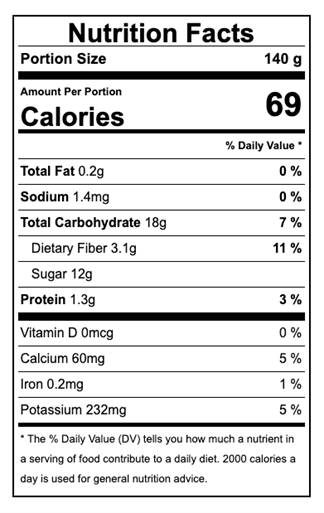 Source: https://www.nutritionvalue.org/Oranges%2C_navels%2C_raw_nutritional_value.html
Here are some of the beneficial compounds in oranges:
Vitamin C: One navel orange provides almost your entire daily recommended amount of vitamin C—92%! The vitamin C in oranges is an antioxidant necessary for immune system and skin health. Vitamin C helps protect your cells from damage, boosts your immune system, and helps your body make collagen, which is essential for smoother skin and healing wounds.
Calcium: Oranges are high in calcium, which is essential for the health of your bones, muscles, and organs.
Citric acid and citrates: These compounds help prevent the formation of kidney stones.
Fiber: With 3 grams of fiber in an average size orange, look forward to keeping your digestive tract healthy. Fiber also helps keep cholesterol low, reduces the risk of heart attack, and slows the way your body absorbs sugar.
Folate: This is a water-soluble B vitamin, and can play a positive role in fighting cancer, congenital heart defects, cardiovascular disease and stroke, and depression. It's also important for normal tissue growth. And it's an especially important B vitamin for pregnant women to help prevent a birth defect called spina bifida.
Potassium: The potassium in oranges helps lower your blood pressure.
Don't get too much of a good thing. Too much vitamin C has the potential to cause problems. This usually applies to vitamin C in its supplement form; but if you eat a lot of oranges, you should watch out for some warning signs: nausea, headache, and gastrointestinal issues.
Oranges have a lot of acid, and that can irritate the systems of people with gastroesophageal reflux disease (GERD).
If you take beta-blockers, eating too many oranges could boost your potassium level and lead to kidney damage.
If your body stores more iron than it needs, too much vitamin C could lead to tissue damage.
Women on hormone replacement therapy who are also taking medicines that contain aluminum should check with their doctor about the right amount of vitamin C to avoid an increase in estrogen levels.
Orange juice is great, but it tends to have more sugar and less fiber than your average orange—and that can lead to weight gain.
When in doubt, check with your doctor.
Did you know all these nutrition facts about oranges? Please tell us what you think.