Dill not only brings flavor and aroma to a range of dishes, but it also has nutritional value, too. Although a "serving" of dill is a small amount, by including dill leaves or seeds regularly in your diet you can benefit from the vitamins and minerals it brings to the table. Dill contains compounds with anti-diabetic properties, flavonoids that reduce the risk of heart disease, and it has been used to improve digestion since ancient times. Dill contributes calcium, potassium, and iron to your diet, plus vitamin C and vitamin A. Read on to learn about the health delights of dill.
Here is the nutrition information for 10 grams—or about 5 sprigs—of dill: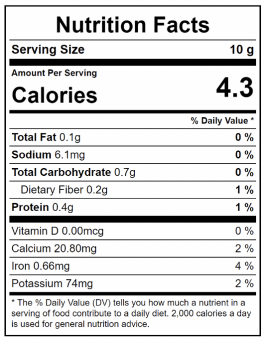 Here are some of the compounds in dill:
Vitamin A: Dill contains vitamin A, which is important to eye health, reproduction, and the immune system.
Vitamin C: The vitamin C in dill is an antioxidant necessary for immune system and skin health.
Calcium: Your body needs calcium to build strong bones and for skin, nerves, and heart to function properly.
Flavonoids: These dietary compounds work as antioxidants to defend the body against damage from free radicals.
Iron: Iron helps to preserve many vital functions in the body, including general energy and focus, gastrointestinal processes, the immune system, and the regulation of body temperature.
Potassium: This mineral is involved in many essential body functions, such as regulating blood pressure.
Did you know all these nutrition facts about dill? Please tell us what you think.