The best piece of advice I got over ten years ago, in regards to weeds in my home garden came from a friend of my mom who always has the most pristine garden. Each row between his plants were always clean, and never seemed to have sprouts or bugs. I assumed he must be hand-weeding, but when I asked he told me "nope, I just go out every day with a hoe and turn the soil—haven't had to bend over to pick a weed or mulch a day in my life." Genius, I thought! Unfortunately, most of us don't have the time to follow his best practice, and there are other benefits to mulching a vegetable garden beyond a clean-looking garden and being weed-free.
So while I love his technique, and I try my best to start my season out using it, mulching a vegetable garden is still a great idea. It can improve the quality of your garden and help your plants.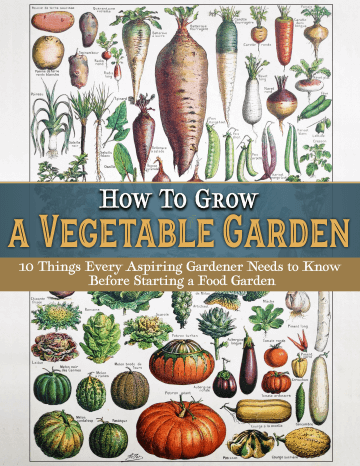 Discover 10 top tips for growing, harvesting, and enjoying fruits, vegetables, herbs and more from your home garden—when you access the FREEBIE How to Grow a Vegetable Garden, right now!
Mulching a vegetable garden with success – every time
Before we get into the details of mulching a vegetable garden, what is mulch, exactly? And how is it helpful? There are a lot of different kinds of mulch, which we'll get to in a moment. As for why mulching is helpful, well, there are a lot of answers to that, too.
The biggest benefit for most gardeners is that mulching a vegetable garden will help control weeds. Mulching also helps the soil retain moisture, it keeps plant roots cooler in the summer and warmer as the temperature drops, and it can help discourage some pests. Beyond that, as mulch breaks down, it adds nutrients to the soil.
Now onto those ideas for mulching a vegetable garden…
1. Weed your garden first. Like many things in life, your garden will benefit most from mulch if it is clean and weed-free first. Before you mulch, take some time to clean up your garden, getting rid of any unwanted growth. It's also not a bad idea to treat your soil before you mulch, if you need to. It's a little extra work up front, but it will save you some time and effort over the season.
2. Use organic mulch. Anything from dried leaves to straw to grass clippings to compost works as mulch. Sawdust and wood chips from untreated, undiseased wood can work, as well. Pine needles work amazing but can make the soil acidic.
3. Mulch early. The sooner you mulch, the sooner you start getting those benefits, so ideally, spread your mulch as soon as you plant your garden.
4. Mulch late. Adding a layer of mulch at the end of the season can help nourish the soil for the next season and also prevent early spring weeds.
5. Mulch often – maybe. Some types of mulch, like grass clippings, break down quickly, so keep an eye on things. You may find you need to reapply your mulch at some point during the growing season.
6. Add a two or three-inch layer of mulch. You need enough to prevent weeds from growing, but not so much that the soil won't get water.
7. Don't crowd your vegetables. Mulching a vegetable garden will backfire on you if you pile up the mulch too close to your seedlings. They need a little room to breathe and grow. Keep a circumference of about an inch around your plants if you are mulching early in the season.
The nice thing about mulching is that you get some pretty big rewards for not too much work. And as a bonus, it can be an aesthetically pleasing addition to your garden. Just make sure the materials you use in your mulch are free of disease (for me, I love straw which is usually safe).
What have you noticed as the biggest benefits of using mulch in your garden? Leave a comment below. I'd love to hear about your experience.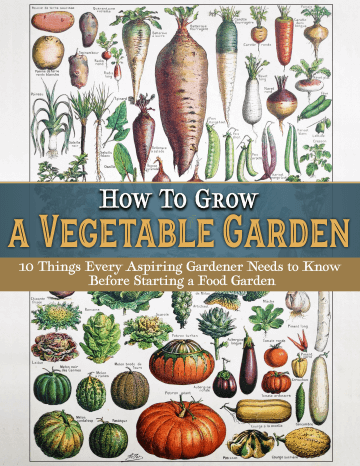 Discover 10 top tips for growing, harvesting, and enjoying fruits, vegetables, herbs and more from your home garden—when you access the FREEBIE How to Grow a Vegetable Garden, right now!