Let's just get this out of the way, produce is expensive at the grocery store. Last time I went through the checkout, I thought I must have paid for someone else's stuff. I walked out of the store with two bags of food, but it sure felt like I paid for a week's worth of snacks for a high-school soccer team. That's one reason I love having a garden – it helps me cut down on my grocery bill. But let's be real, saving money isn't the only reason to grow your own food at home. 
Gardening is fun. It's exciting to watch a little seed turn into a sprout, then into a small plant, and eventually, into a big ole squash plant that's bursting with bright yellow gourds and giant green leaves. Digging your hands into cool soil is meditative. Smelling the basil and dill is heavenly. And you don't have to live on a country estate to grow your own food at home, either. 
City dwellers can plant vegetables in patio container gardens. In cold climates, you can start a small garden indoors or even grow vegetables outdoors most of the year if you have a greenhouse.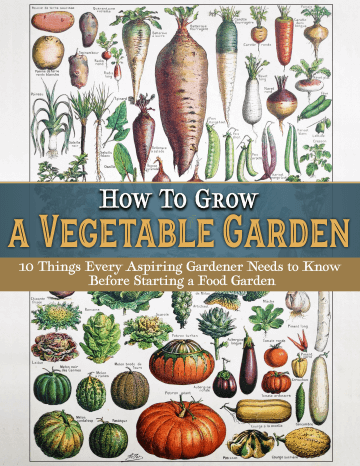 Discover 10 top tips for growing, harvesting, and enjoying fruits, vegetables, herbs and more from your home garden—when you access the FREEBIE How to Grow a Vegetable Garden, right now!
Three ways you can grow your own food at home no matter how much (or how little) space you have
Just to be clear, there are a lot of ways to grow your own food at home, and given the right conditions, you can certainly grow enough to feed yourself and your family with only limited trips to the grocery store. But even if you only have a small amount of space, and less than ideal conditions, you can grow enough to supplement your meals. 
I think most people tend to think of a typical outdoor, in-ground or raised-bed garden when they think about growing vegetables. Container gardening gets relegated to ornamental plants and the occasional cherry tomato. And then there's hydroponic gardening, which sounds more like a science experiment than a garden, but it's actually totally awesome.
All three of these approaches to gardening have their own benefits (and yes, drawbacks), but all three of them can produce delicious produce. Here's an introduction to each one. 
Outdoor gardening
Again, this is probably the most common way to grow your own food at home. In-ground and raised bed gardens both have similar benefits, although you do have more control over the soil quality in a raised bed. Outdoor gardens offer good drainage and the benefits of microbes and earthworms, as well as pollinators like bees and butterflies. 
Additionally, outdoor gardens allow plant roots to go as deep and extensive as they need to. This is especially beneficial for larger plants like heirloom tomatoes or okra, which has a deep tap root that may extend several feet into the ground.
The major drawback, of course, is that you need a good, sunny spot for an outdoor garden, and it will take more work to prep the soil and keep pests away. 
Container gardening
Container gardening is ideal for people who don't have the space for an outdoor garden. You can plant a container garden on your patio, your balcony, or your driveway; pretty much anywhere you get sunlight works. There are several advantages to planting your vegetables in containers. You can create the ideal soil conditions, it's easy to move your plants to sunnier or shadier spots as the season progresses, and though you can't grow everything in a container, there are a lot of plants to choose from that do just fine in them. 
If you have the space for large pots, you can grow vegetables like tomatoes and eggplants, but herbs are excellent choices if you just have a windowsill. What else grows well in a container? Peppers, beans, radishes, small cucumbers, peas, greens like kale and Swiss chard, and so much more. 
The caveat with container gardening is that the soil can dry out quickly and become depleted of nutrients. And you have to make sure your container is large enough if you want to grow larger plants. 
Hydroponic gardening
Don't worry. This isn't a middle-school science project. No one is going to grade your performance. And let's be honest, for most gardeners, hydroponic gardening is not something "normal." You aren't digging into the soil or pulling weeds (bonus!). What's so great about it? 
Everything. I have one, and I have fresh herbs and lettuce all winter long. You can grow a lot of things in a hydroponic garden, even beans and cherry tomatoes, but I usually stick to greens and herbs because they're easy to grow and they don't overwhelm the garden. 
Research in hydroponics suggests that crops grow more quickly and they're more productive. Along with the near-elimination of weeds, there's almost no problem with pests or soil-borne disease, and they are much more efficient in terms of water usage. What's more, hydroponic gardening allows you to grow your own food at home all year long, since it's an indoor growing method. 
But what is it, exactly? Hydroponic gardening is a soil-free method of growing plants. There are several ways to accomplish this, but the idea is that plants take their nutrients directly from a growing medium in an enclosed system. They can be as large or as small as you want them to be. In my hydroponic garden, I have 30 "pods" that use rockwool as the growing medium (instead of soil) and all you need to do is bury the seed, let it sprout, then add to the garden and let it grow. It can certainly get algae and sometimes mold depending on the time of year, but it doesn't affect the plants, usually.
The major drawback to a hydroponic system is that it is an unfamiliar way for most people to garden, so it's safe to say that there will be a learning curve. There's also the startup costs. A basic beginning hydroponic system can be in the $300-400 range. However, if you're new to this type of gardening, it's probably best to get a full system, since there are so many parts. Two popular options are the AeroGarden Bounty Elite and the SavvyGrow Vertical NFT Hydroponics Growing System. 
These are designed for indoor use, and include LED grow lights, grow sites (where you place your plants), and a growing medium. Beyond that there are some differences, such as WiFi capability and timers. Either one, however, will give you a good running start if you want to grow your own food at home. Plus they don't take up a lot of space. Personally, I went with the Gardyn, which is newer to the market, but it comes with little cameras and an app that will tell you when to increase light or water, and when to prune. 
Of course, there's no law that you can't combine these three methods to create your own perfect food garden. Whatever you choose, happy gardening!
Does one of these gardening methods stand out to you as something you'd like to try? I'd love to get your thoughts in the comments.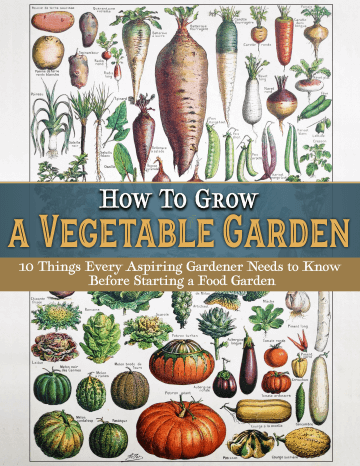 Discover 10 top tips for growing, harvesting, and enjoying fruits, vegetables, herbs and more from your home garden—when you access the FREEBIE How to Grow a Vegetable Garden, right now!