My brother has cerebral palsy and is blind. He's spent most of his life in a wheelchair, and one of his favorite activities is gardening. He was lucky enough to go to Perkins School for the Blind on a scholarship (where Helen Keller went to school!), and even as a kid, I remember their beautiful, majestic, stone and glass greenhouse. It was adapted to meet the needs of children of all abilities. Back in those days, there weren't as many resources available to us at home as there are now.  So when he wasn't at school, we built custom garden beds for him that his wheelchair could fit under, and most of the work was done with his hands, not special accessible gardening tools.
Flash forward twenty-five years later, and you can go to Amazon and find just about any accessible gardening tools he, or any person in a wheelchair, on crutches, who uses a cane, or is otherwise disabled, can use to make gardening more accessible. I've tried to create a helpful collection here, but I wholeheartedly welcome your suggestions in the comments below.
1. Garden Carts / Scooters
For people who need support when working in the garden, a garden scoot, which is sort of like a tricycle, can help you move around easier in the garden. You use your legs to push yourself along instead of getting up and sitting down over and over. This Sunnydaze Garden Cart Rolling Scooter includes a wire basket on the back and a plastic utility tray beneath the seat, which is a 360-degree rotating seat. It has rugged wheels and is 18 inches wide, so it could scoot between small-ish rows, and the weight capacity is 330 pounds. The handle shouldn't be used as an aid for standing up, but the seat can be.
Another scooter on the market, TheXceptional Wheelie with Tool Toter is praised because it's made in the United States, will tote around extra tools for you, and has a padded cushion. On the surface, this does sound like a great product, however, keep in mind it's made of plastic/polypropylene, so it can only hold 240 pounds. And I do wonder how easy it tips trying to carry so many things. In reviews, assembly has been considered a challenge for some.
2. Garden Rocker Seats
For smaller spaces, there are garden rockers like the Vertex Original Garden Rocker. It's a true multi-purpose utility seat that reduces strain on knees and back to minimize stretching during any project where sitting or kneeling is required. When used while kneeling, it helps you reach while providing stability to your upper body. It's rated to hold 250 pounds and weighs less than 3 pounds itself.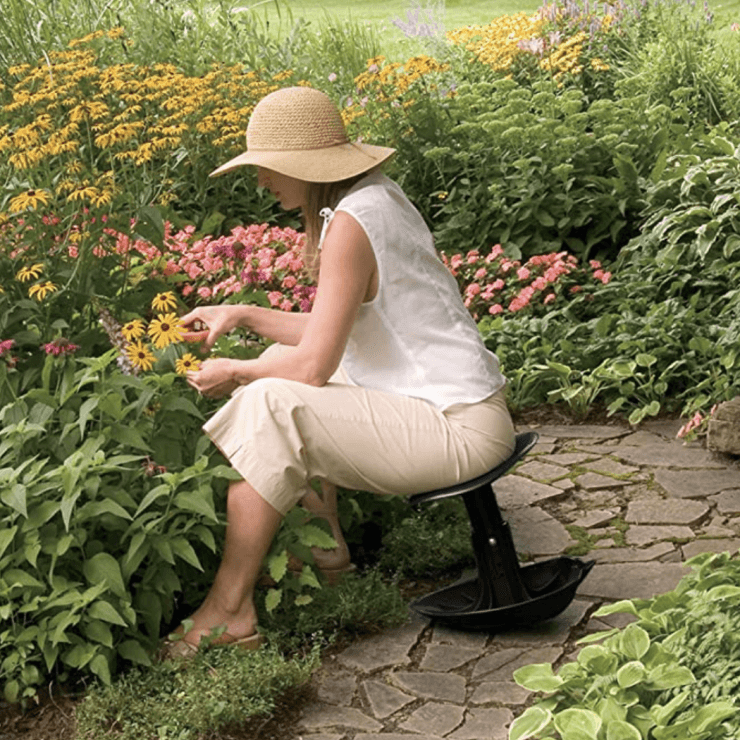 The big brother to this seat is the Vertex Garden Rocker Rolling Seat, which has patented contoured wheels and subtly rocks with you as you bend and stretch. It scoots better than the original, though it depends on the terrain. This one has an increased weight limit of 330 pounds, but also weighs 2 pounds more than the original.
3. Accessible Gardening Tools
The great thing about accessible gardening tools with extendable handles is that they're easy to carry or add to a scooter basket while they're in their retracted size. This Easi Grip Long Reach Garden Tools Set will extend your reach, though they do come at a price tag of almost $200 for the full set. They're sold individually too. Get the trowel, hoe, cultivator, or fork.
Add-On Handles
Easi Grip Add On Handles convert conventional-style tools into ergonomic tools that are easy to use and control. Simply slip the handle of the tool into the two stainless steel clamps, which can be finger tightened with the plastic wing nuts. These ergonomic handles can be added to traditional hand garden tools, rakes, hoes, and brooms, and other tools with long shafts. The handles can be used with the Arm Support Cuff (below) for increased control and leverage.
Arm Support Cuffs
The Easi Grip Arm Support Cuff is designed to assist gardeners who suffer from weak hands and wrists. The Arm Support Cuff easily plugs into the back of any Easi Grip Garden Tool like the trowel or cultivator. This cuff can also be used with Add On Handles to make the tool more comfortable to use and to prevent the tool dropping to the ground if you lose your grip.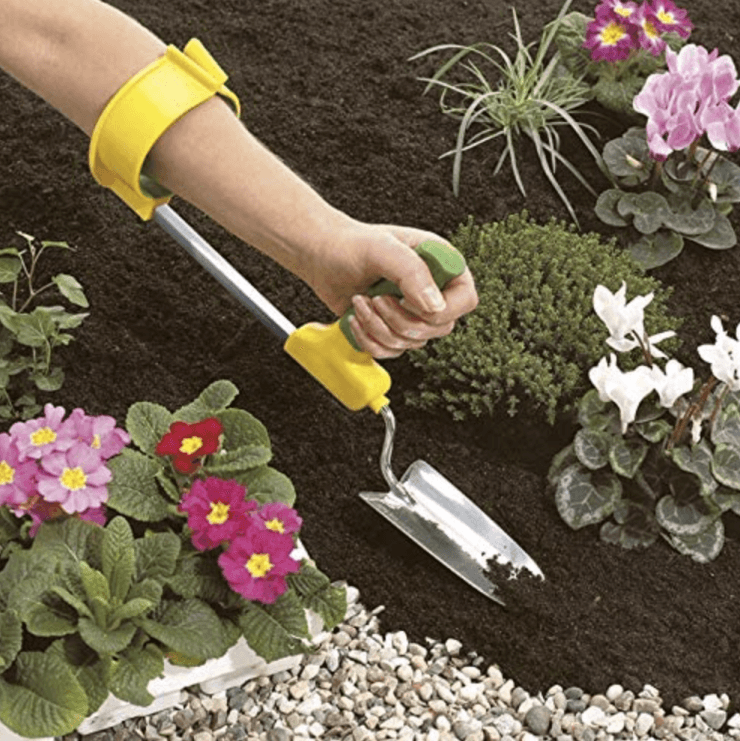 Ergonomic Hand Weeders
Hand-weeding is unnecessary with a device like the Skidger Wicked Little Weeder, a reader-submitted favorite! Its stainless steel blade resists rust and wear, the V-tip cuts through roots and stems, and it has a double-sharpened blade, so it works in both push and pull motions. In terms of grip, it has an ergonomic design and a rubberized grip with finger notches for hand comfort.
Another reader-submitted favorite, the Skidger Xtreme Weeder is a 54-inch long-handled weeder with a V-blade that cuts through just about everything. The open design works in soil, gravel, bark, and other loose material. The pointed tip reaches between plants and around hoses and drip systems, and allows you to weed in hard-to-reach places to clear large spaces, quickly.
4. Plant Movers
For container gardens, there are a few accessible gardening tools, depending on how much support you need.
A plant caddy can help to move heavy containers up to 440 pounds. This makes moving plants around a patio or porch easier, instead of nearly impossible.
The Plant Dolly Caddy is helpful for moving around large pots, or bags of soil.
Its adjustable grip arm accommodates pots from 8 inches to 30 inches high. It weighs just 10 pounds, which is less than others products like the Potwheelz Plant and Pot Mover, which can weigh up to 90 pounds. This lightweight version can single-handedly move planters up to 165 pounds. It includes a fastening cinch strap that provides a snug and secure fit when fastened and has a fast-release.
5. Indoor Hydroponic Gardens
If you are less mobile, but still want to enjoy the benefits of gardening, consider an indoor hydroponic garden. They are simple to maintain but also allow you to be creative and use seeds you want to grow, tie up trellises for bigger plants, and cultivate the garden you've always wanted.
The AeroGarden is a household name when it comes to growing herbs, veggies, and fruit hydroponically. When you buy one of their systems you definitely benefit from their years of experience, and it comes with pods guaranteed to sprout. They are composed of a peat moss compound to hold the seeds, and to grow plants is as simple as it gets. All you do is fill the AeroGarden with water and plant food, pop the pods in, cover them with the domes that come with the pods, and program the device. It will set a schedule to turn the lights and water on, and all you need to do is look for sprouts and take the domes off once they come up. In about 30 days you'll have a bountiful garden of herbs, which is a fairly fast turnaround, and they'll continue to grow until they don't. At that point, you simply toss the pod and start a new one. The device will also tell you when to add water and plant food. You should clean the system out every once in a while and trim the roots if they start to overtake the system.
To make this an accessible garden tool, you should choose an AeroGarden that suits your lifestyle and needs. The bigger the garden, the more work it will take to clean every three to six months. I find the six-pod AeroGarden to be very low maintenance.
Another indoor option is the Gardyn System, which has given me a bounty of greens every winter for the last three years. It's a "smart" garden, which means you can program lighting and watering from your phone. The Gardyn is a vertical hydroponic system that has 30 slots for pods, meaning they can grow 30 plants at once. You can buy pods from the company, which include a square of rockwool with seeds, but you can also hack your own pods with rockwool and your own seeds. The benefit of getting pods from the company is mostly ease-of-use and benefitting from their research to find varietals that grow best in their system. Otherwise, you can create your own pods—you just can't complain to the company about it.
6. Outdoor Accessible Planters
For an outdoor vertical hydroponic garden that mostly requires refilling the water reservoir and adding nutrients, try the Lettuce Grow Farmstand. Their starter kit includes a unique QR code on your packing slip with instructions to redeem 30 seedlings from their website. You can grow any type of veggie, leafy greens, herbs, fruits, or lettuce. The pesticide-free, non-GMO, pre-grown plants they send will have you harvesting three weeks early and help ensure your success. You still get all the fun of pruning and harvesting without all the pains of weeding and digging.


There are a number of raised bed planters, but many of them have stabilizing lower bars or platforms, making it impossible to pull up completely with a wheelchair. However, this Vita Liberty Accessible Planter is 24 inches by 48 inches by 47 inches and is built around ADA standards. It is angled upwards, towards the gardener, providing easier access. The planter is crafted from BPA and phthalate-free vinyl, perfect for growing vegetables, herbs, or your favorite flowers, with knee access height of 29.25 inches.

Do you have more accessible gardening tools to add to this list? What tools are you using or do you suggest be included? Leave a comment below to share with our readers.
Note: Food Gardening Network contains links to affiliate websites, including Amazon and Rakuten Affiliate Network, and we may receive a commission for any eligible purchases made by you through links on this page. Any reviews are based on honest reviews of the products.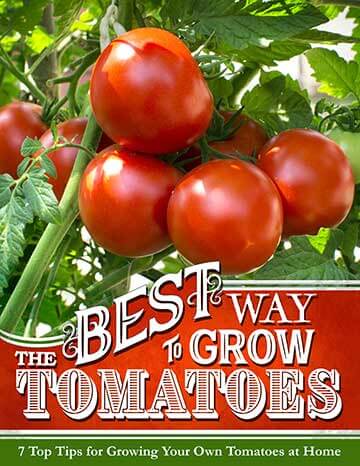 Discover 7 top tips for growing, harvesting, and enjoying tomatoes from your home garden—when you access the FREE guide The Best Way to Grow Tomatoes, right now!