If there's one thing we know about potatoes, it's that they need to be kept cold, humid, and dark to survive a long winter. Otherwise, they're likely to turn green or sprout, neither of which we want from potatoes we hope to eat. That's why, if you're growing tubers, you'll benefit from some of the potato storage bin containers in this list. You can also use burlap potato sacks if you have a safe place to lay or hang them.
To select the best potato storage bin containers, we're looking for ones that will:
offer breathability
allow and even encourage humidity
stay dark so the potatoes don't turn green
The best potato storage bin containers
Best potato storage bin containers for root cellars:
Work-It! Collapsible Milk Crates
For perhaps the least elegant but most practical solution to storing potatoes in a basement or root cellar, Work-It! Collapsible Milk Crates have a 49-liter capacity that holds up to 66 pounds. They are collapsible and have a nesting system for secure vertical stacking. They also have side grip handles, and label holders for bin identification. When in storage, they fold down flat to only a little over 2 inches tall.
Another option is the Gardeners Supply Company Fruits & Vegetables Root Storage Bin.
This bin offers the best of both potato-storing worlds when it comes to big batches. It features natural woven burlap inside of the metal bin, which aids in preserving the potatoes with proper aeration. We already know that potatoes survive well in burlap bags, so why not line a crate with the stuff? The breathable and moisture-absorbing liner offers air circulation and prevents condensation.
Best potato storage bin containers for a small harvest:
Tupperware Modular Potato Storage Bin Container
This year I wasn't overly ambitious about growing potatoes, and my harvest reflected that. The Tupperware Modular Potato Storage Bin Container is meant for countertop storage, but it's also handy as a potato keeper in the basement. What I love about it is that it tries to offer optimum storage conditions for sufficient air circulation, light, and humidity so that potatoes remain firm. They also designed it with claims that it will minimize sprouting, rotting, odors, condensation, and the production of solanine, which is what occurs when potatoes get too much light and turn green. Plus, they can be stacked!
Another option in the realm of small harvests is the Snips Potato Keeper below.
The Snips Potato Keeper keeps the environment for your potatoes dark and is well-ventilated on every side. The lid snaps on, and the door lifts up whenever you need potatoes. They stack, too!
Best potato storage bin container for the pantry:
Gardeners Supply Company Potato and Onion Woven Basket
Visually speaking, I love the Gardeners Supply Company Potato and Onion Woven Basket. Wicker baskets have been the storage vehicle of choice for food storage in Europe and across the globe to prolong the shelf life of vegetables. This one is quite lovely and can be hung in a pantry, basement, or root cellar. The best part is that it holds 30 pounds of potatoes.
Best potato storage bin containers for everyday use:
Tater and Onion Bin with Breadbox on Top
Putting aside long-term storage, having a good potato keeper for your kitchen counter or cabinet is helpful too. I love this Amish-made Tater and Onion Bin with Breadbox on Top. It's made from solid pine, has a breadbox on top, and measures 35 inches tall by 12 inches deep by 18 inches wide.
Another Amish-made container is this Peaceful Classics Potato Storage Wood Box. This option won't do as good of a job at keeping your potatoes from turning green because it features mesh screens, but it will allow airflow. So in general, this would be better for potatoes you plan to eat soon (as well as onions and garlic!).
Is there a potato keeper you use that you think works well? Leave a comment below and let me know. What other questions do you have about storing potatoes?
Note: Food Gardening Network contains links to affiliate websites, including Amazon and Rakuten Affiliate Network, and we may receive a commission for any eligible purchases made by you through links on this page. Any reviews are based on honest reviews of the products.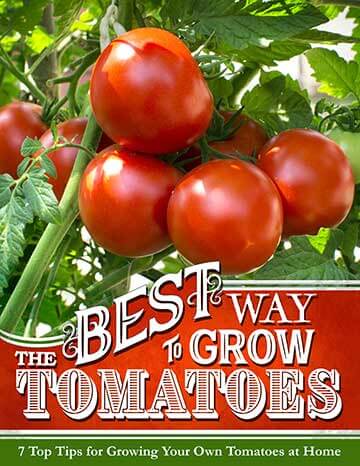 Discover 7 top tips for growing, harvesting, and enjoying tomatoes from your home garden—when you access the FREE guide The Best Way to Grow Tomatoes, right now!