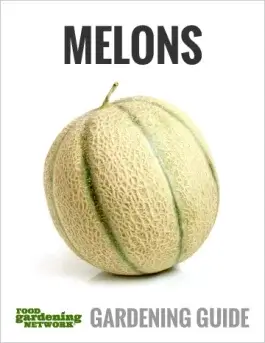 There are probably a few reasons that people assume growing melons in containers is impossible. They tend to have expansive vines that take over everything in their path. The fruits are usually large and heavy. Melons would never be content to settle in a container. Right? They're explorers. They want to reach out, literally, with their tendrils and make their way in the world. 
That's certainly true with many melons, but there are over 800 varietals, which means some are perfectly suited for containers. Of course, even the container-friendly melons have vines, and they do need a little space, but you can usually work around that. Like so many vegetables, growing melons in containers is all about having the right combination of container, varietal, and the trifecta: soil, sun, and water.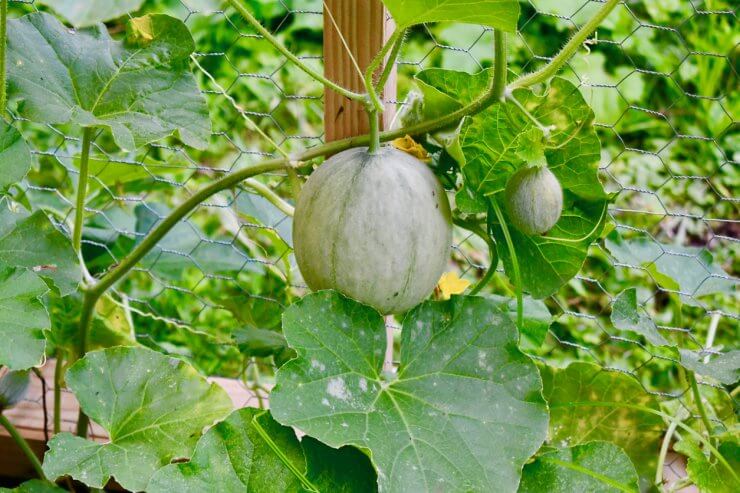 What to Expect When You're Growing Melons in Containers
While there are smaller varietals of melons that don't need acres of land, they are still melons. So if you're growing melons in containers, the first thing to consider is the container itself. The minimum container size is probably around five gallons. I say probably because you need to think about depth more than width. Yes, the leaves and vines will spread, but we'll get to that in a second. It's important to get a container that's at least 16-inches deep, so the roots have enough room to grow. 
If you're planting from seeds, this container may seem excessive when you barely have a seedling in there. Give it a few weeks, though, and that seedling will start to make the container look small! 
About those vines… You have a couple of options here. You could just let the vines spread however they want. Your other option is to make a trellis and train the vines to climb. Both have their advantages. The plant takes up less space if you and the fruits stay off the ground if you use a trellis. If you let the leaves spread, you don't have to worry about heavy melons falling off the vine and breaking.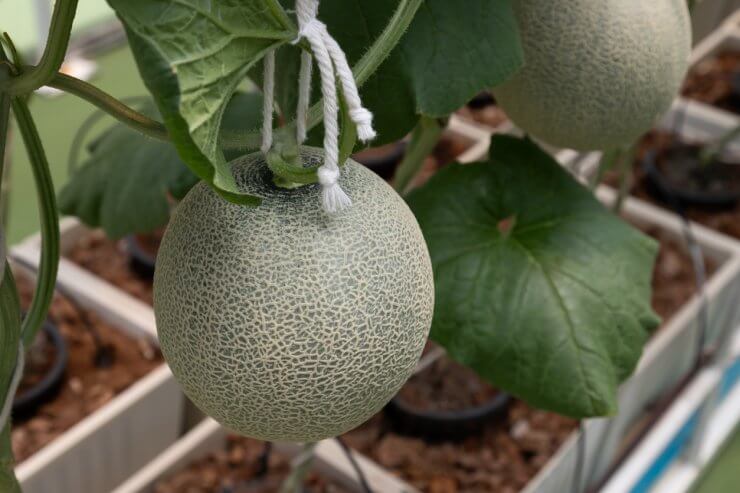 Sun, Soil, and Sweet, Sweet Water
Given how juicy they are, it should come as little surprise that melons like a lot of water. There is a catch, though. When you're growing melons in containers, the container material and color can have a considerable impact on how quickly the soil dries out. You'll need to keep a close eye on this until you figure out a rhythm. Melons like a nice, deep watering, but make sure you don't drown the roots. 
Along with water, melons love the sun, too. The ideal is 12 hours, but they need at least 6 to 8 hours of sun at a minimum. This brings up a good point: these plants will get heavy, so try to start them in their permanent home. If you have to move a container or two of melons halfway through the season, it's not going to be easy. 
As for soil, if you want to get technical, it should have a pH anywhere from 5.8 to 7, depending on the variety. If you're not so technical, your favorite all-purpose container mix should be just fine. 
It doesn't matter if you're growing melons in containers or in the ground, or in a raised bed. These wonderful fruits take time to mature. Depending on the variety, it will be around 80 days before you can harvest. Some do mature more quickly than that, and some take a little longer, but you can expect about 2 1/2 months of excitedly awaiting your homegrown, amazingly delicious melons. 
How to Grow Melons at Home
There are a few tricks to harvesting melons. There are also a few things to know about watering them in the weeks leading up to the harvest. And we always want to keep an eye out for pests and diseases. Fortunately, there are some things you can do to deter these problems before they begin. 
Oh! I don't want to leave you without mentioning melon recipes, either. Yes, I know we could eat these right off the vine all day long. They truly are one of the best things ever. But have you tried a homemade, mouthwatering melon sorbet? Oh. My. Word! The best part (aside from eating, of course) is that you don't need any special kitchen tools or equipment to make it. 
You can get all the juicy details in the Melon Gardening Guide. Learn more about planting and growing this delicious treat. Find out where melons originate, discover which variety is best for growing in containers, get more delightful recipes, and learn how you can use melons as an addition to your first aid kit! It's all in the Melon Gardening Guide!