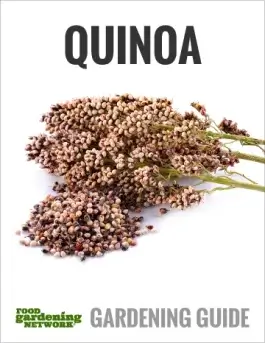 Most people don't even think about growing grains in their own backyard, but you'd be surprised how easy and beneficial it is to grow your own quinoa! Quinoa appeals to most every gardener's wish list: the strikingly colorful plant is easy to grow and harvest, can tolerate a wide range of temperatures, and naturally repels pests.
More and more people are eating a plant-based diet, and tasty, nutritious, quinoa fits right in, offering high-protein, gluten-free fiber and texture to any meal of the day. It can be used in salads, bowls, main dishes, sides, and even breakfast!
When deciding what type of quinoa to grow, there are a few options. Like rice, they come with their own textural and flavor profiles.
Three Types of Quinoa
Quinoa comes in three main types: black, red, and white.
Black-seeded varieties tend to remain very gritty when cooked, though they have an earthier, sweeter taste.
Red quinoa is usually used in salads because it holds its shape better during the cooking process.
White quinoa seeds and leaves are much better suited to cooking—this is the type most commonly found in the grocery store.
Black quinoa is harder than other types, so it usually takes a bit longer to cook. Not surprisingly, black quinoa has more fiber than red or white types, but the protein levels in all quinoa is basically the same. Black quinoa tastes slightly sweeter and earthier than red or white. It works well in salads, stews, or any dish that calls for some crunch. Black quinoa can be more difficult to find in grocery stores, so if you like it, it makes sense to grow your own.
One to try: Shelly Black Quinoa is a popular varietal. Magenta and green seed heads yield brown to black seeds in this black quinoa variety. Shelly Black works well as both an ornamental and a generous seed producer.
Red quinoa has a hardier texture than white quinoa, but is not as gritty as black quinoa. Its texture holds up well to cooking and has a pronounced nutty flavor, making it perfect for cold salads and grain bowls. Red quinoa stays red after cooking, so you can use it to add color, as well as taste and nutrition, to a dish.
One to try: Red Head Organic Quinoa is bright pinkish-red, but that's not its only attractive characteristic. Red Head Organic quinoa is a sturdy, high-yielding plant that—because it was cultivated in the Pacific Northwest—is resistant to fall rain.
White quinoa is the most common type of quinoa. Despite its name, white quinoa is often buff, yellow, or even tan in color. White quinoa has a milder flavor than other quinoas and is softer, so it cooks up lighter and fluffier than red or black varieties. Choose white quinoa when you want a rice substitute, in breakfast bowls, or in baked goods.
One to try: French Vanilla quinoa plants get their name from the seed heads, which resemble large ice cream cones. Gardeners prize this variety because the seed heads ripen uniformly, making them easier to harvest. French Vanilla yields white or buff seed from 6- to 7-foot stalks.
Which Type of Quinoa Should You Grow?
Quinoa is rich in protein, fiber, B vitamins, and many minerals. Because of its stellar nutrient profile, the United Nations has recognized quinoa as a significant tool in the fight against world hunger and malnutrition.
When you think about how you'll use your own harvested quinoa, three main categories determine what varieties you should grow:
Quinoa for salads and bowls: black and red varieties
Quinoa for baking and as a rice substitute: white varieties
'All-purpose' quinoa: white varieties
Now, quinoa is very versatile for culinary purposes, so these aren't hard-and-fast rules—you can use white quinoa in a salad and red and black quinoa as a rice substitute.
Start Growing Quinoa at Home
With our Quinoa Gardening Guide, you'll have everything you need to know about growing and enjoying this versatile food. From the history and background of the 'mother of all grains' to specific advice about soil requirements and fertilizer … from watering techniques to details about avoiding white mold … from easy-to-make and delicious recipes that will allow you to enjoy the fruits of your gardening labor to the nutritional benefits of quinoa—get it all in our Quinoa Gardening Guide!
Have you tried growing different types of quinoa? Which do you prefer and why?