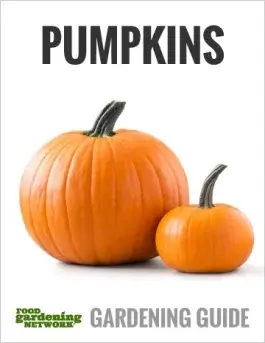 In this month's Food Gardening Magazine, you get everything you need to know about growing pumpkins—the special Halloween item that's both a food and a decoration. And planting and harvesting pumpkins is not as difficult as you might think—there are different varieties to fulfill your needs, you just have to choose which type and make room for your pumpkin patch! If you want everything you need to know about growing and harvesting pumpkins, this gardening guide is for you!
You get all the tips for growing pumpkins, advice about how to start and maintain an awesome pumpkin patch, and special techniques for tending to your pumpkin vines. And we cover growing pumpkins for beginners and skilled gardeners alike.
This gardening guide guides you to choose varieties you like and to even grow pumpkins that will impress your friends and neighbors. Growing pumpkins on your own in your home garden allows you to be more selective about your pumpkins, compared to what's available at a local farm store.
When you read this gardening guide on pumpkins, you get specific advice about particular pumpkin varieties—from giant pumpkins to pie pumpkins and other specialty pumpkins. Best types of pumpkins and pumpkin care are covered in great detail for you, so that choosing which variety to plant is an easier decision for you to make. You'll harvest the most impressive pumpkins from any variety you plant in your garden when you follow all of this advice.
This gardening guide about pumpkins is your #1 guide for being the best pumpkin gardener you can be! You should refer to this gardening guide whenever you have questions about the best way to grow pumpkins—from planning to planting and from maintaining and nurturing to harvesting and reaping the rewards in your kitchen. With this gardening guide, you'll have everything you need about taking care of pumpkins in your garden!
First, in this gardening guide, you get a complete Introduction to Pumpkins—including the history and background of this amazing and iconic crop. Did you know that pumpkins are 90% water, yet still very nutritious? Or that the largest pumpkin pie ever made was 20 feet across and weighed nearly 2 tons?
Get all the details about the history and background of pumpkins when you read this gardening guide's introduction now.
Then, you get Feature Articles about Pumpkins that include:
Next, this premium gardening guide highlights five popular pumpkin varieties in the Plant Profiles section, to help you choose the variety you might want to try—this is a great guide for selecting the varieties of pumpkins that are best for your growing conditions and your cooking or decorating needs:
And all of your pumpkin-gardening efforts are made more satisfying when you have quick and easy-to-make recipes, to ensure your pumpkin harvest is enjoyed by everyone you serve at your home. Food Gardening Network is all about providing quick-and-easy recipes for making delicious dishes. Try these recipes and enjoy your pumpkin harvest in the most satisfying ways:
Next, you'll learn all about the health benefits of pumpkins with Nutrition Facts about Pumpkins and Home Remedies & Health Benefits of Pumpkins. Learn about all the wonderful and beneficial attributes of pumpkins—and how you can use pumpkins to boost your overall health.
And to be sure you have everything you need to grow pumpkins in your home garden, we've included a Resources about Pumpkins section—so that you can easily find additional tools and information about pumpkins … and all sorts of other general gardening and cooking resources.
Finally, our Pumpkin Glossary section gives you the explanation of key pumpkin-growing terms and concepts—so, you're never in the dark or confused about growing pumpkins or harvesting pumpkins.
Check out this premium gardening guide now—Pumpkinpalooza: How to Start Your Own Pumpkin Patch—and you'll really learn everything you need to know about starting and maintaining your own pumpkin patch!
Laura Logan, Norann Oleson, Victoria Arnold, and Samantha Pulcherz contributed to the creation of this gardening guide.