Preventing Weeds in Your Garden
Five ways to start preventing weeds in your garden starting in the fall or spring: from cardboard to weed paper.
In the spring, I love hearing the birds that have just reappeared from their winter break and watching the buds grow on the trees, but I also take note when I see these warning signs that it's time to cover my raised beds. That's because if I don't, those buds on my maple tree are going to turn into a billion little trees in my soil that are seriously difficult to get rid of (ask me how I know!)
Then you have those lovely chirping birds ready to scat seeds in your garden too. The cycle of life, ah, isn't it wonderful?
The next question you might ask is whether you should use a weed barrier in a vegetable garden to prevent this nonsense from adding stress to your gardening life and I give it a whole-hearted yes ma'am or sir, you should. Because while using one at the bottom of a raised bed doesn't do much for preventing weeds in your garden, using one on top of your beds can do a lot in the spring to prevent new seeds from dropping into your garden from trees, bees, and bugs.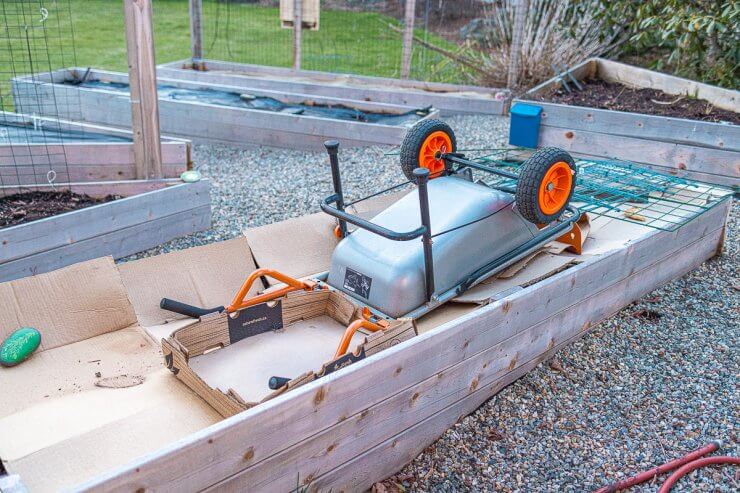 Cardboard
Cardboard is easy to get, worthwhile to recycle, biodegradable, and makes a decent bed cover. If all you really want to do is block out light and seeds from winter to spring, then laying cardboard out over your beds is a great idea. You can use a wheelbarrow or heavy stones to keep it in place as long as you need.
You can remove it and recycle it in the spring, or you can cut out more specifically sized pieces that fit your beds, and add new soil on top of the cardboard, which can prevent weeds for most of the season. The downside is you'll need to invest in more soil, but the plus is that cardboard is biodegradable, so it will compost, and you'll put it to good use and it will be a pretty effective weed barrier for the season until it degrades.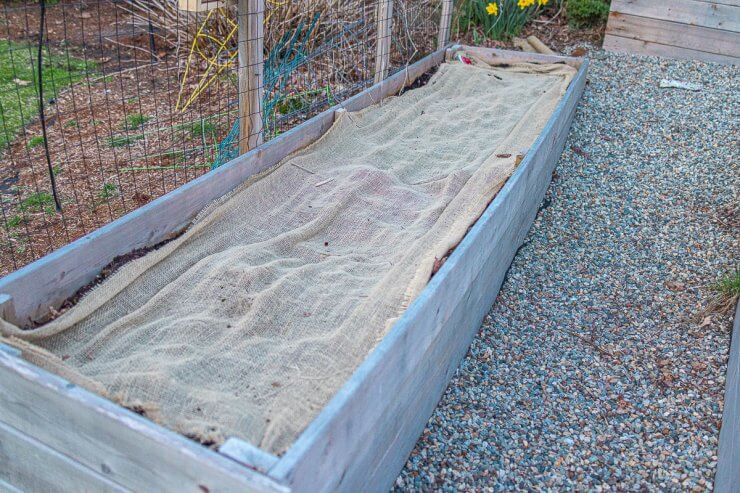 Natural burlap
Rolls of natural burlap make great raised bed covers because it stops seeds from dropping into your beds, but still allow light and water to come in. You can lay the burlap down on your bed, and simply cut holes where you plan to plant. On top of the burlap, you can also add mulch to protect the plants even more from whatever might splash up from the soil onto the plants, which is the leading cause of disease. Burlap breaks down, so you don't need to do anything else.
Another benefit of burlap is that if you are direct sowing beans, melons, or squash, you can still plant the seeds, and they will be able to grow through the burlap, which you can't do with synthetic landscape fabrics. The downside is that burlap certainly lets in a lot more light for weed seeds that were left in the soil, which means they can grow up through it as well. It's not quite as good at weed-blocking as synthetic landscape fabrics, but it's so much more multifunctional, and with the addition of some hay or other mulch, it could be just as good.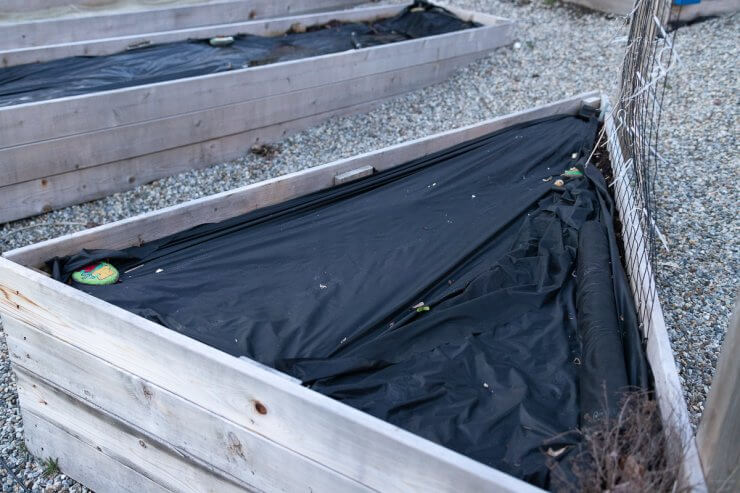 Synthetic Landscape Fabric
Synthetic non-woven heavy-duty Polypropylene landscape fabrics are another option. It's a variety of plastic, or thermoplastic. This is pretty much the same material as most reusable grocery bags. These are the black rolls you'll see that say they will let water and air through. The downside of using these materials is that they are inorganic and while they may save us on spraying chemicals, for all we know, they could be leaching chemicals into the soil. So it's worth reading the package to see what they say about that. But for all its effort, it also doesn't break down, which means it's not really doing anything to change your soil composition and will eventually need to be removed and replaced. Landscape fabric does keep the soil warm, which some plants (like eggplants) really need, however, it can sometimes get too hot, which can kill some of the beneficial microorganisms. It's also less likely to mold, mildew, or rot like a more natural material like burlap could under the right conditions.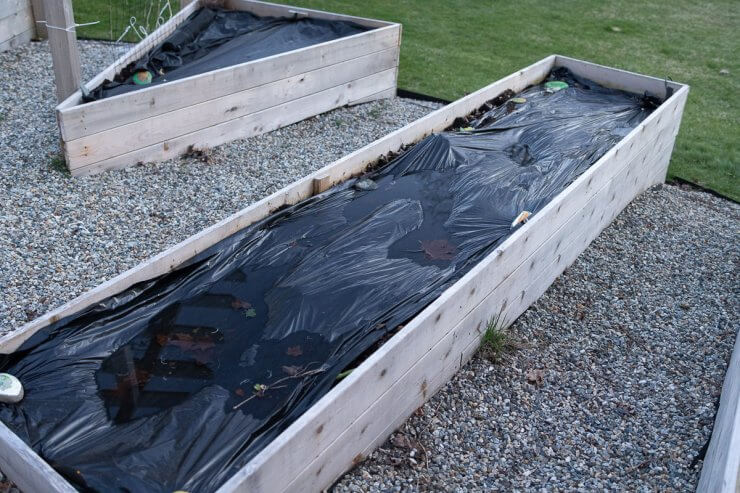 Plastic Weed Barriers
Plastic barriers are best used for temporary covering, like over winter or in the spring before you're ready to plant. They're also great for solarizing your beds. They're not ideal for planting unless you have drip irrigation installed, otherwise the soil underneath will dry out from a lack of watering. That said, it has many commercial applications when properly installed with drip irrigation. This is why you see it often used at farms when they need serious weed prevention at the largest scale. For smaller home gardens, it may be a bit overkill.
Weed Paper
I haven't used them before, but the Old Farmer's Almanac makes a weed paper that breaks down, is infused with fertilizer to last a whole growing season, and is organic and meant for food crops. The downside is that it only promises weed control for 90 days, which is long enough for some of us, but not for others. I think it would be a great combo with burlap, which would hold it in place.
A few things to know:
Use U-Shaped Pins to anchor any gardening material you want to use.
Cut an X in the medium of choice to plant your plant.
Add a mulch on top of your weed barrier of choice if you like, or don't.
Pre-Season or Whole Season Weed Prevention
Pre-season coverage: Many people simply like to cover their garden beds in the spring to prevent weeds, but then remove them once they set up their beds. If you do a lot of succession planting, this might make sense, because otherwise, you'll be tearing up all your hard work and it'll just start falling apart. You can get a little loosey-goosey in this application, as it's intended to be removed in a short span of time.
For pre-season coverage, I recommend the cardboard and plastic options below.
You may also want to apply it in the fall after you "close" your garden, if you do clean-up in the fall and not the spring.
Whole season coverage: If you're intending to use a weed cover for the season, make sure you have more garden staples than you know what to do with. You'll want to measure the fabric precisely and pin it down securely every foot or so to prevent the wind from pulling it up. There are huge benefits to using a weed barrier all season long, like keeping the roots warm, which is important for eggplants and melons. They also create a barrier between the soil and your plants, which can dramatically cut down on the spread of disease.
For whole-season coverage, I recommend natural burlap or synthetic landscape fabric because they will both protect the plants while allowing light and water in. Burlap is also biodegradable and doesn't need to be removed. While synthetic fabric may be more effective, it will need to be removed because it's plastic.
Deciding to provide whole-season weed coverage means you'll also be using less pesticides, and if you use a material like Old Farmer's Almanac Weed paper, you can also double up with that to provide season-long fertilization without the mess.
Now it's your turn, and I'd love to hear what you use for preventing weeds in your garden.