How to Make Organic DIY Seed Tape for Perfectly Spaced Vegetables
How to get perfect rows of carrots, lettuce, beans and more with DIY seed tape that you can prepare ahead and plant when the time comes.
If anyone ever said that a Type A personality and gardening didn't mix, they never heard of seed tape. Have you heard of it? This tool is the best way to feed your neuroses of perfectly spaced vegetables like carrots, lettuce, radishes, beans, and other seeds you tend to plant in bulk. It's a bit hard to find in stores, but that's fine because it's totally easy to make DIY seed tape.
Making seed tape at home also gives you a fun garden craft to try out when there's not much gardening to do in the winter. While you're waiting for your seedlings to sprout on grow mats and under grow lights, you can also prepare the seeds that will be planted in the ground directly, which might help make starting your spring garden a little easier.
In this project, you'll be using toilet paper, and I think we should also bring up the topic of chemicals because if you're growing an organic garden, you probably don't want to use chemical-laden toilet paper. Look for toilet papers that are marked as eco-friendly, BPA-free, and organic.
Now, remember what we use on our bums doesn't necessarily equal the best material for our food. Seventh Generation toilet paper is a great option for the bathroom because it's made of recycled materials, and is free of any new dyes, inks, or fragrances, but it still is technically recycled material.
For seeds, organic bamboo toilet paper might be a better bet. Caboo toilet paper, for example, is made from organic bamboo while also being BPA, fragrance, and dye-free. BetterWay toilet paper is made of bamboo that is sourced from FSC-certified forests, organic, eco-friendly, plastic-free, compostable, biodegradable, unscented, and dye-free. You never thought you'd be thinking so deeply about toilet paper, did you?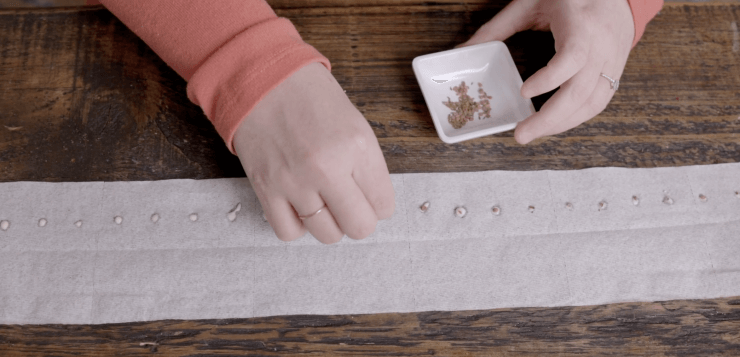 Once you have your ideal toilet paper, you can begin.
Here's what you'll need:
Seeds
3 Tbsp warm water
1/4 cup organic all-purpose flour
Organic single-ply toilet paper (2-ply or 3-ply is fine, simply separate the layers)
Paintbrush, chopstick, or q-tip
Measure your garden beds or containers so you know how much space you're working with.
Create a paste by mixing the flour and water together in a small bowl, one tablespoon at a time. The consistency should be that of thick paint: not dripping.
Measure the toilet paper to the length you'd plan to plant (like the length or width of your garden bed). Do this as many times as you need to according to your garden plan.
Fold the toilet paper in half lengthwise to create a crease, then unfold and lay the strips out flat.
On one half, mark it at the intervals your seeds call for (6″ apart for example).
Use the paintbrush to apply a small dollop of the paste on top of each of the marks, then place a seed or two on each dollop of paste.
Fold the other half of the toilet paper down to seal it, then set out and allow to dry. Once dry, roll up and mark it so you know which plant it is, and store for up to 3 months before planting. I sometimes make a little tag that says how deep to bury so that I don't have to find the seed packet later on.
To plant, simply lay strips out in your garden, and cover with the amount of soil your seeds call for.
I find this method particularly helpful for second rounds of carrots and beans, where mid-summer I may be too busy to remember to plant a second batch, but if I have this available, it's pretty simple to get the seeds started easily.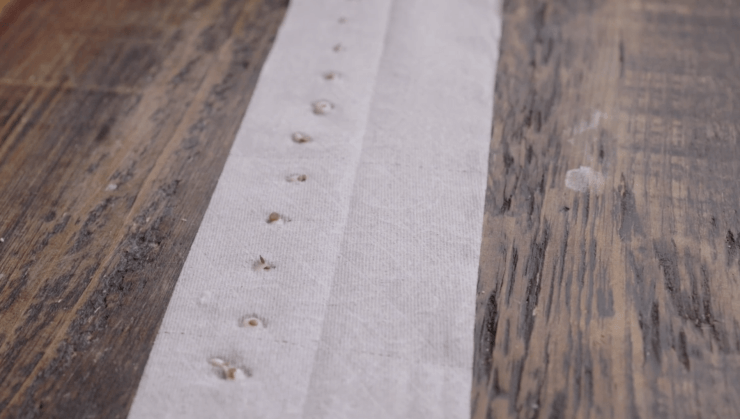 Alternative ways and materials to make DIY seed tape
Paper towels – I don't prefer paper towels because 1.) they are thicker and take longer to decompose 2.) many paper towels have dyes in them, and 3) you can't make long strips because of the perforations. That said, it's still doable, simply cut them into small thin strips, and don't fold a second layer over. The only benefit is that short, sturdier strips do store easier, you could even store them inside a paper towel roll.
Glue – I try to avoid glue because it's made from synthetic materials that may or may not affect my seeds or the food I plan to grow and put into my body. That said, you can use glue instead of making your own flour paste if none of that worries you. Another organic approach to making glue would be dissolving a tablespoon of organic cornstarch in a cup of boiling water.
Benefits of using seed tape
There's really no need to buy seed tape. It's an easy DIY project and you can plant whatever seeds you want, as opposed to a pre-made seed tape you'd find in the store. Do you really want to limit your seed tape garden to what seed tape was available? I didn't think so! Here are the biggest perks I see:
Vegetables will be perfectly spaced and all you need to do is lay it flat and bury
No need to thin seedlings later
Rotate seed varietals a little more deftly (for example, different types of radishes) without having to juggle multiple seed packets when planting
Easier to see what and where you're planting
Visual learners will find it easier to plan out a garden
No limit to what you can plant (as opposed to pre-made seed tapes)
If you have used seed tapes or plan to make your own DIY seed tape, I'd love to know how you make them and if you have any additional tips.