How to Build a Pole Bean Teepee Trellis
A quick tutorial on building a pole bean teepee trellis that helps your beans climb toward the sky while feeding your family.
Pole beans are my favorite things to grow. If I had to choose only 3 things to grow, it would be tomatoes, peppers, and pole beans. I harvest them all, cook with them constantly, and while some gardeners get overwhelmed, I say "bring it on!" When we built my new raised garden beds this year, I specifically incorporated a whole wall for beans and peas and envisioned it covered in vines by mid-July.
I have to say, it wasn't as magical as I imagined—it could be the new soil we filled our garden beds with, or that the bed isn't sufficiently watered. It's a mystery I'm working on for phase two. Because the middle of the season is the best time to plant even more beans! That's why I was inspired to build a pole bean teepee (or tipi).
As I'm sure you know, a tipi (from the Lakota word thípi, which means dwelling) was traditionally used by indigenous people in the Great Plains and Prairies of North America. The word evolved to teepee phonetically in English, but all usages are technically correct. They were typically built with wooden poles and covered with animal hides for shelter. Starting in the middle ages, lighter branches like those from willow trees were used to create trellises for gardens. The teepee trellis resembles the shape of the original tipi and benefits plants by keeping branches and leaves off the ground, protecting them from disease. I'm grateful to the indigenous people for creating such a beautiful structure that is being used as one of the best ways to grow food.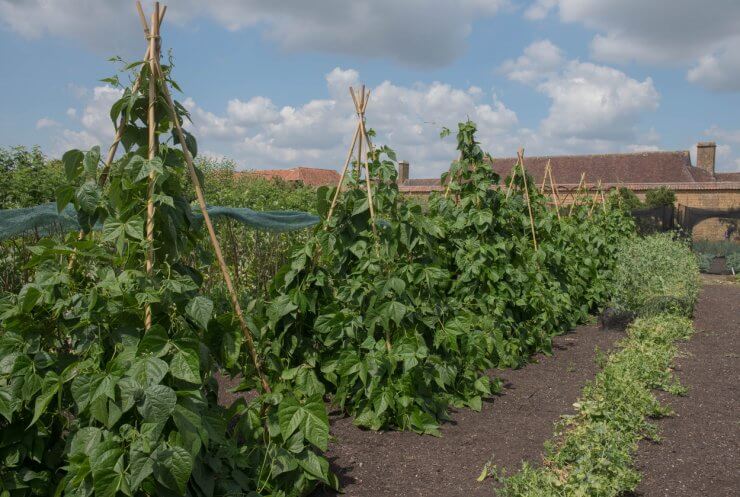 Growing Pole Beans
If you've been reading our Green Bean Gardening Guide, you'll already have gathered a few facts that will be useful in this endeavor:
Pole beans need a soil depth of at least 8 to 9 inches, which you'll need to know if you're building in a raised bed.
18 inches in diameter is usually sufficient for pole beans.
If you create a pole bean teepee in a raised bed, harvesting may become a bit of a challenge if your raised bed is too high, so keep that in mind.
Packaged garden soil means less weeding than you'd have from digging a hole in the ground.
Green beans are really a gardener-friendly plant, and they'll grow well in open ground—as long as they have plenty of sunshine, good drainage, and the right pH (6.0 to 7.0).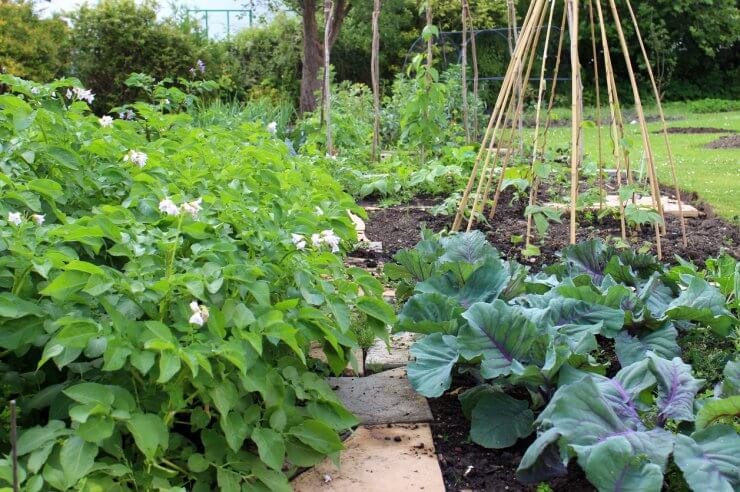 Building a Pole Bean Teepee Trellis
What I noticed from my first batch of beans was that they wanted to keep crawling even taller than the 4-foot tall trellis I'd built into our garden beds. To build the teepee for the next batch of beans, I wanted it to be taller. I couldn't find 8-foot bamboo poles, but since they're going in a raised bed, that probably would have been too tall. I settled on 6-foot ones which I can reach fine since my bed is on a slope.
Here's what you'll need:
Pole bean seeds
8 bamboo poles (or sturdy branches, or even untreated wood)
Twine
Compost if you haven't recently composted
Mulch
Excuse my lack of artistry, but here is a little diagram of the very simple steps I'm about to go through below (or just watch the video above, much more detailed!)

Instructions
Prepare your area. If you are putting this structure in your raised garden bed, there's no prep work other than cleaning the area. If you're doing it in the soil, or in the grass in your backyard, you'll want to prepare the soil first before you start, by loosening the soil and adding compost.
Get started. Start by stacking your poles in a teepee shape. For the best stabilization, include a center pole. If you're doing it on the ground for kids to play inside of, skip the center pole, but bury the poles deeper in the next step.
Poke the poles into the ground for stabilization until you have the exact shape you want. Once you do, bury the pole ends a couple of inches into the ground.
Use about a 12″ piece of twine to wrap around the top of the teepee trellis, wrapping around and in between the poles.
Begin wrapping twine around the structure. You can tie a knot around each pole as you go, or simply wrap around each pole. If you do the latter, you may need to tie knots as you go, or at the end, to make the rope tighter so that the vines don't pull down the twine too much as the beans grow.
Plant your seeds an inch or two outside of your pole ends.
Bonus: Mulch the inside so that you can avoid weeds that might be harder to pull with the structure in the way.
And that's about all there is to it. There are lots of ways to vary this design to your personal preferences, but you can also make it simple and follow this basic framework. They're not just functional, but they also look pretty cool in the garden too.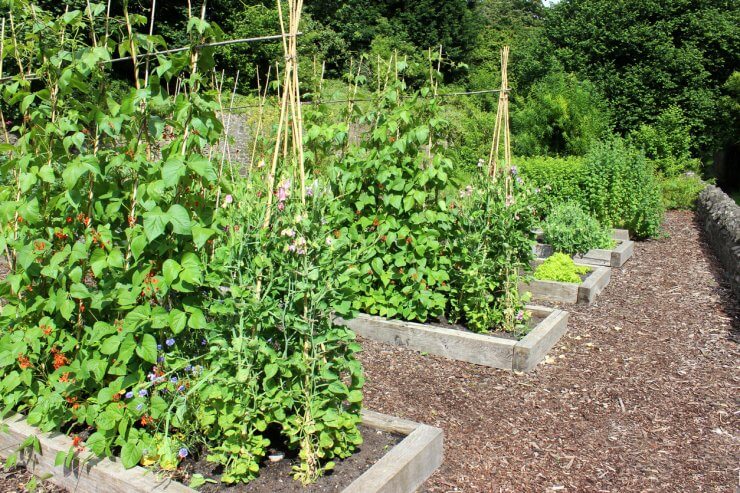 Expanding the Pole Bean Teepee Trellis
In the photo above, you can see a great example of using this basic structure as end-caps on a much longer garden of beans. To do this, simply build a teepee trellis at the front, middle, and back of your bed. Then, depending on how long your bed is, and how long your poles are, you can lay the poles across your structures and tie them. From there, you can create additional trellises with just two poles, as pictured. Simply tie two sticks in a triangle shape to the top pole, and you end up with a whole line of trellises ready for lots and lots of beans.
Do you have other tips and tricks in your own arsenal for growing pole beans? I'd love to hear them in the comments.