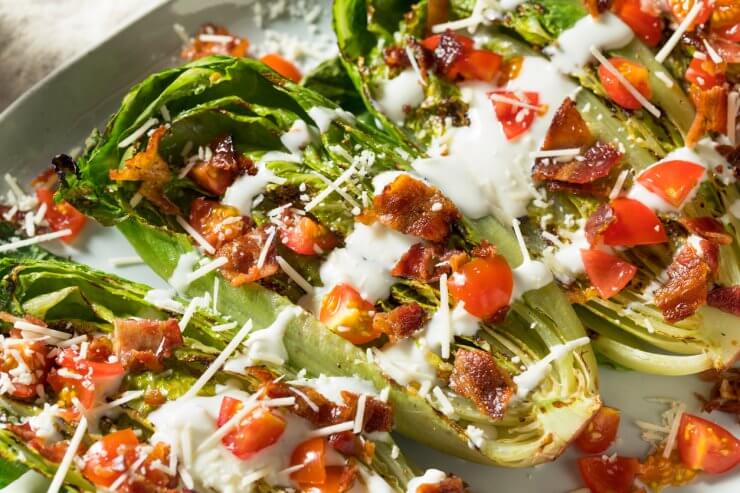 There's something so satisfying about dinner hot off the grill. Summer is high grilling season, but even in a region with frigid winters, we keep the grill fueled up and ready to go for those days when it's not blowing snow sideways. That's why I adore this Grilled Garden Romaine recipe.
For a long time, I went along with the grilling status quo: steak, burgers, hot dogs, chicken, the occasional rack of ribs, and shish kebab with limited vegetables. Then we branched out a little and started grilling our peppers; now that was life-changing! The grilling process brought out the complex flavors of the peppers, and we enjoyed them so much we planted more peppers!
One spring while I was planting lettuce in my raised beds, I decided to grow Romaine lettuce along with my favorite leaf lettuce. I figured it would give me some variety when it came time to make salads or garnish my sandwiches.
That was the year that everything grew profusely. I think it was part weather, part luck. But even though I snipped a few leaves of Romaine throughout the growing season, by the time the heads were fully ready, they were huge—over a foot tall!
And they were profuse. I had a lot of Romaine on my hands—more than enough to make a century's worth of Caesar salads. OK, I exaggerate—but not by much. I really had more Romaine than I could handle.
Then I was watching a cooking show (as one does), and I saw the TV chef brush a halved head of Romaine with seasoned olive oil—and put it on the grill! As he plated this unusual dish, I glanced out toward the deck to see if we had an extra tank of propane.
So, I did what any adventurous home gardener and avid cook would do: I tried it myself. As far as I'm concerned, Caesar salad can take a back seat. Grilled Garden Romaine is staying on my menu.
Print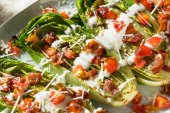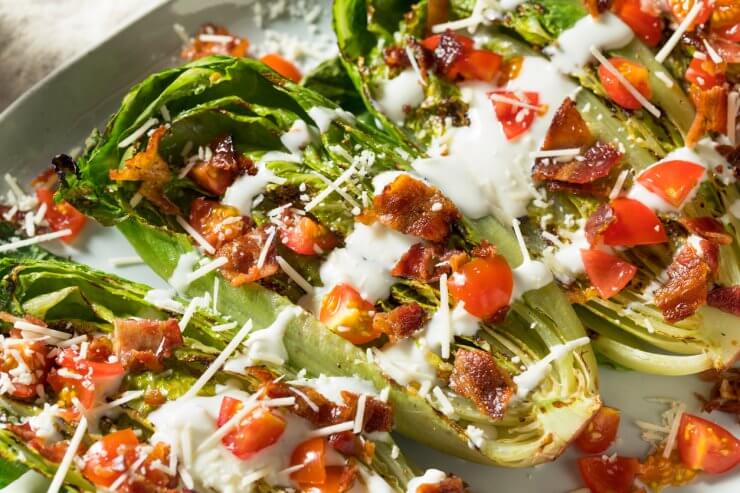 Grilled Garden Romaine
When you're already grilling, get some Romaine ready for the grill. You'll love the hearty yet light flavor of Grilled Garden Romaine to go with your main dish.
Author:
Prep Time:

15 minutes

Cook Time:

10 minutes

Total Time:

25 minutes

Yield:

Serves 4

Category:

Sides & Sauces
Ingredients
2

Romaine hearts, cleaned, blotted dry, and cut in half lengthwise

3 tablespoons

olive oil

1/4 cup

buttermilk

1/4 cup

Greek Yogurt

4 teaspoons

minced chives

2 teaspoons

lemon juice

1 tablespoon

minced garlic
Salt and pepper to taste

1/4 cup

shredded Parmesan cheese

4

strips bacon, cooked crispy and crumbled
Instructions
Trim the stem of the lettuce to remove any brown parts.
Brush the cut side of the Romaine halves with olive and grill over medium-high heat for 3 to 4 minutes, leaving the grill lid up.
Brush the backs of the Romaine halves with olive oil, turn over, and grill for another 3 to 4 minutes.
Remove from grill when done and put on a serving platter, cut side up.
While Romaine is grilling, whisk buttermilk, yogurt, chives, lemon juice, and salt and pepper in a small bowl until ingredients are fully blended.
Drizzle sauce over the cut sides of the Romaine.
Sprinkle with cheese and bacon.
For a variation, skip the buttermilk and yogurt, and add in 1/4 cup of chopped kalamata olives.
Growing lettuce is as easy as BLT. A cool-season annual, this leafy crop grows readily from seed, and you can sow seeds every few weeks to have a season full of salad! With hundreds of varieties, there's a lettuce for you. Grow it indoors or out, in your garden or on your balcony. With our Leafy Lettuce Collection, you get all the details that go into growing and harvesting delicious, leafy lettuce. Get recipes that go beyond the salad bowl and see what's possible when you grow your own lettuce. Get it all in our Leafy Lettuce Collection right now!
Have you made this Grilled Garden Romaine recipe? It makes a great side dish that's out of the ordinary! Please tell us how you used it.