Every year, without fail, birds come to my garden and wreak havoc. They peck at my blueberries, poop on my lettuce, and nab my strawberries. I thought I'd tried everything to deter them. I considered getting a cat. I've even resorted to reading about ancient methods of bird deterrents for gardens.
The two main ways people have traditionally tried to scare away birds are with bird tape and reflective pinwheels, which work pretty well for the most part, but they stop flying in the breeze and spinning once your garden fills up with foliage from your plants.
Then you have garden owls. I find the most effective one is solar-powered and motion-activated so it hoots at your foes. If you just get one that sits there, the birds catch on real fast.
I've been on the hunt for the best bird deterrents for gardens for some time now, and I feel confident that the list below includes the best solutions.
Bird kites are surprisingly effective if you live in an area that gets decent wind. Not only will they scare off birds, but they can also keep rodents and bunnies away too. The trick to using these is to secure a tall pole over your garden, and secure the kite to a short line attached to it so that it won't get stuck on anything down below when the wind isn't blowing. The XKites Birds of Prey Owl kite gets great reviews from other gardeners who use it for the purpose of scaring away birds and rodents.
De-Bird Garden Netting is the top-reviewed bird netting on Amazon, and I think it's one of the best bird deterrents for gardens. I have never had an animal caught in it and I use it pretty much exclusively in my garden. You could say that netting is netting is netting, but this stuff is very durable and easy to use. It's easy to cut to size and throw over blueberry bushes, cold frames, or hoop tunnels to keep crops safe from hungry beaks.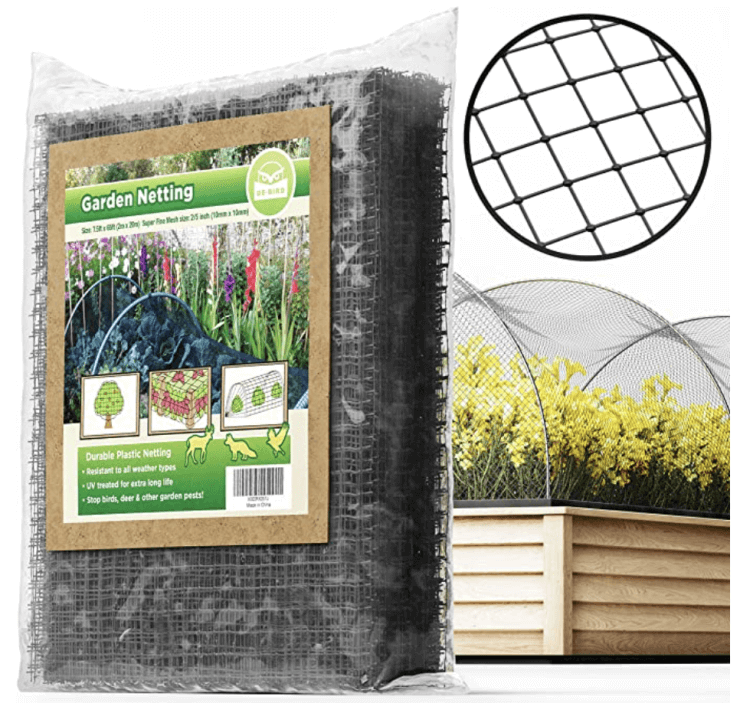 As it turns out, birds don't like to hear other birds in distress, so bird boxes that play natural bird sounds and predator calls are particularly effective at keeping them away, though they are a bit annoying. If you have close neighbors, they may not approve, but neither will the birds. The Bird-X BirdXpeller Pro gets particularly great reviews and will cover about an acre.
There are also silent (to us) sonic deterrents that emit a high-pitched sound that only birds can hear, but I've never heard good things about those devices, so I'm not even including them in this list.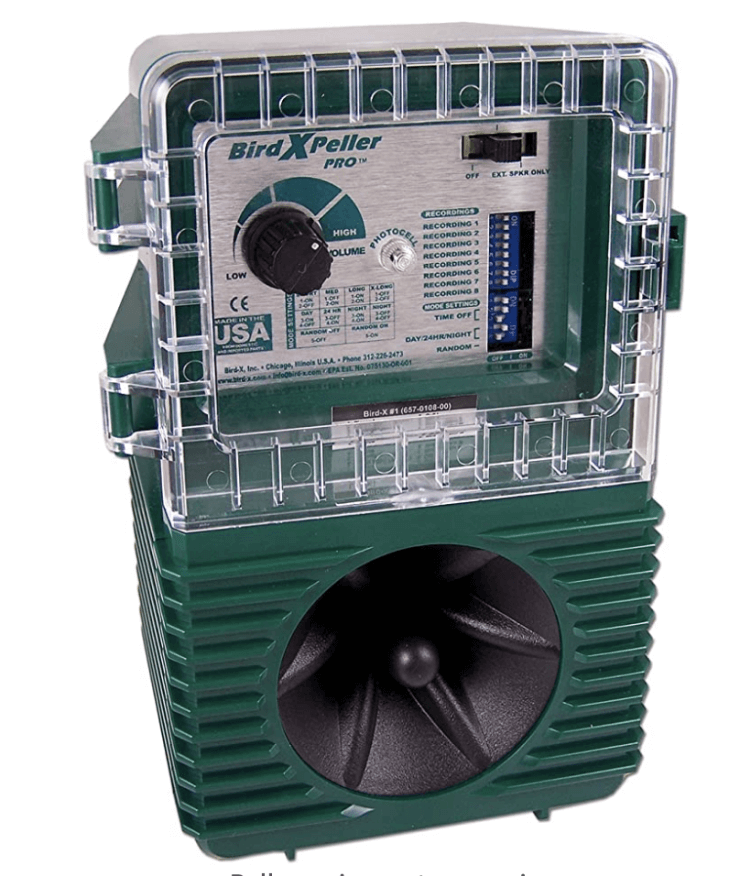 Speaking of sound devices, there's also the Sonic Sentinel M14-1 Propane Sound Cannon & Tripod Bird Deterrent, which repels birds and other wildlife over 10 acres with 130-decibel sonic blasts. I'd only use this if you're far from neighbors, particularly veterans.
And if you want more of an all-in-one device, the VEGFEST Ultrasonic Solar Animal Repellent is a motion-activated device that sounds sirens and flashes lights. It seems annoying to me, but the reviews are promising. I wonder if it works on bears who like to get into the trash, too!
Bird spikes are one of the best bird deterrents for gardens. If bird poop is a real problem, then you probably already know why it's happening. You have a large trellis or arbor that birds sit and perch on throughout the day and send down waves of poo as they chatter with one another. Bird-X Bird Spikes can solve this issue by not giving the birds a comfortable place to perch.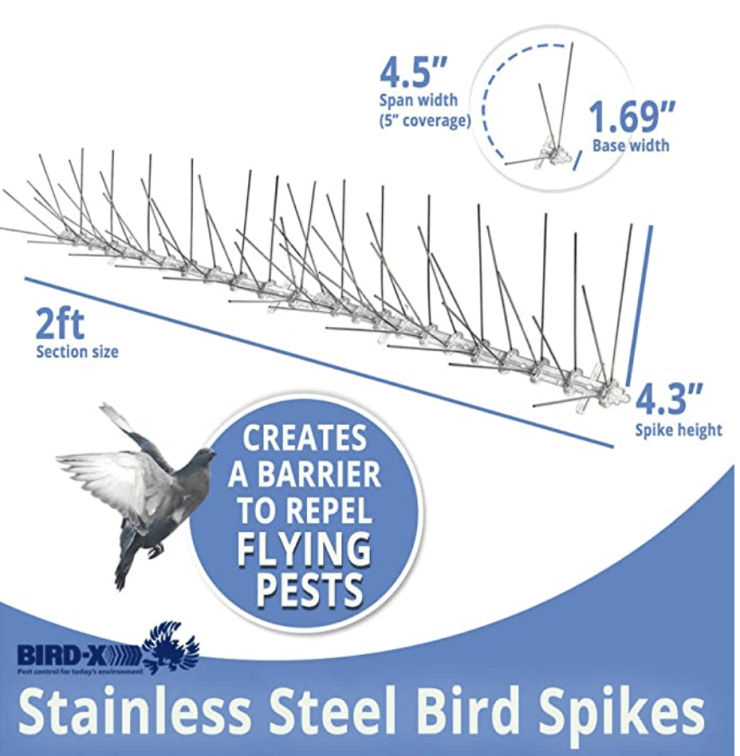 5. Motion-Activated Sprinkler – Hoont Cobra
I love this option for many reasons, and one of them is that it'll get the cats dropping trow in my garden too. Sure, it might be going off all day for one reason or another, and you'll get hit for sure when you forget about it, but this bird deterrent method with the highly-rated Hoont Cobra is successful, and it's battery-operated.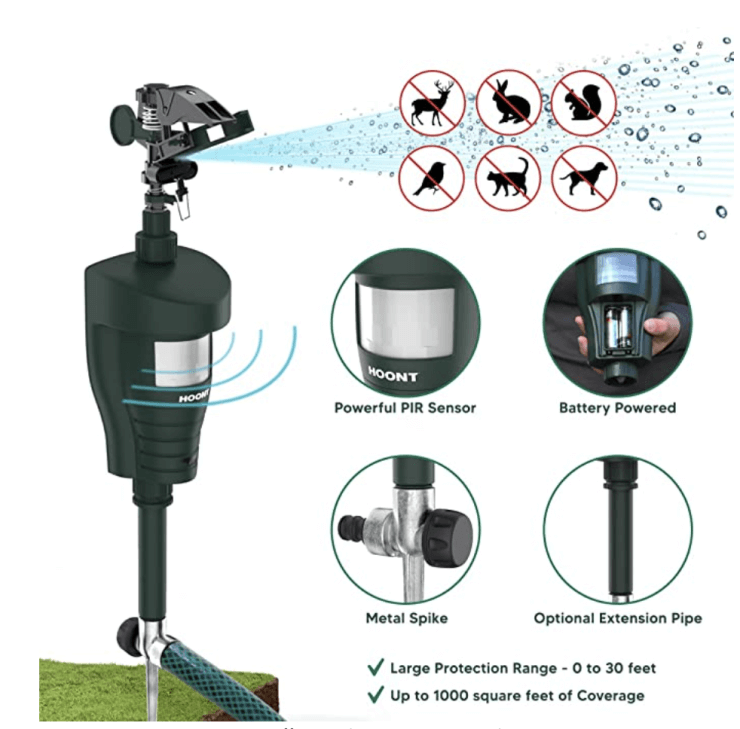 Now it's your turn. What do you think are the best bird deterrents for gardens? What are you using? I'm sure there are others who would like to know too!
Note: Food Gardening Network contains links to affiliate websites, including Amazon and Rakuten Affiliate Network, and we may receive a commission for any eligible purchases made by you through links on this page. Any reviews are based on honest reviews of the products.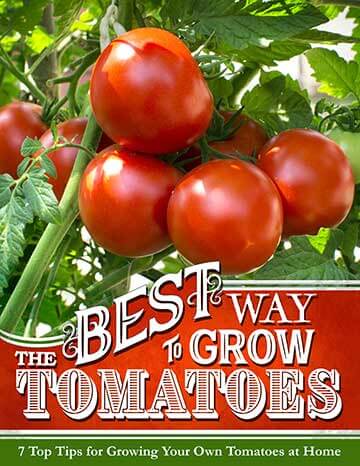 Discover 7 top tips for growing, harvesting, and enjoying tomatoes from your home garden—when you access the FREE guide The Best Way to Grow Tomatoes, right now!