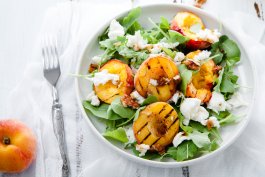 If you need something to brighten up your day, and you've got some time to spare, then why not try making this Roasted Beet, Peach, and Goat Cheese Salad? Not only will you get a vibrant and healthy dish, but you'll be able to enjoy varying levels of sweetness that's hard to resist!
Beets are typically known for tasting bitter — or even dirty — but hold up! Washing and preparing beets the proper way brings out their earthy, floral, and slightly sweet flavors. Caramelizing these beets can make this sweetness more pronounced, making them a great partner for the next ingredient: fresh peaches!
These juicy, delicate fruits have zero fat content and possess only a small amount of calories, making them perfect for a healthy helping of salad. The fresh baby arugula serves as a delightful backdrop alongside the distinct tartness of crumbled goat cheese.
Adding some chopped pistachio nuts will amp up the flavor — but not the saltiness! In fact, pistachios aren't naturally salty, and mature nuts will actually have a sweeter flavor profile. Enhancing the sweet but nutty undertones is walnut oil, which serves as a delectable companion not only to the pistachio but also to the goat cheese and baby arugula. Of course, it's not a salad without a dash of balsamic vinegar since it brings all the ingredients together and makes them more fully rounded.
Making Roasted Beet, Peach, and Goat Cheese Salad takes about two hours and 40 minutes, but like they say, you can't rush art — and certainly not this salad! You might want to make an extra batch because you'll surely go back for seconds!
Print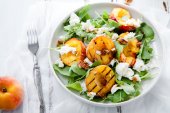 Roasted Beet, Peach, and Goat Cheese Salad
Get ready to savor different degrees of sweetness and subtlety with this Roasted Beet, Peach, and Goat Cheese Salad!
Author:
Prep Time:

20 minutes

Chilling Time:

1 hour

Cook Time:

1 hour 20 minutes

Total Time:

2 hours 40 minutes

Yield:

Serves 2

Category:

Salads & Dressings
Ingredients
2

beets, scrubbed

16oz

baby arugula

2

fresh peaches – peeled, pitted, and sliced

2

shallots, chopped

1/4 cup

pistachio nuts, chopped

1

(4-ounce) package goat cheese, crumbled

1/4 cup

walnut oil

2 tablespoons

balsamic vinegar

1

pinch salt and pepper to taste
Instructions
Preheat oven to 375 degrees F (190 degrees C).
Wrap each beet in two layers of aluminum foil, and place onto a baking sheet.
Bake in the preheated oven until the beets are tender, about 1 hour and 20 minutes.
Allow the beets to cool slightly, then remove the skins.
Let the beets cool to room temperature, or refrigerate until cold. Once cooled, thinly slice the beets.
Place the arugula into a large mixing bowl.
Add the sliced beets and peaches; sprinkle with the shallots, pistachios, and goat cheese.
In a separate bowl, whisk together the walnut oil, balsamic vinegar, salt, and pepper until emulsified.
Pour over the salad mixture.
Toss well, and serve.
Have you tried this Roasted Beet, Peach, and Goat Cheese Salad recipe? It's so easy, delicious, and a very unique salad to give your salad course some pizazz—please tell us how it turned out for you.