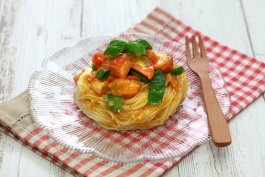 One of my favorite go-to meals is the easy capellini with basil and tomatoes.
Capellini pasta is a simple but delicious choice for an Italian meal. Combined with fresh basil and juicy tomatoes, the dish is packed with flavor but doesn't require much time or effort to prepare. Plus, it's perfect for those days when you don't want to spend hours in the kitchen.
The key to this dish is using high-quality ingredients, like fresh tomatoes and fragrant basil. You can use either cherry or grape tomatoes, whichever you prefer. With all the fresh and healthy ingredients that go into this dish, everybody will surely love it.
The great thing about this recipe is that it's quick and easy but still tastes like an authentic Italian dish. It uses simple ingredients and can be made in less than 50 minutes! This recipe would be a perfect meal to make when you come home from a long day of work because there isn't much preparation or cooking time.
What I love about this recipe is how light, healthy, and flavorful it is. The basil and tomatoes marry well together, and the capellini provides the perfect amount of substance.
Gather your favorite Italian staples and get cooking! You won't regret it.
Print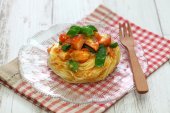 Easy Capellini with Basil and Tomatoes
Step up your spaghetti dinner game with this easy-to-make Easy Capellini with Basil and Tomatoes dish. Your fresh ingredients, especially all the basil, will shine through.
Author:
Prep Time:

15 minutes

Cook Time:

10 minutes

Total Time:

40 minutes

Yield:

Serves 6

Category:

Entrées
Ingredients
Kosher salt

1/2 cup

extra virgin olive oil, plus 2 tablespoons for the pot

6

garlic cloves, minced

4 pints

cherry or grape tomatoes

20

large, fresh basil leaves, sliced julienne style

2 tablespoons

chopped fresh parsley

2 teaspoons

chopped fresh thyme leaves

1 teaspoon

freshly ground black pepper

1/2 teaspoon

crushed red pepper flakes

3/4

pound dry capellini (angel hair pasta)

1 1/2 cups

freshly grated Parmesan cheese
Extra chopped fresh basil and grated Parmesan, for serving
Instructions
Boil a large pot of water with 2 tablespoons salt and 2 tablespoons of olive oil.
While pot of water is heating up, use a large sauté pan to heat 1/2 cup olive oil.
Add garlic to sauté pan and cook over medium heat for just 30 seconds.
Add tomatoes, basil, parsley, thyme, 2 teaspoons salt, black pepper, and red pepper flakes.
Reduce heat to medium-low and cook 5 to 7minutes, tossing occasionally to soften tomatoes and slightly char them.
While tomatoes are cooking, add capellini to pot and cook for at least 4 minutes in boiling water.
Drain past, and reserve 1 cup of pasta water—set aside.
Place cooked pasta in a large serving bowl, add tomato mixture and Parmesan—toss well with tongs or a large pasta fork.
Add some reserved pasta water to keep pasta from being too dry, if necessary.
Serve in large bowls with extra fresh-chopped basil on top, a drizzle of olive oil (consider using a garlic- or basil-infused flavored olive oil), and  extra grated Parmesan cheese on the side.
Notes
It's a meal all by itself—or you can serve a smaller portion with a side of green vegetables (think asparagus or spinach) for a healthful and delicious dinner.
Basil is one of the most essential herbs and can be found in just about every kitchen. With The Basil Grower's Gardening Guide, you'll have everything you need to know about growing and enjoying this versatile herb. Check it out.
Have you tried this recipe? It's so easy and full of flavor and color—please tell us how it turned out for you.