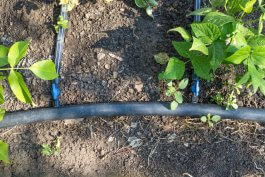 There are three main ways to irrigate a garden, and all of them take effort (sorry!). I mean, yes, a sprinkler will do the job, but they're not efficient and vegetables want to be watered from the ground up if they have the choice – so give them the choice.
The three DIY methods I think make the most sense are the PVC methods, the drip line methods, and honestly, clay pot irrigation is pretty great.
Choosing any one of these three methods will save you a lot of time and hassle in the garden. The clay pot method is the obvious easy answer, so if that's all you can do, great! If you have more expertise and time on your hands, the other two methods might be practical for you.
Believe it or not, you can easily implement a homemade garden irrigation system in your backyard without too much investment or hassle using any of the methods I mentioned above (and below). There are many variations and methods for creating a watering system but all of them have the same basic principles: get water to plants and don't waste any water. Here are a few homemade garden irrigation systems to check out and how to use them in your own garden.
Drip irrigation using PVC pipes
Okay, this one is going to look a little complicated, but I promise if you ever played with Lego blocks or Tinker Toys as a child, you'll do fine with this! The trick is mapping out your design and measurements before you go to the hardware store. With simple PVC pipe fixtures and a little planning, you can create a modular drip irrigation system that can be used year after year. I love the trick of setting this system up before you plant your seeds and seedlings, that way you know exactly where to plant them based on where the water reaches.
Drip irrigation using a soaker hose
Soaker hoses have been around forever and are an easy way to create a homemade garden irrigation system in your backyard in just a few hours. While you can easily just lay out the soaker hose along your rows of vegetables, it's worth planning out your entire garden to make sure you have the right connections and lengths of the soaker hose. What's neat about both the PVC and soaker hose drip irrigation methods is that you can connect them to a timed sprinkler system.
DIY Ollas – clay pot irrigation system
If you're going away for a few days and don't want your garden to suffer, I highly recommend the clay pot irrigation system. Ollas, or clay pots, have been used for centuries for providing water to crops. An easy way to create your own ollas is to use unglazed terracotta flower pots. The water seeps through the terracotta at a relatively slow pace. Even if you're gone for longer than a few days, you can have a neighbor or friend come by and just refill the pots.
Do you have a homemade garden irrigation system in your yard? What materials did you use to build it? Let me know in the comments!