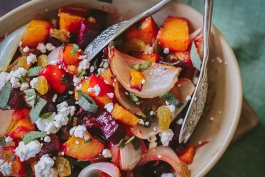 Roasted beets and butternut squash are a perfect balance of sweet and savory. Add in a little maple syrup and they caramelize ever so gently. This side dish is also simple to make, which means you can spend more time at the table with your family. To make it even easier, you can always purchase pre-cut squash and beets if they're available, though beets are pretty easy to find and peel, it's those squash that can really use the elbow grease.
I love serving this at Thanksgiving dinner next to a big ol' Turkey and it's always a hit. Every year we run out and every year I remind myself to make more the following year. As a pro-tip, I suggest wearing gloves when you make it unless you want to spend your holiday dinners with bright red hands and nails. Rubbing a little olive oil on your hands beforehand can help too if you don't have gloves.
Typically, winter squashes and beets are quite dense and need to cook for at least 40 minutes or until soft, however, these bite-sized morsels cook in just about 20 minutes, which is great because that's just enough time for the onions to soften and caramelize on their own. They'll break right apart once you toss everything together and they taste gently sweet. Combined with tart cranberries and succulent little golden raisins, topped with fresh sage and creamy goat cheese, this is a colorful side dish sure to please!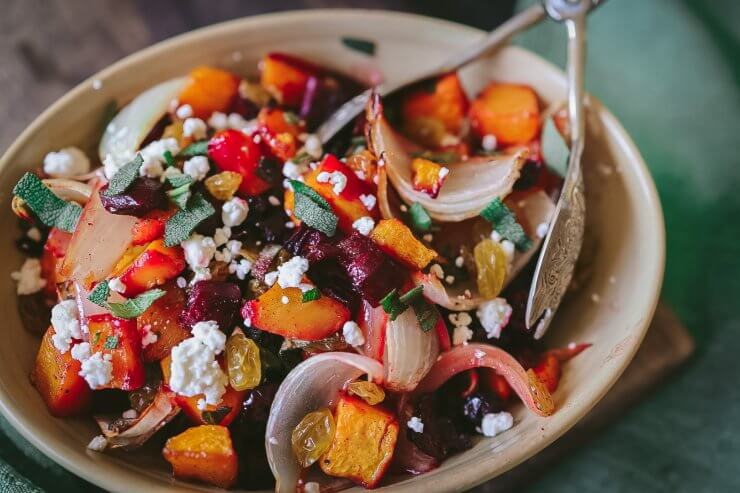 Print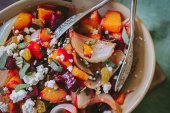 Maple-Roasted Beets and Butternut Squash with Caramelized Onions, Sage and Cranberries
Using just one baking sheet, this sweet and scrumptious Maple-Roasted Beet and Winter Squash recipe melts together with caramelized onions, fresh sage, sweet cranberries, and golden raisins. A perfect side dish all winter long!
Author:
Category:

Sides & Sauces
Ingredients
1

medium red beet

1

butternut squash (or any winter squash)

4 Tbsp

walnut oil, divided

1/2 cup

real maple syrup

1/2 tbsp

cinnamon

2

medium yellow onions

1/4 cup

dried cranberries

1/4 cup

golden raisins

2 Tbsp

chopped fresh sage

1/4 cup

goat cheese
Salt and pepper
Instructions
Preheat oven to 375°F.
Cut the ends off and peel your beet and butternut squash. Cut squash in half lengthwise to remove and toss seeds, or save for roasting later, and then cut squash into 1/2″ chunks and add to baking sheet, or in a bowl. Cut beet into 1/4″ morsels.
Drizzle half the walnut oil over the squash and beets, along with the maple syrup, then sprinkle with cinnamon, salt and pepper. Toss.
Remove peel from onion and slice into 8ths, rub with remaining oil, then sprinkle with salt and pepper and add to baking sheet. Bake for 20 minutes or until soft, then turn off the oven and let rest for 10 more minutes.
When done, toss in a serving dish with dried cranberries, golden raisins, and fresh sage. Then, sprinkle with goat cheese and serve warm.
If you make this Maple-Roasted Beets and Butternut Squash dish, I'd love to hear what you think! Leave a comment below.