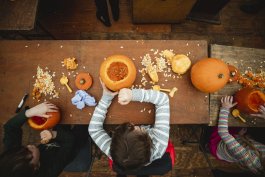 I have a vivid memory of standing on a stool next to my parents at a newspaper-lined table, hands covered in pumpkin guts as we carved them to get ready for Halloween. My job was to sift through the pulp separating the seeds so my father could roast them. But that's not the only option! When carving a pumpkin you can choose to eat the pumpkin seeds or you can save them for your spring planting. Here's how to do both. You really can have it all!
Removing the Pumpkin Seeds
Open up that pumpkin! My favorite method is to use the double-sided swords you get in pumpkin carving kits around Halloween, but I've seen an enthusiast use a SawzAll effectively, so whatever your method, crack that baby open!
Scoop and rinse. I like to put the pumpkin guts into a colander in the kitchen sink and rinse the seeds while separating them from the pulp.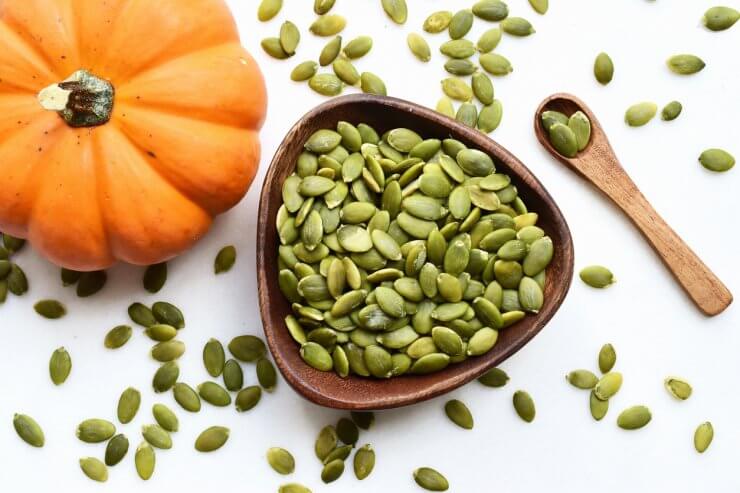 Saving Pumpkin Seeds For Planting
Save the big seeds. Larger seeds are more likely to germinate, so separate your bigger seeds for saving. The rule of thumb is to save three times as many seeds as the number of plants you'll want to sow in the spring.
Place on a dry paper towel and be sure to leave space between each seed so they don't stick together.
Set aside in a cool, dry place for one week.
Place dried seeds in a paper envelope. This helps to ensure they don't get moldy.
Stick the envelope in a plastic container and poke some holes in the top to prevent condensation. I like to re-use a take-out container because the plastic is pretty easy to poke through. You could also use a paper bag.
Put the container someplace cold and dry (the fridge works) and wait until spring.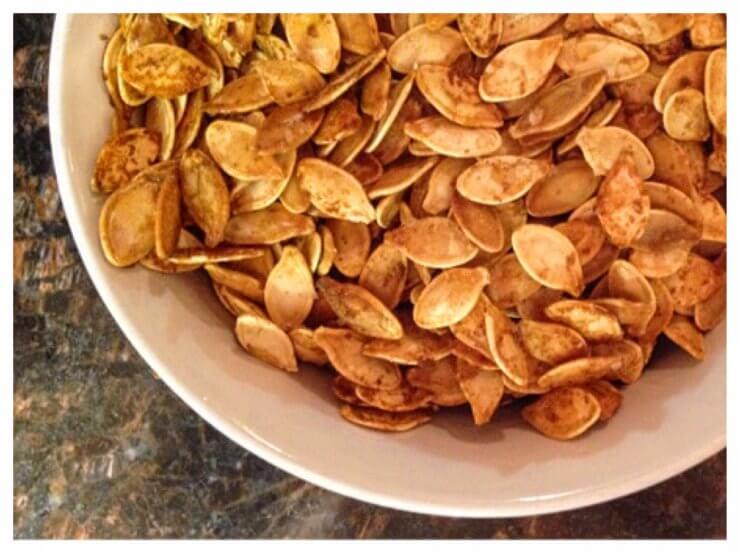 Cooking Pumpkin Seeds
Once you've separated the seeds you want to save, spread the rest of the rinsed seeds on a large sheet pan lined with paper towels, and pat dry, then shake off into the pan.
NOTE: There's a separate camp of folks who recommend boiling seeds first with a bit of salt to make them easier to digest, but that's optional.
Find your favorite pumpkin seed recipe and prep for roasting. Most recipes call for coating the dried seeds with some sort of oil and mixing in seasoning (savory or sweet OR BOTH!) and spreading onto a sheet pan.
Place sheet pan in oven at 300 degrees F for about 40 minutes. Remove from the oven, let cool, and enjoy!
The thing I love about cooking pumpkin seeds is how versatile they are. You can make a savory or spicy snack or switch it up and choose a sweeter recipe. The other benefit of this snack is how healthy it is and how you can tailor the recipe to fit any diet or allergy.
Do I just eat the whole seed or do I peel it first?
Short answer: BOTH! Once roasted you can enjoy a whole seed or peel it and eat the inner green pepita. Whichever you prefer!
Does your family have a special recipe for saving and cooking pumpkin seeds? I'd love to hear it! Share your pumpkin seed traditions in the comments.