Thyme comes in two main types: culinary and ornamental. Within each type, you'll find varieties that are prostrate (low-lying and spreading) or upright (growing tall). Luckily, many thyme varieties look beautiful in containers and in the garden and can be used in cooking.
Culinary thyme varieties can be consumed and add aroma and flavor to a wide range of dishes and beverages. There are fewer culinary thyme plants than ornamental, but still plenty of varieties to choose from. Culinary thyme grows best in the garden, window boxes, and containers. Popular culinary thyme varieties include English, French, and Lemon.
Culinary thyme varietals like English, French, and Lemon make excellent container plants and they're perennials which means they'll come back every year. No need to obsess over the container though; thyme is a grower, which means you'll be swapping out containers every one to two years (more on that later).
You can grow culinary thyme in containers indoors and out. Growing thyme in a container inside your home makes it easy to enjoy fresh thyme year round, whether or not you have land for a garden.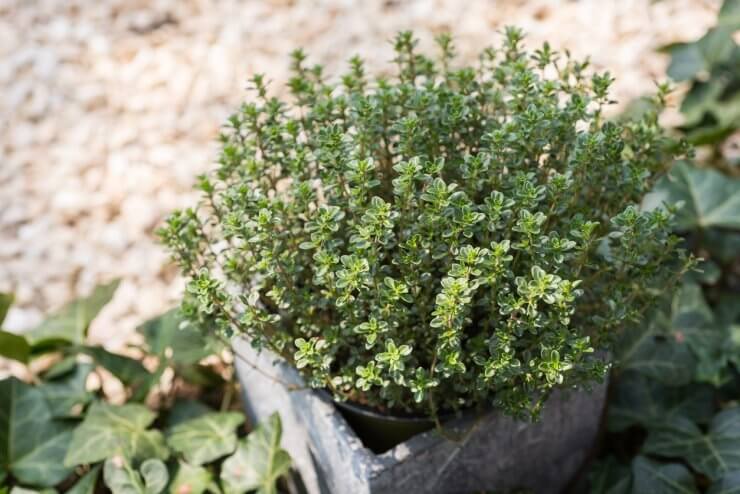 How to Grow Thyme in Containers and Pots
One great advantage to container gardening is the ability to move plants around more easily to maximize their exposure to the sun. Thyme grows best when it has at least six hours of sun, and it can tolerate indirect sunlight. A southern or western exposure is ideal for growing thyme indoors.
Thyme prefers dry conditions, so a clay pot with a drainage hole makes the best thyme container; it will allow the plant to dry out between watering. A mix of sand, potting soil, perlite, and peat moss will provide the right drainage and nutrient environment for your thyme plants.
Though weeding is much easier with containers, you have to be more vigilant about watering and irrigation as plants can dry out much faster than when they're in the ground. However, with thyme, overwatering is a bigger problem because it can cause root rot. Water your thyme plants thoroughly, but allow the soil to dry out before watering again. Thyme originated in the hot, dry Mediterranean region, so it can handle dry conditions far better than wet.
Whether growing thyme in containers inside or out, be sure to cut back woody stems to encourage new growth. Removing flowers promotes leaf growth, too. But don't throw the buds away! Toss them into salads or dry them for sachets or tea.
Your container-grown thyme should be repotted every year or two. It's easy to do this by dividing the plant and repotting the divisions or simply graduating to a larger pot. Indoor thyme plants will benefit from some fresh air, so take them outside in the summer, starting with a few hours in a sheltered area each day until they become acclimated.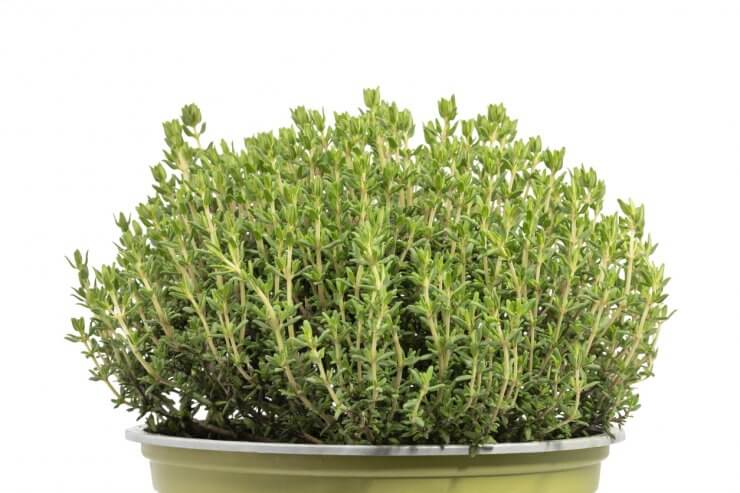 It's About Time You Learned How to Grow Thyme
If you've never grown thyme or only grown one kind, you're missing out on one of the most versatile and easy-to-grow herbs in the garden. This perennial plant smells heavenly and brings out the best in savory foods from meats and poultry to vegetables and soups—even baked goods! With the It's About Thyme Gardening Guide, you'll have everything you need to know about growing and enjoying this versatile herb. From the history and background of this culinary and medicinal mainstay to specific advice about soil requirements and fertilizer … from watering techniques to details about avoiding root rot … from easy-to-make and delicious recipes that will allow you to enjoy the fruits of your gardening labor to the nutritional benefits of thyme—get it all in the It's About Thyme Gardening Guide right now!
How do you grow your thyme—in open land, in raised beds, or in containers? Why do you prefer your method? Please tell us your tips and tricks for creating a bountiful thyme garden.