Grain-Free One-Pot Creamy Green Bean Chicken Recipe
This simple grain-free dinner is great for weeknight meals, and is a great way to use up fresh green beans from your garden. 
Beans, beans, they're good for your heart, the more you eat, the more you…want to eat them!
But do you want to know what's funny? Green beans aren't even actually beans, they're legumes. Until recently, I had no idea you shouldn't eat them raw, I've been chowing on them raw with dip for years without issue, but I learned from our Green Beans Gardening Guide, that you're not supposed to with most varietals. There are lectins (a protein) found in raw green beans that work as an anti-fungal and natural insecticide for plants, but your stomach doesn't love them as much, so cooking them breaks down lectins, making the legumes safe—and delicious—to eat.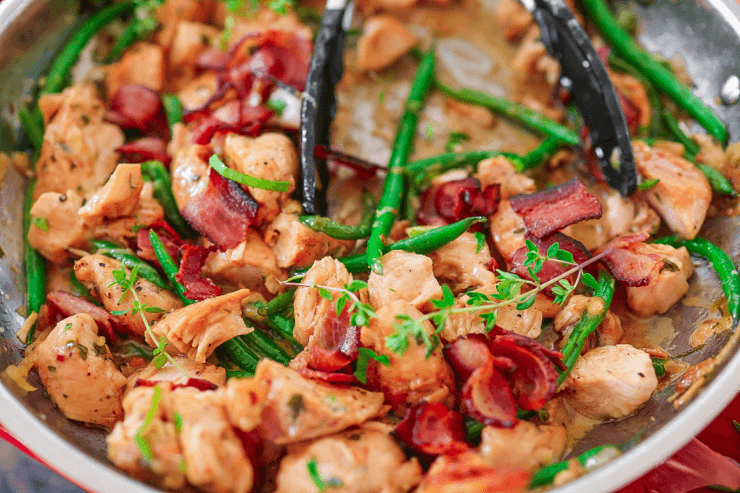 Well, good news, today we're going to talk about cooking green beans into a most magical, easy, and scrumptious dinner that the whole family can appreciate. As long as they like bacon, herby chicken, and a velvety cream sauce, you'll get rave reviews when you make this!
If you're someone who has gone gluten-free, grain-free, or is eating low carb, this recipe will also make you happy because it's totally free of grains and is low carb as well. Heavy cream is used to make a thicker sauce so that you don't need to add any flour for a roux. And if you'd like to go the opposite way and make it lower calorie, you could use light cream instead of heavy cream, or you could omit it entirely and add more broth and let that reduce. This recipe is flexible, but of course, I love the original!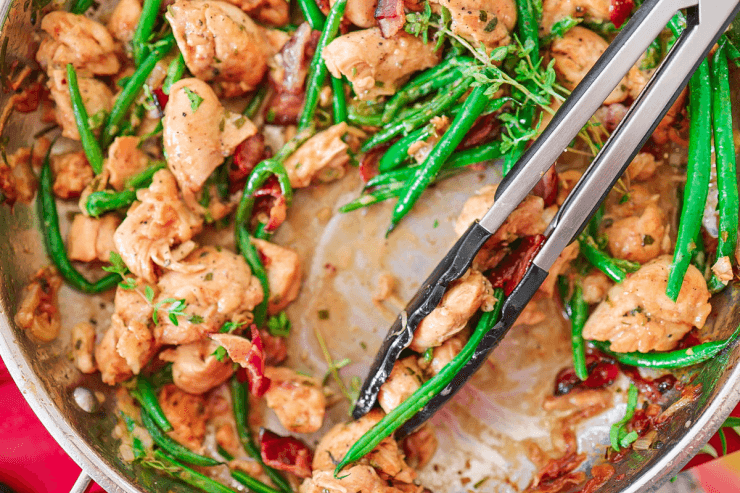 Why Green Beans Rock
Green beans are by far one of my favorite foods to grow in my garden. I love pole and runner beans because they climb so beautifully over my trellises, and most importantly – they are delicious and make the best sides! I remember a few years ago, the first year we moved into our new house and hadn't yet established a new garden. We moved in, in May, so there wasn't really much time to establish any kind of garden that year and I was feeling a little sad about it, but mid-summer my new neighbor waltzed over with a bag of yellow wax beans and it might as well have been a sachel of gold!
I don't know if it was just because I was longing to garden so badly that year or not, but those were the best home-grown beans I'd ever had, and now I grow them every year! Today's recipe uses french green beans because my yellow wax beans aren't quite ready yet, but you can use any type of green bean. French green beans are also known as haricot vert, which just translates to green beans in French and they're a bit skinnier which I think lends well to this recipe.
Print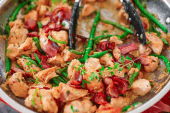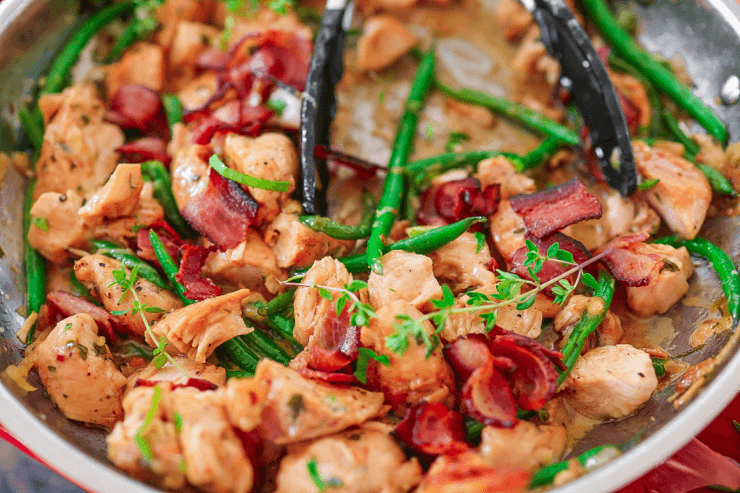 One-Pot Creamy Green Bean Chicken Recipe
Chicken and green beans are cooked in a creamy bacon and shallot sauce. It's a great easy dinner meal you can make any night of the week and the best part is that it's grain-free but still gives a pasta kind of vibe.
Author:
Prep Time:

10 minutes

Cook Time:

30 minutes

Total Time:

40 minutes

Yield:

4

servings

1

x
Category:

Entrées
Ingredients
10

chicken tenderloins

1 tbsp

olive oil

1 tbsp

chopped thyme

1 tbsp

chopped sage

1 tbsp

chopped rosemary

8 oz

bacon, chopped

2

small shallots or

1

large, sliced thin

2 tbsp

salted butter

1/2 cup

chicken broth or stock

8oz

green beans, washed and trimmed

1/2 cup

heavy cream

1 cup

shredded Parmesan cheese
Instructions
Toss your chicken tenderloins with 1 tbsp olive oil, fresh-cut herbs, and a generous amount of salt and pepper.
Using your largest skillet, ideally a stainless steel skillet, cook your chopped bacon for about 10 minutes over medium-high heat until crisp. Then, remove the bacon to a paper towel, but leave the grease in the pan.
Optional: Give your shallots a quick crisp in the bacon grease, then remove and set aside until step 5.
Arrange chicken tenderloins in the skillet, and brown over medium heat for about 3 minutes on each side. If they're particularly thick tenderloins, you can do this covered for half the time, though they do not need to cook completely through in this first round because they get cooked again in the sauce. Remove and set aside.
Add sliced shallots to the skillet, and when the skillet begins to dry out, add up to two tablespoons of butter. Cook for about 3-5 minutes or until soft, then add broth and scrape the bottom of the skillet to get up all the flavor into the shallots. Simmer for an additional 3 minutes until the broth is reduced in half and is slightly thickened.
Add beans and cook covered for about 3 minutes, then uncover. Add chicken and cook until the liquid is mostly dissolved (about 3 minutes) and is thick.
Add heavy cream and bring to a simmer, then add Parmesan slowly (you can use less if you started with less liquid in the pan before the heavy cream), top with crispy crumbled bacon, and enjoy!
Notes
Heavy cream is used to make a thicker sauce so that you don't need to add any flour for a roux, but if you'd like to go the opposite way and make it lower calorie, you could use light cream instead of heavy cream, or you could omit it entirely and add a little more broth and let that reduce.
Grow Your Own Green Beans at Home
Looking for an easy crop that delivers a high yield, plenty of nutrition, and can make a statement in your garden? Grow green beans! Whether you choose tall-climbing pole beans or low-growing bush beans, the rule is: the more you pick, the more you get. It's almost like magic! With the Grow Great Green Beans Gardening Guide, you get all the details that go into growing crisp, crowd-pleasing beans that practically grow themselves. Get recipes for dishes that make it all the more rewarding to grow your own beans. Get it all in the Grow Great Green Beans Gardening Guide right now!