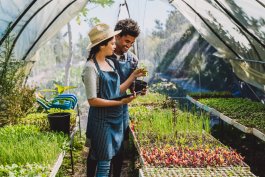 The first thing that comes to mind when you think of a greenhouse might be a big flower shop or something commercial. They're big enough to live in! But greenhouses don't have to be enormous. They can actually be pretty tiny. we've seen people turn their porches into greenhouses. You can buy greenhouse kits and build your own. They can even be quite fancy (The New York Botanical Garden has a greenhouse that consists of 11 connected galleries and includes 17,000 panes of glass!). Most of us don't have professional architects designing our greenhouses, nor do we have unlimited square feet. That means we have to decide which vegetables stay outside, and which are the best vegetables to grow in a greenhouse.
The biggest advantage of planting in a greenhouse is that you have some control over the environment. That's my favorite part. It's particularly helpful in colder climates where the growing season is shorter than in, say, southern California. What does that mean in practice? It means you can start seeds early for your Freedom Garden and extend the end of your growing season by weeks or even months.
With that in mind, the best vegetables to grow in a greenhouse are those that need more time to mature and produce, those that don't like the chilly nights of early spring, or those that may be especially prone to garden pests such as rabbits, squirrels, or other wildlife.
While a greenhouse will help keep young plants warm, it's important to consider the amount of sunlight your plants need before you start planting. Northern parts of the U.S. get limited sunlight in the winter. And at a certain point, even a greenhouse can't keep out the chill of those long winter nights.
You can, of course, always invest in a grow light and heating system, but let's take this one step at a time.
So with limited space, and extended, but not year-round growing conditions, what are the best vegetables to grow in a greenhouse? Below is a list of the definite winners. These are plants that can be slightly more fickle and will enjoy the warmth.
The tomato is always a winner, as they need about three months to produce fruit, and they like warm temperatures.
Peppers love greenhouses, too. Whether you like sweet bell peppers or spicy jalapenos, these veggies will thrive.
Cucumbers are a popular greenhouse vegetable, plus if you get too many, you can always make pickles!
Melons have a very long growing season, and if you have enough space for them to vine out in your greenhouse, they're a perfect candidate.
Herbs like basil, rosemary, and thyme revel in the warm confines of a greenhouse.
You can't go wrong with eggplants. Ever. And they love the heat and humidity.
Not sure if you're ready to take on a project like a greenhouse? Most people aren't. You can always make it step two in your Freedom Garden.