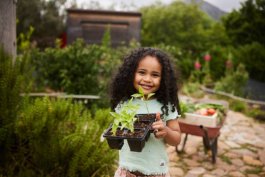 Growing smiles and cultivating a bountiful and joyful kids vegetable garden with your young green thumb
Want to work some veggie magic on your kids? Forget the constant battle at the dinner table; let's plant a kid's vegetable garden and sprinkle some green enchantment into their lives!
Picture this: your little (or not so little) munchkins getting their hands dirty, feeling the earth between their fingers, and tending to their own little green kingdom. It's like a horticultural adventure where they become mini-gardeners-in-chief! And you, dear parent, get to witness the gardening spectacle through their wide, amazed eyes. Trust me; it's cuteness overload!
But wait, there's more! As you nurture the magic of their veggie patch, something extraordinary happens. Those stubborn little eaters who shunned veggies like they were ancient vegetables from another dimension suddenly transform into adventurous eaters!
Right before dinner time, the culinary exploration begins. You and your tiny tot embark on a quest through the garden, seeking the ripest, juiciest delights. The broccoli nods, the carrots beckon, and the tomatoes wink mischievously. Armed with a kid-friendly knife (because safety is key), your little chef hacks away, gleefully tossing their harvest into your culinary masterpiece.
And voilà! When the meal emerges from your kitchen alchemy, the transformation is complete. Your child now eats like a ravenous champion, fueled by pride and the magical flavors of their own creation. It's a sight to behold; trust me, even Gordon Ramsay would be impressed.
But what about older kids, you ask? Fear not, for the enchanted veggie garden has something in store for them too. Besides the joy of digging in the dirt, it's a fabulous science lesson disguised as fun! They'll learn about soil, sunlight, and the mysterious art of photosynthesis. It's a masterclass in botany, brought to you by Mother Nature herself.
As they tend to their green kingdom, they'll also discover the marvels of patience. Yes, dear parent, patience is the secret ingredient in growing vegetables. Those heirloom tomato plants are the Gandalfs of the garden world, whispering ancient wisdom about waiting for the perfect moment. And let's be honest, even we adults could use some Gandalf-level patience in our lives.
So, there you have it, a vegetable garden that not only feeds the body but nourishes the soul. It's a mystical place where kids learn responsibility, science, and the art of waiting. Plus, when you see them adding freshly harvested herbs to a recipe, it's like witnessing the birth of a culinary wizard!
But where should you start?
If your child is like mine, they'll appreciate a trip to the garden center for their own tools. Gardening gloves are a must, as is a trowel of some type. Pruners and snips are too spring-loaded and sharp for little hands, so I recommend using your best judgment on when your child is ready for them.
You also have the option to decide if you want to buy seeds or seedlings.
Seeds: Buy for anything that needs direct sowing, or if you plan to grow seedlings in the spring.
Seedlings: Buy seedlings if it's late in the season, if the plant is hard to grow from seed, or if your child needs more instant gratification (don't we all!).
When it comes to a kid's garden, you want it to succeed, so sometimes buying seedlings is the right path, especially the first time they have their own garden! Even as an adult, it's pretty darn disappointing when my vegetables don't grow. So plant veggies that are easy to grow and easy to take care of. And as much as patience is important, it's still nice when it doesn't take six months for your plants to produce.
From there, you could designate a spot in your garden, or give them their own raised bed. I do a little of both with my daughter, but this year I did give her a square plot that was just for her.
We started in the early season growing beans and seeds using the trusty wet paper towel in a plastic bag method, then planted those in my existing garden. Later on, we planted seeds and seedlings in her 4-foot by 4-foot raised garden bed, which she helped assemble and fill with soil.
Fool-proof plants for a kid's vegetable garden
When setting up a vegetable garden for kids, it's essential to choose plants that meet specific criteria:
Fast-growing or mixed with fast-growing varieties
Tasty, fun to eat, or already enjoyed by young gardeners
Low-maintenance and easy to care for
1. Radishes. One vegetable that perfectly aligns with all these requirements is the radish. With its quick sprouting in just a few days and a harvest time of about three weeks, radishes are a delightful addition to any garden. Plant them in cool, early-spring soil, and soon enough, you'll be enjoying them in your salads.
2. Carrots. Carrots, though slower to grow, are beloved by kids. However, they pair well with radishes, allowing you to alternate the planting and have radishes popping up while waiting for the carrots to mature.
3. Lettuces. Lettuces are another excellent choice as they grow rapidly and continuously if you only trim the outer leaves. Younger kids will have fun tearing the leaves to make a fresh salad.
4. Swiss chard. For a touch of magical color, encourage kids to plant Swiss chard. It's easy to grow and comes in vibrant shades. Additionally, it provides an opportunity to demonstrate how certain greens can be cooked instead of eaten raw, adding an educational aspect to the gardening experience.
5. Cucumbers. Cucumbers are virtually fool-proof, growing like weeds and requiring little effort to pick. Older kids can easily clip them with shears, leaving about an inch of stem.
6. Cherry tomatoes. Cherry tomatoes are a source of fascination for children as they watch them mature from seedlings to full fruit. These plants are highly productive, and the sweet, juicy tomatoes can be enjoyed right off the vine. Their container-friendly nature makes them even more appealing for young gardeners.
7. Bush beans. No kid's vegetable garden would be complete without bush beans. They are excellent for science experiments due to their quick germination process. Picking ripe beans from the plant encourages further production, and their easy-to-pick nature makes them ideal for little hands.
8. Peas. Peas share similar qualities with beans, making them another must-have for a fun garden. Sprouting them with beans in damp paper towels inside a Ziplock bag is a fascinating activity for kids. Climbing beans and peas require a trellis for support.
9. Pumpkins. Growing pumpkins is a favorite for kids, as they get to witness their gradual development throughout the summer. By fall, they'll have a bountiful harvest to cook with, decorate, and even smash. Be sure to allocate plenty of space for pumpkins, as they can quickly overtake the garden.
10. Herbs. Including an herb garden alongside the vegetables is a great idea, especially for kids who love picking flowers. Allowing them to pluck herbs for dinner is a fantastic way to engage their interest and foster a sense of accomplishment. For our garden this year, we went with basil because it smells great, gets rid of some pesky bugs, and we use a ton of it!
I also like to add marigolds to the corners of the garden as a trap crop, and because they're pretty! With these fool-proof plant choices, a kid's vegetable garden can become an exciting and rewarding project for the whole family.
What should your kid's vegetable garden look like?
The first rule of kids' garden club is that there are no rules! To create the ultimate vegetable garden together—one filled with fun and learning, don't stress about how it should look.
If you choose a container garden, why not let your little green thumbs paint some plant pots on a rainy day or while they're cooped up indoors during the winter? It'll get them psyched about the upcoming gardening adventure!
Plan out which veggies to grow and get those seedlings started. Sure, they might be a tad impatient at first, but just wait until those sprouts pop up! It'll be like magic happening right before their eyes, and their excitement will be contagious.
Once the time is right, they'll love getting their hands dirty and planting those veggies in the pots they decorated or right into the ground. It's like creating a masterpiece in their own backyard!
And guess what? The fun doesn't stop there! Harvest time is a blast as well. Make it a delightful experience by incorporating their homegrown bounty into mealtime. Freshly picked veggies are tastier and juicier—a true reward for all their hard work!
Remember, the more involved they are in the gardening process, the more they'll cherish this amazing experience. So dive in, have a blast, and watch their love for gardening grow just like their veggies! You're doing an incredible job nurturing their curiosity and passion!
What's your favorite story about gardening with kids? Let me know!