Claim your Charter Gold Membership in Food Gardening Network now, and you'll have everything you need to plan, grow, harvest, and enjoy good food—all at home. Claim your benefits now!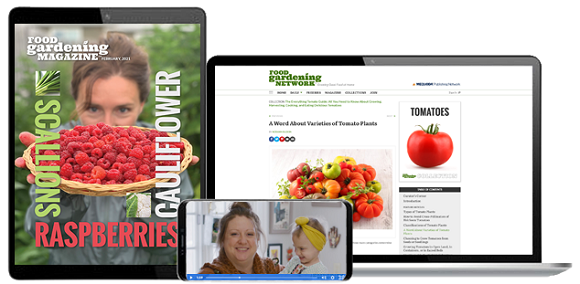 Your Food Gardening Network Charter Gold Membership has privileges and benefits that are reserved exclusively for charter members like you.
Claim Your Charter Gold Membership Now!
Summary of Charter Gold Membership Benefits

A full year of Food Gardening Network Charter Gold Membership, an exclusive club for those who want to grow and enjoy good food at home
$1.14 per week
1-year subscription to the monthly Food Gardening Magazine, filled with advice and tips about food gardening and growing specific foods.
INCLUDED
Full and immediate access to the Food Gardening Magazine Library of back issues—your membership includes access to dozens of magazine issues!
INCLUDED
Instant access to all of the Gardening Guides—50+ comprehensive guidebooks and growing—that are plant-specific and packed with tips and advice about growing specific vegetables, fruits, grains, herbs, and spices.
INCLUDED
New in 2022! 9 Cookbooks filled with hundreds of quick-and-easy, garden-fresh Recipes. You'll never run out of ways to enjoy the fruits of your labor with these tasty dishes!
INCLUDED
Engaging "Gardening with Amanda" how-to Video Library. Senior Editor Amanda MacArthur shows you everything from how to choose the best tomatoes for your garden to how to make your own safe-and-effective bug spray and how to whip up a jar of scrumptious spreadable garlic.
INCLUDED
New in 2022! RecipeLion Magazine Library – You'll always make tasty meals—and develop your cooking skills—when you follow the tips, tricks and recipes in RecipeLion Magazine!
INCLUDED
Exclusive Gold Member Insider delivered to your inbox, to guide you through the Food Gardening Network Library and highlight articles, magazine issues, gardening guides, videos, and recipes that you won't want to miss!
INCLUDED
BONUS Special Issue Gardening in Every Season! Whether you are planning, planting, nourishing, harvesting, cooking or preserving, the gardening fun never stops! Follow along with Amanda as she shows you what to do and when to do it!
FREE
BONUS Special Issue Planning Your Perfect Food Garden! You'll find a dozen feature articles and hundreds of tips to help you plan your perfect food garden! We tackle topics like; soil amendments, watering systems, in-ground vs raised beds, and everyone's favorite – weed control!
FREE
Claim Your Charter Gold Membership Now!
Become a
Food Gardening Network Charter Gold Member
today—while this special introductory Charter Offer lasts!
Sincerely,


Bill Dugan
Editor & Publisher
Food Gardening Network
P.S. Be among the first to claim a Food Gardening Network Charter Gold Membership today—that's just $1.14 a week!
Food Gardening Network Charter Gold Membership Special Offer—Just $1.14 a Week!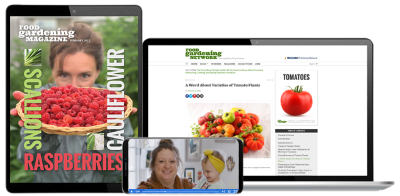 Become a Charter Member today and get the Food Gardening Magazine and Library, Gardening Guides, Videos and Cookbooks!