Print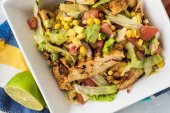 Mexican Grilled Chicken Salad
Author:
Prep Time:

15 minutes

Marinade Time:

30 minutes

Cook Time:

10 minutes

Total Time:

55 minutes

Yield:

4

1

x
Category:

Salads & Dressings
Ingredients
Marinade and Chicken

1 tablespoon

vegetable oil

2 tablespoons

taco seasoning

2 tablespoons

tequila

1/4 cup

fresh lime juice

1

pound boneless, skinless chicken breasts

Salad

2 cups

shredded iceberg lettuce

1 cup

diced tomato 1 (11-ounce) can
Southwestern-style corn with peppers and black beans, drained

1/2 cup

diced red onion

2 tablespoons

vegetable oil

2 tablespoons

fresh lime juice

2 tablespoons

chopped fresh cilantro

1 tablespoon

very finely chopped jalapeño (optional)
Kosher salt and freshly ground black pepper
For the marinade and chicken: Combine the vegetable oil, taco seasoning, tequila, and lime juice in a zip-top bag. Cut the chicken breasts in half horizontally and open like a book at a 1/2-inch thickness. Add the chicken to the zip-top bag. Close the top and use your hands to thoroughly coat the chicken with the marinade. Let it stand at room temperature for 30 minutes or chill until ready to cook.
Prepare an outdoor grill or heat a stovetop grill pan over medium- high heat. Lay the chicken on the grill and cook for about 4 minutes per side, until chicken is cooked through. Thinly slice the chicken.
For the salad: Combine all the salad ingredients in a large bowl with the chicken and stir to combine.
Dish into bowls and serve.