Print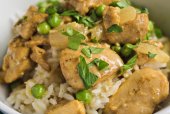 30-Minute Chicken Curry
Author:
Prep Time:

10 minutes

Cook Time:

20 minutes

Total Time:

30 minutes

Yield:

Serves 4

Category:

Entrées
Ingredients
1

pound boneless, skinless chicken thighs, cut into 1 1/2-inch cubes

1 1/2 teaspoons

curry powder (see note)

1/2 teaspoon

kosher salt

1/4 teaspoon

cayenne pepper, plus more as needed

1 tablespoon

vegetable oil

1 cup

chopped onion

1 tablespoon

finely minced garlic

1 tablespoon

finely minced fresh ginger

1 tablespoon

cornstarch

2 cups

chicken broth, low-sodium preferred

1 teaspoon

honey, plus more as needed

1 cup

frozen peas, thawed

1/2 cup

plain yogurt
Cooked basmati rice, for serving
Chopped fresh parsley, for garnish
Put the chicken in a medium bowl and add the curry powder, salt, and cayenne pepper. Toss until all the spices completely coat the chicken. Let stand while assembling the remaining ingredients.
When ready to cook, heat the vegetable oil in a large, deep skillet over medium-high heat. Cook the chicken in the hot oil until partially cooked and nicely browned on all sides, about 8 minutes. Use a slotted spoon to transfer the chicken to a clean bowl. In the same pan, sauté the onion, stirring, until the onion is translucent, about 2 minutes. Add the garlic and ginger and cook, stirring, until very fragrant, 1 minute.
In a small bowl, dissolve the cornstarch in 2 tablespoons of the chicken broth, stirring until smooth. Add the remaining chicken broth and the cornstarch mixture to the skillet and stir, scraping up any browned bits from the bottom of the pan with a spoon, and bring to a boil. Reduce the heat to medium, add the honey, and cook, whisking, until the sauce has thickened, 5 minutes. Return the chicken to the pan and add the peas. Cook, stirring frequently, for an additional 2 minutes, or until the chicken is completely cooked. Taste and adjust the flavors as necessary (see notes).
Remove the pan from the heat. Using a whisk, stir in the yogurt until smooth. Serve over basmati rice. Garnish with parsley.
Notes
Commercially available curry powders are premixed blends sold in a wide variety of flavors. If possible, buy from an ethnic grocer or specialty store. Some curry will be sweeter while others will be spicier—just before serving, taste the sauce and adjust the amount of cayenne and honey to achieve a nice balance of flavor.