Print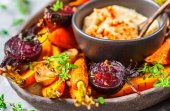 Cold Roasted Vegetables and Warm Hummus
Pair these flavorful cold roasted vegetables with warm, lemon and garlic hummus for a great party platter or healthy lunch dish for families.
Author:
Category:

Entrées
Ingredients
5

carrots

5

parsnips

2

beets

1

yam

1

zucchini

Salt, pepper & garlic powder

3

cloves garlic, peeled (or more if desired)

2

15oz cans of chickpeas

1/2 tsp

baking soda

1/2 cup

tahini

3

lemons

3

cloves of garlic

3/4 tsp

salt

2 tbsp

walnut or olive oil

1/2 tsp

cumin

paprika for garnish
Instructions
Prepare your veggies. If you want a garlicky hummus, add extra whole peeled garlic cloves too, to add to the hummus later.

If you have petite carrots or parsnips, say 6″ or less, peel and then slice them down the middle lengthwise to create two halves. If you have larger veggies, you can also cut them into sticks, 4-5″ long. Try to keep the sticks around the same size so that they cook evenly.

On a baking sheet, drizzle them and the whole garlic with walnut oil, or olive oil, and sprinkle with salt, pepper, and garlic powder and toss to cover.

Bake at 450 for about 10 minutes for root veggies, a few minutes less for softer veggies like zucchini, or you can cut thicker sticks. Put in the refrigerator to chill when done. Save the garlic for the hummus.

While the veggies are cooking, bring a small sauce-pot filled halfway with water to a boil. Drain cans of chickpeas and add to the boiling water with 1/2 tsp baking soda. Bring to boil, then reduce temperature to simmer for 25 minutes. When done, strain and set aside.

Add tahini to food processor. Half lemons, and squeeze juice into the food processor, using your hand or a strainer to catch the seeds.

Add roasted garlic and salt.

Turn food processor on and let run until thick.

Add chickpeas (some people remove shells, but we're not in this recipe). Then, turn back on and process for at least a minute. Add cumin and process again. Then, add walnut or olive oil slowly and process for a minute.

To get the texture you want, add a tablespoon of cold water at a time at this point to your desired creaminess. To serve, sprinkle with paprika and drizzle with walnut or olive oil and enjoy with your chilled veggies!
Notes
Yes, you can make this in a blender, but depending on the strength of your blender, it might take more patience, adding a splash of cold water as you go to keep it from getting "stuck".