When it comes to pruning, you don't need a new tool for every branch or twig. The same tool can be used for different branches and stems if you use it correctly. Bypass pruners are perfect for most pruning tasks. These tools have one blade that operates above another (hence the name "bypass"). They also have a locking mechanism that holds the blades closed when they're not in use. So what are the best bypass pruners? The Felco2 is actually the No. 1 bypass pruner out there, according to most gardeners, but it's not my favorite, and I'll tell you why. But let's talk about when to use bypass pruners first.
One pair of bypass pruners, or many?
I'm not proud to say that I'm the kind of gardener that has gone through many bypass pruners in my day, and it's not from over-use. In fact, I can probably count the number of bypass pruners I've gone through by the number of winters I've been gardening (… and left them out in my raised bed all season).
That said, you only need one good pair, and if you buy the best bypass pruners, they'll last you a very long time.
Bypass pruners have two blades that operate in opposite directions. Their design is called bypass because one blade sort of cuts around the branch while the other cuts through it, and they bypass each other. The weightiness of these pruners allows you to cut through thicker branches with ease in comparison to a pair of small snips. Bypass pruners can be used on small branches and plants, but they're not as easy to use for large limbs or trees because they simply don't open large enough. Using bypass pruners, you can comfortably cut stems or stalks of any vegetable up to a half-inch with no trouble at all.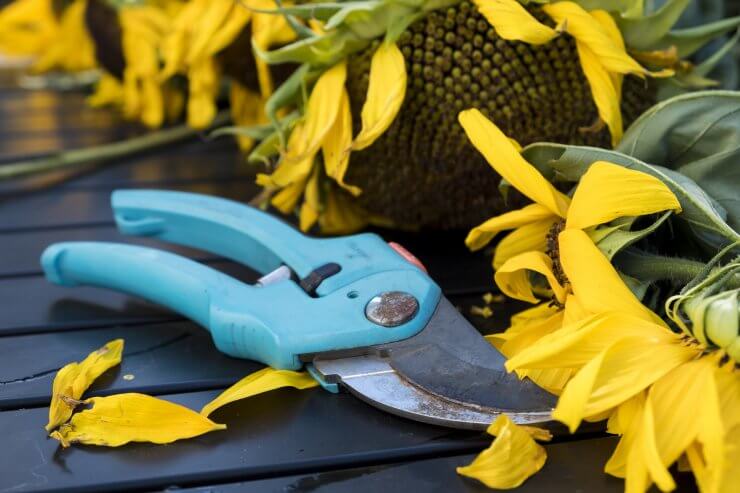 What type of blade is best for bypass pruners?
Bypass pruners are available with a number of different blades. The most common blade on bypass pruners is a stainless steel blade. A stainless steel blade will last longer than other blade materials such as carbon steel or high-carbon steel because stainless steel blades can be easily sharpened.
Personally, I like stainless steel pruners because they're more resistant to rust. High carbon steel pruners are more heavy-duty and have a certain stickiness resistance because they're coated. Still, rust is such a huge annoyance to me that I'd rather wash sap off a pair of stainless steel pruners than deal with rust in the middle of my first summer with a new pair. 
What type of grip is best for bypass pruners?
Only you can decide how tight you want the grip to be. Still, while the more significant, tighter pairs might last longer, if you're doing any type of hour-plus long work in the garden, it might be easier on your hands to use shears with a less-tight pull, softer grips, and ones that just fit your hand the best — which I'll talk about more in my picks for the best pruning shears, below.
Choosing a good brand like the ones below will ensure the grip is good and won't just start flopping around one day like an IHOP claw machine.
What's the average price point of bypass pruners?
The average price point for bypass pruners is between $25 and $100. You can find pruners for less than $25, but these are often not very durable. The less you pay, the more likely the blades will be prone to rust, which I care less about when I'm cutting flowers but care a lot more about when I'm pruning tomato plants and want to keep my plants healthy.
The two best bypass pruners for food gardeners
Food gardening isn't the same as flower gardening, or any type of ornamental gardening where you're trimming large branches (except in the case of mature fruit trees). When you're gardening edibles, what's nice to have is a pair of bypass pruners that are:
easy to clean so that you don't spread disease from plant to plant;
small so you can put them in your pocket quickly as you tend to other tasks that might not be pruning;
light so that they're not a burden on your pockets with all the other things you might be carrying at the same time;
easy to sharpen; and
rust-resistant.
It would also be nice if they don't lock while you're using them.
The "best" is surely in the hands of the beholder, but for myself, I like the Felco7 and the Okatsune 101. They are just so incredibly easy to use. I use them to cut tomato plants, blueberry bushes, my apple tree, corn stalks, and all your basic food gardening needs. They are on the smaller side, which means they're light and won't weigh down your pockets as you carry them around the garden. For larger hands and needs, I've listed their larger cousins in my picks below.

The Okatsune 101 bypass pruner has been a top choice among gardeners for years, and I think it's the best bypass pruner. It's one of the most reliable pruners available at a price that's easy on the wallet. This pruner is designed with a stainless steel blade. The blades include chromium to help protect against rust and corrosion. The pruner is meant to be used with one hand and has a soft grip. This makes it more comfortable to use than other types of pruners. These pruners also feature a locking mechanism that flips out, which keeps the blades from accidentally closing while you're pruning (my pet peeve with the Felco). This can help to reduce damage to your fingers and it can also extend the life of the pruners.

Pros: It's lightweight, the lock doesn't accidentally latch while in use, a blade that'll last forever and can be sharpened, and it's not too expensive.
Cons: I haven't found any!
Alternative for larger hands: Okatsune 103 ($30 to $40)
The Felco7 bypass pruner is designed with a few special features that make it stand out from the crowd. Getting a good pruner is all about making sure it's comfortable, easy to use, and efficient. The Felco7 bypass pruner does all of these things well. The handles are designed to fit the shape of your hand, which makes the pruner more comfortable to use than other types. It also reduces the amount of stress that's placed on your hands and fingers while you're pruning. Felco also makes the revolving hand model, so that you can use it right or left handed without any weirdness.

Pros: It's lightweight, sturdy, and will last a long time with care.
Cons: The lock sometimes requires two hands, and sometimes latches while in use, which can get annoying.
Alternative for larger hands: Felco2 ($60) – This is actually the No. 1 rated bypass pruner. I find the size to be too big for myself, but many gardeners love it.
My hands aren't exactly dainty, but are about average-sized hands for a female, I suppose. That said, those with larger hands will enjoy their larger cousins, the Felco2 and the Okatsune 103. The Felco2 is actually the No. 1 bypass pruner out there according to most ratings. I just feel like it's a little too bulky and heavy for simple vegetable gardening, and never reach for it because I don't want to lug it around.
If I had to pick just one, I'd pick the Okatsune 101 because it's a little lighter in the hand, and I just like the bottom latch better because it doesn't latch while you're working, something the Felco does somewhat often. It's also nice that you can sharpen them basically forever because of the Japanese steel. Simply brush it with some steel wool at the end of the season, and sharpen it as needed. You can also oil them with vegetable oil or Camellia oil.
What are your favorite bypass pruners? Leave a comment and let me know!
Note: Food Gardening Network contains links to affiliate websites, including Amazon and Rakuten Affiliate Network, and we may receive a commission for any eligible purchases made by you through links on this page. Any reviews are based on honest reviews of the products.