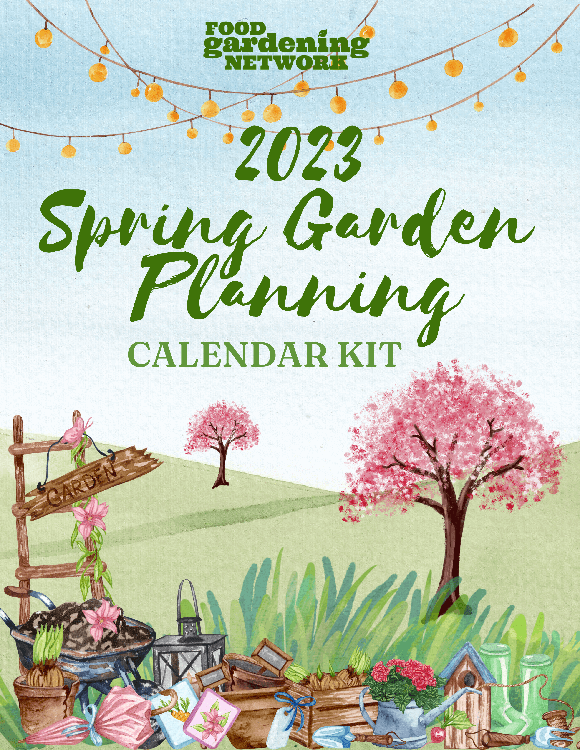 Spring is an exciting time for us gardeners. It's a busy time, too! After a winter of planning and anticipation, spring is when we turn all our dreams into reality. We go from the blustery, cool days of early March to the summer-like temperatures of June. During that time, our little seedlings turn into full-grown plants!
By June, we're already harvesting radishes, peas, lettuces, zucchini, squash, garlic scapes, asparagus, strawberries, and so much more. It's truly one of the most magical times of the year!
I'll be honest, though. In all the excitement of spring gardening, I find I need a little help staying organized. I love gardening, and I'm always happy to have my hands in the soil, but it's also nice to have some extra reminders about things like when to start seeds or when it's time to think about pruning.
Now comes the printable Food Gardening Network 2023 Spring Garden Planning Calendar Kit—the perfect way to stay organized this spring. You can:
Enjoy reminders for gardening tasks in March, April, May, and June, particularly if you live in a traditional 4-season planting zone.
Take notes and prioritize planning for your specific garden.
Learn how to turn those delicious spring vegetables into even more delicious meals.
You read that right. This Food Gardening Network 2023 Spring Gardening Calendar Kit isn't just a calendar.
Because gardening is about harvesting and eating as much as it is about planting, this calendar kit includes some of my favorite spring recipes using early spring crops like asparagus, radishes, and rhubarb!
I'm not kidding when I say this calendar kit is helping me get more organized than ever—and you should use it, too!
Download the Food Gardening Network 2023 Spring Garden Planning Calendar Kit right now.
---
Gold Members, Download Here
Not a gold member yet? Join Now